Top 6 Christmas Markets in the UK 2019
Wednesday September 4, 2019 by Rudina Mustafa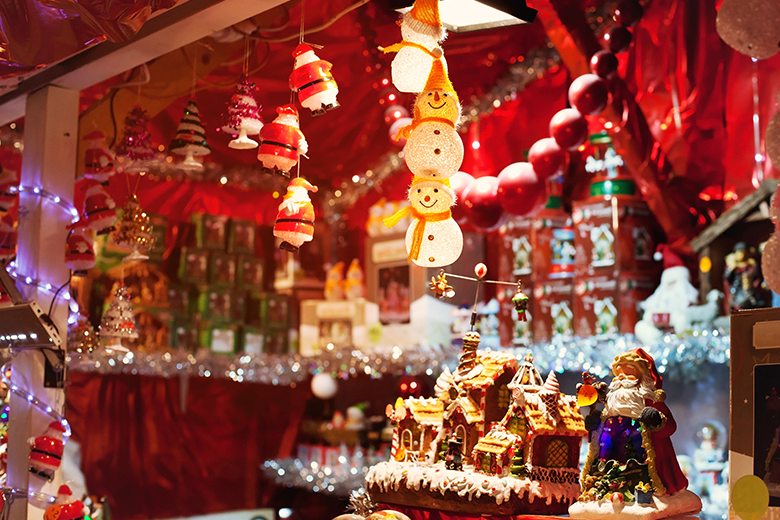 Did you know that the first Christmas market recorded was way back in the middle ages in 1298? Since then Christmas markets (also known as Christkindlmarkt or Weihnachtsmarkt!) have been growing globally in popularity especially in Europe.
The Christmas shopping extravaganza is a perfect combination of culture, sightseeing and festive shopping. It's a mix of family friendly activities and entertainment and it's a great fun-filled Christmas experience for all.
With the season soon upon us why not check out below some of the best Christmas Markets in the UK!
Winter Wonderland
In keeping with the German traditions, Winter Wonderland will feature over 200 charming Bavarian-style wooden chalets and offer delicious treats, unique handmade gifts and showcase their sparkling Christmas decorations. Returning on the 21st of November in London's Hyde Park, Winter Wonderland is host to the UK's largest outdoor ice-skating rink and other attractions include the Magical Ice Kingdom, Circus shows and the Giant Wheel. So swish swish away and get into the festive spirit by booking your tickets now!
Where: Hyde Park, London W2 2UH
When: 21st November 2019 - 5th January 2020
Cost: Free Admission. Attractions will need to be booked in advance.  
Website: https://hydeparkwinterwonderland.com/christmas-markets/
Why not check out our lovely serviced apartment near Hyde Park here: Sussex Gardens
Leicester Square
'Tis the season to be jolly! Back for the fourth year, so you can take a stroll through Leicester Square's spectacular Christmas market whilst drinking some delicious hot cocoa. Can they tempt you in sampling their savoury treats and exploring their lovely stalls? Wrap up warm and enjoy the festive entertainment. 
Where:   Leicester Square, WC2H 7NA
When: 8 November 2019 - 5 January 2020
Cost: Free Admission. Attractions such as Santa's Grotto and some will need to be booked in advance. 
Website: http://www.christmasinleicestersquare.com/
Click here to view our amazing selection of serviced apartments in Covent Garden. Rates start from £124+VAT per night!
Southbank
During the magical season why not go and see Southbank centre transformed into a festive wonderland? The picturesque riverside will be decorated with twinkling lights, jolly decorations and a lovely giant Christmas tree. Enjoy a sparkling programme of festive shows and a fun-packed evening filled with family entertainment.
Where:  Outdoor area, Queen's Walk, under Hungerford Bridge
When: From November 2019 to January 2020 (Exact dates to be confirmed)
Cost: Free Admission. Attractions will need to be booked in advance. 
Website: https://www.southbankcentre.co.uk/whats-on/festivals-series/winter
Looking for accommodation in Waterloo or Southwark? We've got a great collection! 
Manchester – Albert Square
For a magical experience you don't want to miss out head down to Manchester's famous Christmas market in Albert Square! In the heart of the city you'll find over 300 stalls spread across the buzzing city and an amazing array of international delicacies and beverages. Enjoy the jolly atmosphere and wander through the wooden huts and join in on the Christmas cheer.
Where:  Albert Square, Manchester, M2 5PF
When: Dates to be confirmed. 
Cost: Free Admission
Our rates in Manchester start from 72+VAT per night! View our selection here.
Birmingham – Victoria Square
Grab your family and friends and head to Victoria Square for this year's Christmas market. Also known as the Birmingham's Frankfurt Christmas Market - because it was originally brought to the city from Frankfurt in 1997, it has over 80 stalls to wander and explore.  With a range of international food, decorations and traditional seasonal gifts you're bound to find something special. I mean who doesn't love a handcrafted present?
Where:  Victoria Square, New Street B1 1BD
When: 7th November – 23rd December 2019
Cost: Free Admission
Website: https://www.thebfcm.co.uk/
Need to book a serviced apartment for your stay? Rates at Staybridge Suites Birmingham Apartments start from £73+VAT per night and you'll receive complimentary breakfast!
Leeds – Millennium Square
Bring the kids along for some family friendly activities such as fun face painting, singing and appearances from costumed characters! Head to Millennium Square in the heart of Leeds city centre and enjoy some delicious authentic German delicacies and evening entertainment AND a carousel ride!
Where:  Millennium Square, LS2 3AD
When: From 8th November - 22nd December 2019
Cost: Free Admission
Our Roomzzz Leeds City Apartments also offers complimentary Grab & Go every day!
If you're planning a trip to visit the UK, Prestige Apartments has a wide range of serviced apartments and corporate housing on offer in London. We'll have something to suit all budgets and group sizes so why not consider staying in a serviced apartment this year? Just get in touch with our friendly sales team and they'll help you to choose your perfect 'home from home'. 
Tel: 020 7603 7629 or email: sales@prestigeapartments.co.uk
Let's get social! Follow us on Twitter, Instagram, Facebook or connect with us on Linkedin!
---
Share this post
---