Our Top 10 London Luxury Serviced Apartments
Friday June 6, 2014 by Alex Wood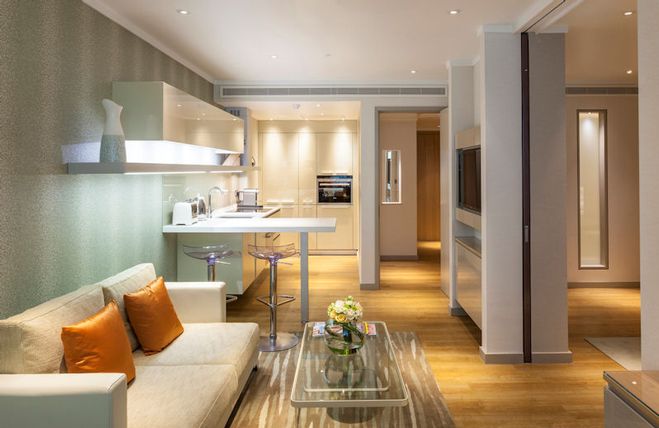 It's official - summer has finally arrived in the London!
So re-kindle your love affair with the UK's capital as the city comes alive in the sunshine. We've put together our top 10 luxury serviced apartments (in no particular order!) to tempt you with a taste of some amazing serviced apartments on offer for your stay...
The new kid on the block but packing a big punch! Situated next to the Tower of London in an historic location, Cheval Three Quays is a stunning development of 97 serviced 1, 2 and 3 bedroom apartments and penthouses, many with unrivalled views across the Thames towards Tower Bridge and City Hall. These apartments are perfectly located for the City's historical sites yet within easy reach of the West End. Every detail in these apartments has your lifestyle and comfort in mind, while the dedicated Concierge, Housekeeping and Maintenance teams are there to take care of all the details.
2. JUMEIRAH GROSVENOR HOUSE APARTMENTS
The Jumeirah Grosvenor House Apartments are set in a discerning 5* luxury serviced apartment residence enjoying glorious views of Hyde Park from an exclusive Park Lane address in Mayfair. They offer a very high quality city living experience while seamlessly blending 5 star hotel style facilities with the privacy and relaxation of a perfectly appointed apartment. The fantastic West End and Oxford Street district is at your doorstep and a terrific choice of world-class shopping, fine dining, vibrant nightlife and famous attractions like Buckingham Palace, Piccadilly Circus, Trafalgar Square and the London Eye are only minutes away.
23 Greengarden House comprises of twenty three luxury London apartments in a prestigious West End location, close to Oxford Street, Bond Street and Marble Arch, that is ideal for business or pleasure. Luxury comes as standard in these one and two bedroom serviced apartments in just off trendy St Christopher's Place. These spacious, luxurious and contemporary serviced apartments offer independent living space right in the heart of London's West End.
This luxury London apartment property features studios as well as one bedroom, two bedroom and three bedroom suites. They're the kind of luxury, furnished apartments that travellers dream of and you'll find it in one of the most prestigious areas of London within easy reach of the internationally renowned shops of Knightsbridge, Chelsea and Kensington. Many of the 69 luxury apartments even have picturesque views from their balconies and residents have access to the suites' 2.5 acre private garden.
5. METROPOLITAN APARTMENTS LONDON
The Metropolitan Apartments London by COMO are spacious, contemporary two bedroom serviced apartments located alongside the luxurious Metropolitan Hotel in the heart of London's Mayfair and the apartments share many of the hotel's amenities, including 24 hour room service and interactive entertainment systems. Guests can even enjoy the culinary delights offered at the Michelin-starred restaurant Nobu during their stay or use the Health Club and the COMO Shambhala Urban Escape Spa.
The truly exceptional Apartments by The Sloane Club provide a safe, quiet and comfortable place to stay in central and fashionable Chelsea and offers the services of an exclusive hotel but with the space and privacy of a luxury residence just moments from Sloane Square. The 24 hour concierge can arrange car transfers, restaurant bookings, theatre tickets, and assist with any enquiries or itinerary planning. Delicious meals are available to order from The Sloane Club, and the Club chefs are also available for private hire in the designer kitchens of The Apartments themselves.
Dolphin House in Pimilico offers a range of contemporary serviced apartments set around three and a half acres of idyllic gardens in the heart of Westminster. The apartments benefit from a wide range of facilities and services available on site including a restaurant, shopping arcade and Health Club with swimming pool, tennis and squash courts.
Just around the corner from Harrods in Knightsbridge are 16 of the finest apartments available in London. Claverley Court has a choice of luxuriously furnished studio, one, two and three bedroom serviced apartments suitable for the visitor who demands the very best that London has to offer. Claverley Court provides a lavish cocktail of size, service and location, combined with discreet service, privacy and safety.
There's something uniquely seductive about Cheval Phoenix House. Nestled in the heart of Chelsea, our award-winning residence is on a mission to charm you - from the moment you set eyes on its beautifully restored Victorian façade, to the second you sink into the soft Italian linen. This is your exclusive gateway to the authentic Chelsea and Sloane Square philosophy of living: a neighbourhood endowed with the best of everything - from eclectic boutiques to world-class art galleries.
10. AKA MARYLEBONE
The AKA West End serviced apartments are located in London's exclusive Marylebone neighbourhood, nestled between Hyde Park and Regents Park. These distinctive residences are set within an historic 1920's property that has been transformed to incorporate contemporary style while embracing the integrity of the original architecture and the spirit of the area. AKA West End is perfect for stays of a week or longer.
So once you've booked your luxury apartment you'll need some ideas of what's on... look no further than Visit London for a list of all London's hot tickets this summer.
Call us to book your serviced apartment holiday now on 0845 838 5148 or email our friendly team on sales@prestigeapartments.co.uk
YOUR TURN...
Do you have a favourite serviced apartment in London - let me know by nominating your favourite on Facebook or Twitter (#PASholidays) and I'll put together all of the favourites throughout the year in a round up review post!
---
Share this post
---