Farnborough - It'S Not Just About The Airshow!
Friday July 18, 2014 by Alex Wood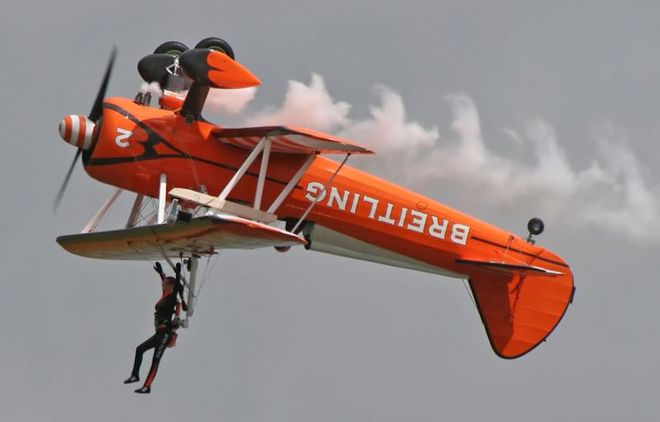 Every other year the quiet Hampshire town of Farnborough is taken over by the Farnborough International Air Show and for that one week in July this peaceful idyll becomes the roaring centre of the world's aviation industry.
And rightly so. Because Farnborough is renowned for its long-standing aviation links harking back to the start of the 20th century when His Majesty's Balloon Factory was set up in the town! Since then Farnborough has become known throughout the world for its pioneering work, from the first powered flight in Britain in 1908, to the first car to go supersonic on land in 1997.
So for enthusiasts the Airshow's great...but what about if you're staying there for one of the other 103 weeks of the two years? Well, we've found out that there's much more to Farnborough than just the airshow, and although heavily influenced by its aeronautical roots, the town has plenty to offer the hundreds of visitors relocating here every year.
For instance:
THE ANCIENT STONES AT TOWER HILL, COVE
Who would have thought that this peaceful, modern day commuter town on the outskirts of London was once a site of pagan worship? Well, the large group of Megalithic Sarsen Stonesfound at Tower Hill in Cove would certainly appear to be a "mini Stonehenge", and so Farnborough's claim to fame could have been even greater, had it not been for those pesky rocks up the road!
A small community of Benedictine monks was founded in 1881 by the exiled Empress Eugenie in honour of her husband, Napoleon III of France, and both are buried in the crypt of this flamboyant gothic church. Eugénie moved to Farnborough Hill in 1880 and by 1888 the crypt of the future abbey was ready to receive the bodies of her husband and son. And so, a remarkable piece of Anglo-French history continues on the Hampshire-Surrey border.
Located on a hill overlooking the runway of Farnborough Airfield is the Farnborough Air Services Museum, or FAST, which displays historical aircraft in an equally historical setting, on the original site of the headquarters of the Royal Balloon School. Tally ho and chocks away!
Located to the west of the Blackwater Valley, the town of Farnborough has the river and lakes of this beautiful, green valley right on it's doorstep. You can enjoy a leisurely walk along the riverside paths, and angling, sailing, jet skiing, wind surfing, sailing, cycling and horse riding are all on offer too...all this and a pint by the river. On yer bike!!
Princes Mead Shopping Centre is one of the finest shopping centres in the area, and is situated right in Farnborough's town centre. With nearly 50 shops to choose from, you're bound to find something to take home with you, or if not then maybe to get your haircut, browse for (more) last minute holidays or just meet with friends over a coffee.
Think 1930's movie starlets and a time when travel really was a luxury experience for the lucky few. Innately stylish, The Aviator binds the timeless glamour of aviation with indulgent design. The Brasserie restaurant overlooking the airfield is slick and contemporary with a menu to match the surroundings, but don't expect it to come cheap. Looking this good takes time and money darling!

If you're being relocated to Farnborough or just planning a visit we hope we've inspired you to look beyond the aeronautical veneer of this charming town and discover the hidden depths that lie beneath.
Prestige Apartments has a wide range of serviced apartments and corporate housing on offer in Farnborough. We have something to suit all budgets and group sizes, so when you're planning your relocation to Farnborough get in touch with our friendly sales team for more assistance.
Tel: 020 7704 6514 or email: sales@prestigeapartments.co.uk
YOUR TURN...
Have I missed your favorite Farnborough spot? - Send me your nominations on Facebook orTwitter (#PASholidays) and I'll put together all of the favorites throughout the year in a round up review post!
Follow me on @alexwpas or +AlexWoodPAS
---
Share this post
---