OUR TOP 3 CHINA TOWNS TO CELEBRATE THE YEAR OF THE HORSE
Friday January 31, 2014 by Alex Wood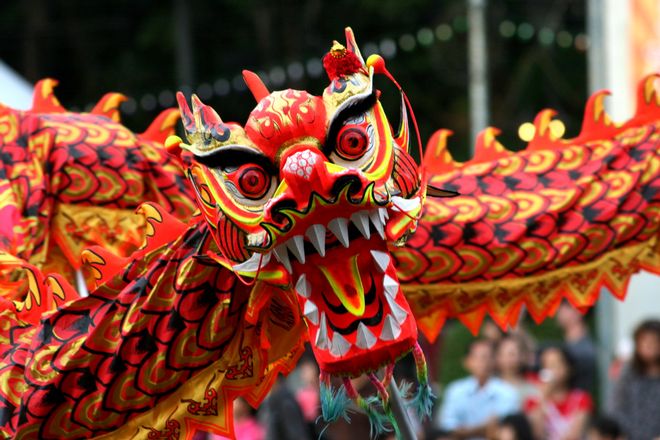 KUNG HEI FAT CHOI - HAPPY CHINESE NEW YEAR!
If you need a little lift after the Christmas sparkle has faded then the Chinese New Year celebrations taking place this weekend as we enter the Year of the Horse, could be just the ticket! Don't fret about the cost of those long distance flights though, just take a trip to one ofEngland's Chinatowns to share all the excitement right on your doorstep. Chinatowns worldwide have become the hub of Chinese New Year celebrations, with Chinese and locals alike partaking in the fun and festivities. So if you fancy some excellent Jiaozi (dumplings) or Peking Duck, try visiting one of these top-notch Chinatowns in the UK.
LONDON
The original London Chinatown was in Limehouse, near London's Docklands, a natural landing point for Chinese merchant sailors. During the 2nd World War however, the area was all but destroyed and a new settlement was established around Gerrard Street which forms the Soho we know today. Today's Chinatown at Soho is more of a tourist attraction than a real 'China town', but there are still plenty of great restaurants and the entrance arch, paifang, is a big draw for tourists. Thanks also to its proximity to Covent Garden, the Theatre District & Leicester Square, it has become a vibrant addition to today's trendy London. Chinese New Year in London is also one of the most spectacular in the Western Hemisphere with over 300,000 people taking part in the celebrations. An official opening ceremony takes place in Trafalgar Square before the real celebrations kick off with music, performances and Dragon dancing! Join the throng in a stall-covered Chinatown for fun and firecrackers on and around Gerrard Street where there are impromptu parties, food aplenty and Lion (...and yes, Dragon) dancing!
Where to stay? Nearby Covent Garden has some great serviced apartment options away from the mayhem. Check out our City Guide for ideas.
MANCHESTER
This is England's second largest Chinatown and the "Chinese Village for the north of England" also has one of the largest Chinese arches in the UK, located at Faulkner Street. It was a gift from China - a rare honour! Manchester Chinatown is bounded by 4 streets (York Street, Portland Street, Oxford Street and Mosley Street) and throughout the area, you'll find loads of Chinese restaurants, supermarkets, specialist shops and Chinese physicians. Manchester Chinatown is a thriving community where people work and run their businesses and perhaps because of this, it has that truly authentic feel, which in its turn attracts many tourists. During the Chinese New Year celebrations, Manchester Chinatown welcomes thousands of visitors with the area next to the archway transformed into a performance area complete with a big stage. Expect to be entertained by performances, (and of course those Lion and Dragon dances!) with fantastic firecrackers adding a magic touch to welcome in the New Year.
Where to stay?  Check out our top tips in the Manchester City Guide

LIVERPOOL
Liverpool was the first Chinatown to appear in the UK, and was indeed one of the first in Europe. Many Chinese immigrants first arrived in Liverpool in the late 1850's as a result of the large number of Chinese seamen employed in the silk, cotton and tea trades. Some of these sailors decided to jump ship and settled in an area of the city close to the docks around Cleveland Square, Pitt Street and Frederick Street. During World War II this original Chinatown was destroyed and this led to a shift in its location to its current home around Nelson Street, Great George Street, Upper Parliament Street, Duke Street and Berry Street. In the year 2000 aChinese Ceremonial Archway was constructed at the top of Nelson Street. This striking wooden and marble structure with a mixture of stunning gold, red, green and (the Chinese Royal colour) yellow, has over 200 depictions of dragons and was imported piece by piece from Shanghai. It stands at 15m high - currently the largest in Europe.   Liverpool Chinatown, with that famous archway, welcomes in the New Year with considerable style. There are all of the traditional draws like the Lion & Dragon dances and the renowned Firecrackers, mixed with a modern Fun Fair and Taste of China food festival. In Britain's friendliest city, Chinese New Year celebrations are definitely not just for the Chinese and the whole city joins in the fun!
Where to stay? You don't need to get a ferry across the Mersey with out top pick of city centreserviced apartments
YOUR TURN...
I know, I know - there are Chinatowns all over the UK which all put on a great show for New Year!  Nominate your favourite UK Chinatown for New Year on Facebook or Twitter(#PASholidays) and I'll put together all the favorites throughout the year in a round up review post!
Follow me on twitter @alexwpas
---
Share this post
---