5 Fantastic Reasons To Visit Sporty Scotland!
Friday April 25, 2014 by Alex Wood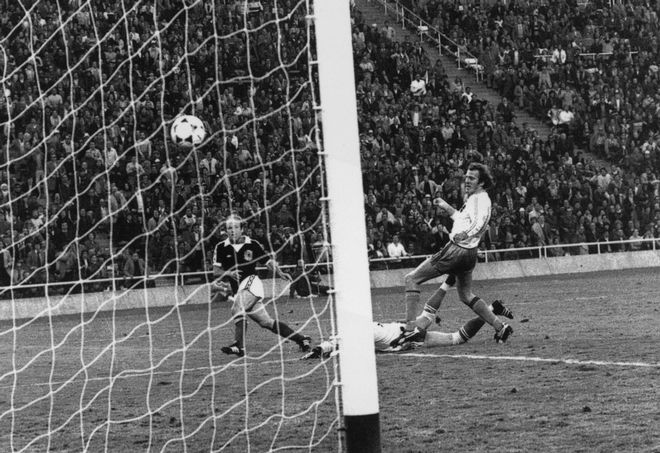 Long after the legendary exploits of Scotland's sportsmen and women are a thing of the past, and the heroics of King Kenny (Dalglish), Sir Chris (Hoy) and the not quite so regal Archie(Gemmell, seen scoring above, in a magnificent 3-2 World Cup win against Holland), are forgotten, Scots will still be astounding people with their sporting endeavour.
And so for those mere mortals among us, here are some of the things they're likely to be getting up to:
1. SKIING
Yes, you did read that right. With some European skiing destinations being just so very expensive right now, many families are scaling back their continental holiday plans. If you can't afford an Alpine resort at the moment, then help is at hand as there are some great, cheap alternatives tucked away in bonny Scotland. Here are our top tips on where to hit the slopes without leaving the country.
The Lecht - Situated in the heart of Scotland's largest National Park. 
Glenshee - Glenshee's impressive 22 lifts and 36 runs offer an amazing diversity of natural terrain for all standards of skiers and snowboarders.
The Cairngorms - Stunning scenery all year round and an abundance of altenative attractions make this the UK's top ski destination.

Where to stay? The nearby City of Granite, Aberdeen, offers a range of great serviced apartments to meet all budgets and the nightlife on offer will mean you don't miss out on the apres-ski!  Check out our Aberdeen City Guide for more options.
2. THE COMMONWEALTH GAMES IN GLASGOW
Running (oh, ha ha!) from 23 July - 3 August, the Commonwealth Games are bringing gold standard athletics to Scotland once more. Hooray!
The games offers 17 sports from the precision of Lawn Bowls to the rough and tumble of Wrestling and Judo, the high adrenaline of track events, and the grace and beauty of Gymnastics. The events are taking place at 14 world class venues across Glasgow and athletes from all over the Commonwealth's nearly 70 countries come to compete. Don't think that just because the Chinese and American's aren't there that you'll miss out on big names...the games attracts the biggest stars such as Usain Bolt, Mo Farrah, Jessica Ennis & Tom Daley to name but a few!
Where to stay? If you're looking for somewhere to stay then Glasgow has a range of apartments to meet all budgets however availability is already limited so why not consider Edinburgh as an alternative. It's less than an hour on the train, it's a great city in its own right, and accommodation prices during the Games should be much cheaper.  Check out our Edinburgh City Guide for more options.
3. GOLF
As AA Milne is quoted as saying: "Golf is so popular simply because it is the best game in the world at which to be bad", however if you want to watch some of the world's best, then this year Scotland delivers not one but two world class events. 
The always challenging Scottish Open comes to the Royal Aberdeen Golf Club from 10 - 13 July.
The Ryder Cup will be fiercely contested at Gleneagles in Scotland, from 23 - 28 September.
Where to stay? Our Aberdeen serviced apartments will make a great base if you're coming to watch the Scottish Open in particular and staying in town means that the rest of the family can still enjoy the city while you're watching the golf! Check out our Aberdeen City Guide for options.
If you're lucky enough to be attending the global event that is the Ryder Cup, then being based in Edinburgh or Glasgow could prove a very economical option. You're only an hour and 50 minutes away by car respectively and it'll be much more affordable than some of the local towns.  Check out our Edinburgh and Glasgow City Guides for options.
4. THE HIGHLAND GAMES
Taking place all around Scotland during the summer months, the Highland Games provide a unique combination of culture, sport and social entertainment. And it's not just all about the traditional heavyweights like tug-o-war and caber tossing - there are also Highland dance competitions, traditional piping, and field and track events. The Highland Games really are a must-see addition for anyone visiting Scotland during the summer.

The big draw is the Braemar Gathering where you just might get to glimpse a member of the Royal Family. The gathering is always held on the first Saturday of September in Ballater, about an hour's drive from Aberdeen.

Where to stay? Aberdeen offers a range of great serviced apartments to meet all budgets so when you've finished your highland fling you can head back to the civilisation of the Granite City to stay the night. Check out our Aberdeen City Guide for options. 

5. CYCLING
Ok, so it's not the UK leg of the Tour de France but the TweedLove Bike Festival is one not to be missed nonetheless. The TweedLove, running from 24 May - 8 June, is now the UK's biggest bike festival and promises 2 weeks of non stop mountain biking action including the first ever UK round of the Enduro World Series. All of the action takes place in the Tweed Valley which is only 23 miles from Edinburgh. http://tweedlove.com/
Where to stay? We have a great selection of serviced apartments in Edinburgh to choose from, and when you're done with the cycling you can soak in a nice hot bath to ease away your aches and pains! Check out our Edinburgh City Guide for options.  

To see the blog in pictures visit our Pinterest board.
YOUR TURN...
Do you have a top tip for sport in Scotland - let me know by nominating your favorite onFacebook or Twitter (#PASholidays) and I'll put together all of the favorites throughout the year in a round up review post!
Follow me on twitter @alexwpas
If you are planning a trip to sporty Scotland browse our list of luxury serviced apartments and Contact our sales team
Tel: 020 7704 6514 or email: sales@prestigeapartments.co.uk
---
Share this post
---