Property Review Staybridge Suites Liverpool
Friday May 13, 2016 by Elsa Wangsten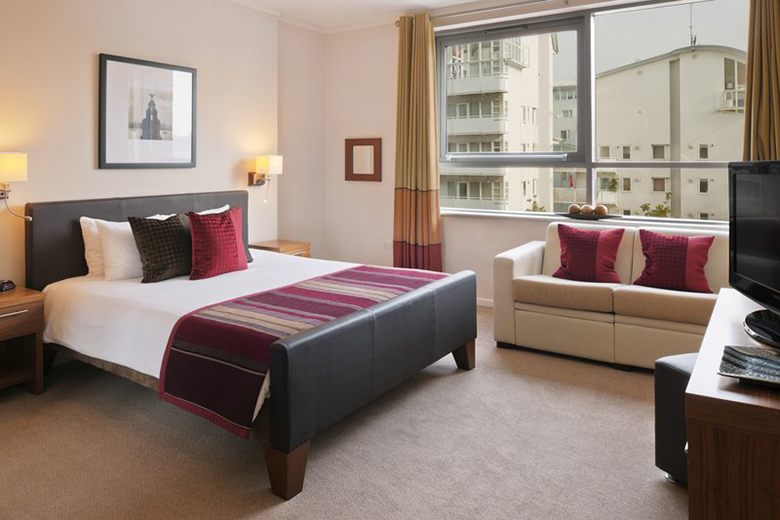 With the FA cup final just round the corner and everyone's most hated team Manchester United contesting the final against the South London underdogs, Crystal Palace, we thought we'd take a look at what's going on (and what apartments are available of course) a bit further up north, specifically at Man Utd's arch enemies Liverpool FC and their home town, the world famous footballing city of Liverpool!
So with this lovely town up north being a particular favourite of mine I thought I'd pay it a visit (firstly I must just clarify that I'm totally impartial when it comes to this year's FA cup final, because I'm a Gooner) as I'm just slightly in love with the city.
I've been to Liverpool on many occasions and am starting to know the city inside out – in fact I'd almost call it my second home now that Sweden is so far behind me - so with no real need to sight-see, one of my main aims during my time in 'the Pool' was to check-in with a trusted provider and view some of their apartments.
And so it was that after a hard journey travelling up (not really!) I headed down towards the docks to pop in for a visit at Staybridge Suites, located at Keel Wharf, just right next to famous tourist attractions The Echo Arena and The Wheel of Liverpool.
I'd been meaning to visit these apartments for ages and was glad therefore, to finally manage to schedule a visit during my trip up, and I got to meet the lovely Michelle who took me around and showed me a studio apartment as well as a one bedroom apartment. This may be self catering accommodation but it has many amenities including a 24 hour reception, on-site gym and laundry facilities (that can be used free of charge) and also has that great location down by the docks with The Echo arena and exhibition centre just outside your doorstep! There are also some lovely restaurants (Gusto's restaurant at the Albert Dock is highly recommended) just around the corner…yum!
Staybridge also has a 'mini-shop' in their reception area where guests can buy from a small selection of frozen foods, drinks, cereals and snacks…which is perfect for late arrivals (like me!) who need something tasty to nibble on for the night. And when you get up, the property also offers a great complimentary breakfast with a selection of breads and pastries and hot food as well as tea and coffee, for those guests that want to treat themselves to a little extra during their stay. I was one of them. And I thoroughly enjoyed it!
My colleague Marietjie coincidentally also had the chance to visit the same Staybridge Suites in Liverpool recently and was offered a chance to stay the night for free and try out the apartments for size and her report back was full of praise for them:
"I would recommend these apartments over and over!"
I'd also managed to be lucky enough to schedule my visit on a day when Staybridge were hosting their evening social, and the lovely staff set up a brilliant evening buffet including drinks (which all guests can attend if they wish to), and it was a great way for me to meet some new English people and create new friendships! I was treated to a glass of wine and even though I'm not much of a drinker, after a day of walking around the town it was gratefully accepted!
If you're going to be in Liverpool and need somewhere to stay then both Marietjie and I would highly recommend a stay with the friendly people of Staybridge Suites Liverpool, so book your apartment here, they come PAS-approved!
We do have apartments to offer in other areas of  Liverpool of course and so if you need to stay that little bit closer to Liverpool Lime Street or indeed to the Liverpool One Shopping Centre then take a peek at what other serviced apartments are on offer in Liverpool here.
If you need ideas and inspiration on what to do and see when you're in town, and if by some remote chance football may not be your cup of tea, don't miss our Liverpool City Guide!
 As the scousers would say: " It's sound!"
Prestige Apartments has a wide range of serviced apartments on offer in Liverpool and throughout the UK with options to suit all budgets and group sizes.  Please get in touch with the sales team who will be happy to discuss how they can help you with your serviced apartment needs. 
Tel: 020 7704 6514 or email: sales@prestigeapartments.co.uk
---
Share this post
---