Our Top 10 Tips On Surviving The London Marathon!
Friday March 25, 2016 by Alex Wood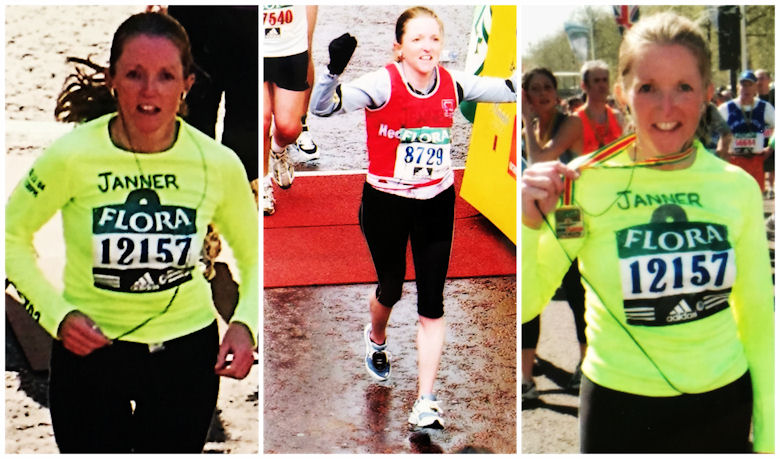 At just over 42 hellish kilometres (or 26 murderous miles if you're British), running a marathon is not for the faint-hearted. And with the world famous London Marathon 'just around the corner' on 24th April, you're going to need all the help you can get!  
Now regular readers of our Prestige exploits will remember that we're actually quite an active bunch (who can forget the deliciously torturous 20K Tough Mudder last September!) but, although we've got some keen runners amongst our number,  none of us have yet been brave enough to take on this ultimate challenge.   
So to help you (and us) out, we've gone to a good friend of Prestige Apartments and a multi-marathoner to boot…Jane 'The Janner' Sheridan (seen above in just two of her many London Marathons), to give you her top tips and expert race-day advice.
Jane's top 10 on how to survive and enjoy the big day.   
1) We know you know…but it CAN NOT be over emphasized apparently: Rule number one - don't get overexcited and run too fast in the first couple of miles! Yes, you'll be buzzing but it's a long way…and that first bit is the only downhill bit on the course so it's easy to get a bit carried away and dash off too quickly – but save it, you'll need that extra energy later on when 20 miles feels like just about half way.
2) Try to train your brain to break the race down mile by mile… don't look too far ahead or you'll be playing mind games with yourself. 
3) Be careful of runners accidentally kicking plastic bottles in your path, especially around the water stations - today is so not the day to sprain your ankle - it's easily done and you might not be expecting it if you haven't trained in busy races. 
4) If it's hot, remember that there are showers at various stages on the course, run through them and you'll give yourself a much needed mini-break.
5) Never wear new trainers or kit that could rub/scratch/irritate on the day (I've never done it but I know some who have lived to regret it).
6) Ladies, use the female urinals at the start rather than queueing - you'll save time and enjoy a liberating experience (but remember the whole point is it allows you to maintain your modesty so you don't have to drop your trousers around your ankles!).
7) Tell your friends, family and supporters where to be so you'll know where to look for them during the race, it'll be so much easier for you to find them, than them find you amongst all those bobbing heads. And make very clear arrangements about where to meet at the end too!
8) Get your 'number 2' toilet trips regulated in advance of the race and make sure you 'go go go' before the race starts - if you need to go en-route it can be crippling! 
9) Cut your toenails nice and short so that they can't graze against the front of your trainers. Your feet will swell and you could lose a few nails otherwise (I have definitely fallen foul of this one and stupidly more than once…).
10) Make enough time to spend as long as you want at the registration exhibition. Soak up the atmosphere…as you're very likely to be surrounded by like minded and excitable people - that doesn't happen very often in London! 
Janner's last word of advice...ENJOY IT! You've done all the hard work, today is glory day, you're a superstar for the day, high five every child, acknowledge every supporter who calls out the name on your shirt, take the odd jelly baby from a sweaty palm along the route and wear your medal for as many hours, days, weeks as you feel like after the big day – you've earned it! 
Thanks Jane! I'm almost inspired to give it a go in 2017…maybe see you at the starting line?

AND Where to stay?
Prestige Apartments has a wide range of serviced apartments in London which would make an ideal base if you're planning on coming to the race. Booking a serviced apartment means less travelling on the day and they come with a kitchen to prepare your pre-race carbs and a bath for your post race soak!   
Here are some of our suggestions: 
Monument Apartments - An ideal base for your friends or family to see the race with the Docklands stretch easy to get to on the DLR from Bank.  Fantastic post race connections as well as it's moments from Monument underground station. 
Ludgate Square - Small but perfectly formed.  This great little flat near St Pauls is right in the heart of the action when you run through the city. 
Cathedral Court - Another great city location for viewing the final stretch and just a couple of mins from Blackfriars Underground station. 
48 Bishopsgate - A great location near to Tower Hill from where it's simple to get to Docklands on the DLR and then back to watch you pass Tower Bridge!  
Banyan Wharf - A bit further from the action but great transport links mean you're still well connected for the race.  This block is ideal for larger family groups with 2 bedroom apartments available. 
If you're looking to book an apartment for the London Marathon then just get in touch with our friendly sales team who will be happy to find an apartment for you and your family and friends.
Tel: 0845 838 5148 or email: sales@prestigeapartments.co.uk

AUTOMATIC ENTRY TO OUR GREAT London Marathon Competition!
By booking an apartment over the London Marathon weekend, you'll automatically be entered into our prize draw for a chance to win a 1 hour sports massage by www.urbanmassage.com  
How's that for a post-race treat! 
---
Share this post
---