Craven The Good Life
Friday March 11, 2016 by Elsa Wangsten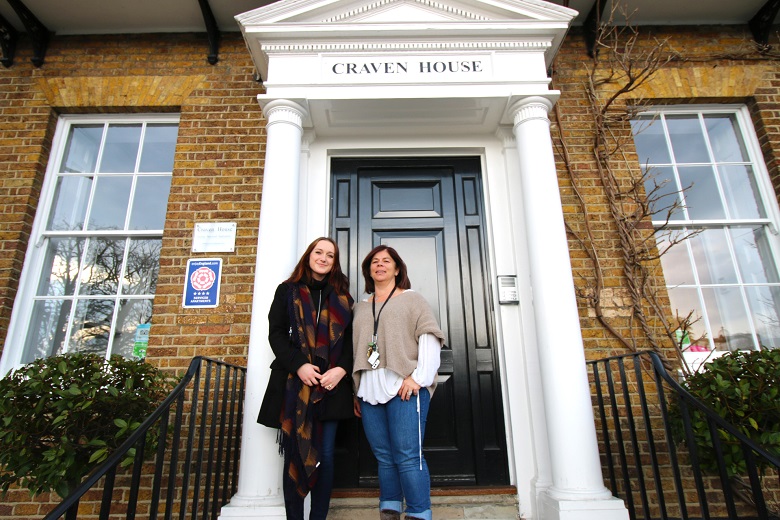 Stepping out of Hampton Court station you immediately get the feeling that you've successfully travelled away a bit, and are out of the hustle and bustle of London, and 'travel out of London' is exactly what Silvia and I did this last Friday afternoon!
With small and cosy shops and pubs surrounding you, the immediate area around the Palace is really cute and romantic and the air feels a bit more clean and fresh than the stuff you get when walking down the Uxbridge Road up in London. And it was with Spring and Easter bookings in mind that we thought we'd take the chance to head out for a little viewing and to refresh our memories about this lovely location. So naturally we asked Lucy at Craven House beforehand if we could pop by and say hello to have a look at her recently refurbished apartments, and she kindly agreed.

And so it was that, only a short time later, walking down towards Craven House from Hampton Court station (just a short train ride away from Clapham Junction and Waterloo stations) we crossed over the Thames and were amazed by the lovely views. Despite the rather freezing breeze that is. And with walking paths winding down both directions along the river (perfect for that morning jog), we both agreed that that activity (or even some gentle walking if you'd prefer it) would be just perfect down here in the springtime and that it would look so beautiful with the blooming trees and the very green grass.

Continuing our walk down towards Craven House (which is actually only a 5 minute walk from the station if you don't stop to admire the views) we passed by the beautiful Hampton Court Palace and I of course, HAD to stop to snap a sneaky photo before arriving at our destination. We were greeted by Lucy in her lovely little office at the main entrance to Craven House (where guests can enter during office hours - otherwise they have their own private entrance to the side of the building), and we had a little chat before heading off to the right hand side of the building to start our viewing.
There are two apartments located across two floors on each side of the building (plus a studio apartment on the lower ground floor) so if a big family book together they can kind of get their own private entrance and no one else would have access to their side of the building.
As we entered the first apartment both of our jaws dropped (and stayed dropped throughout the whole viewing!) as they're all stunningly decorated in a kind of mix of 'Scandinavian minimalism' and 'romantic English country living'.

The kitchens are very clean and stylish and upon arrival you'll be welcomed with a lovely little basket with cereal and other bits. The apartments also come with both a dishwasher and washer/dryer – very handy indeed if you're a busy bee like me. All of the apartments have a basic colour scheme of beige and grey however they're all lifted up by lovely little details here and there, such as accent colours of pinks, greens and purples, and it really feels like you're walking around in your own home (but probably even nicer!) when you enter the apartments.
Oh, we so crave the good life!

We were also shown the Lower Garden Suite (a two-bedroom apartment) during our visit and with twin beds in the second bedroom and the ability to take pets (due to the tiled floor and underfloor heating), it makes it just perfect for families. All the apartments overlook Bushy Park and with deer wandering around outside (they're so close you can almost feed them from your bedroom window) you kinda have your own massive garden not even a stone throw away!
If however, the park has too much of a wild-life feel for your taste then you could also have your own balcony or outside patio depending on which apartment you're staying in. Enjoy the views out over Hampton Court Green and Hampton Court Palace on a lovely spring day from the second floor or have a coffee and slice of cake in the warming sunshine on the outside terrace shared by the Upper and Lower garden Suites.

And then if you want to head outside as the temperature turns warmer and the trees greener, why not take a leisurely stroll down to the Palace where there's a tennis court, a cosy little café and rose garden and several other lovely bits to see? Alternatively, take a 2 minute stroll down towards the river and order a cold pint from the local pub.
Having seen the apartments and taken in the lovely views, as well as having gotten a bit of history of the building from Lucy (did you know it used to be a refreshment house for workers, providing coffee and lemons, as well as being rented by the Army back in the day?!), we said our goodbyes, thanking Lucy for taking the time to show us around on a Friday afternoon.
Heading back to London we were still talking about those lovely apartments we'd just seen and wondering if anyone would notice if we didn't make our way back to Shepherds Bush but secretly moved into one of those wonderful suites for the rest of the year?!
Prestige Apartments has a wide range of serviced apartments on offer throughout the UK with options to suit all budgets and group sizes.  Please get in touch with the sales team who will be happy to discuss how they can help you with your serviced apartment needs. 
Tel: 020 7704 6514 or email: sales@prestigeapartments.co.uk 
---
Share this post
---