Get me to the Greek!
Friday July 8, 2016 by Marietjie Snyman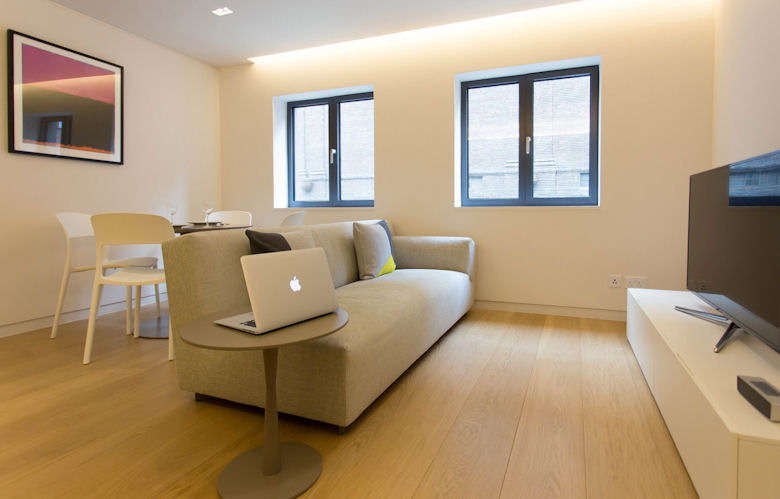 Yup, I recently had the opportunity to go and view one of our latest additions and so toddled along happily to Greek Street Apartments in Soho.
Travelling to the apartments I chose to get off at Tottenham Court Road on the central line as I wanted to see what impact the recent refurbishment work around the area had had. And it appears that with the refurbishment work at the station almost complete you'll now have direct access to Charing Cross Road, which means that it only took me about five minutes to stroll to the apartments.
Don't get me wrong, I WAS almost distracted a FEW times...passing the various theatres (and having to check out who was in what, etc!), going past the tractor beam-like pull of TK Maxx of course (one of my fave shops!), and it didn't help things knowing that one of my old haunts (and favorite places in all of London) Chinatown, was just around the corner!
Anyway, I got there and discovered that the building offers secure entry and that each and every apartment has direct keycard lift access which I really liked! I also couldn't help but notice the stunning lacquered concrete staircase. Most unusual.
Once in the apartment I thought to myself: " Wow, this is such a beautiful, modern and contemporary space." I just loved the oak floors with their modern finishes! You could see real thought had been put into the design.
The building offers one bedroom apartments with king size beds, ample storage space and huge walk in showers. It's also worth noting that the apartments are really quiet and you'll soon forget that you're right in the centre of London. And if you enjoy cooking or entertaining, the kitchen and open plan living area will definitely get your attention! 
Overall, I absolutely loved these apartments!
Heading off to my next viewing, I decided to go back a different way and so I walked to Leicester Square tube station which again, was only about a five minute walk away (if you don't get distracted by the plethora of local bars and restaurants that is!).  Just an awesome location!
Prestige Apartments has a wide range of serviced apartments on offer throughout the UK with options to suit all budgets and group sizes.  Please get in touch with the sales team who will be happy to discuss how they can help you with your serviced apartment needs. 
Tel: 0845 838 5148 or email: sales@prestigeapartments.co.uk
Follow us on linkedin.com/company/prestige-apartment-services-ltd, 
facebook.com/PrestigeServicedApartments,  @prestigeapts or 
+PrestigeapartmentsCoUk
---
Share this post
---