High Fashion - London Fashion Week
Friday February 5, 2016 by Guest Blogger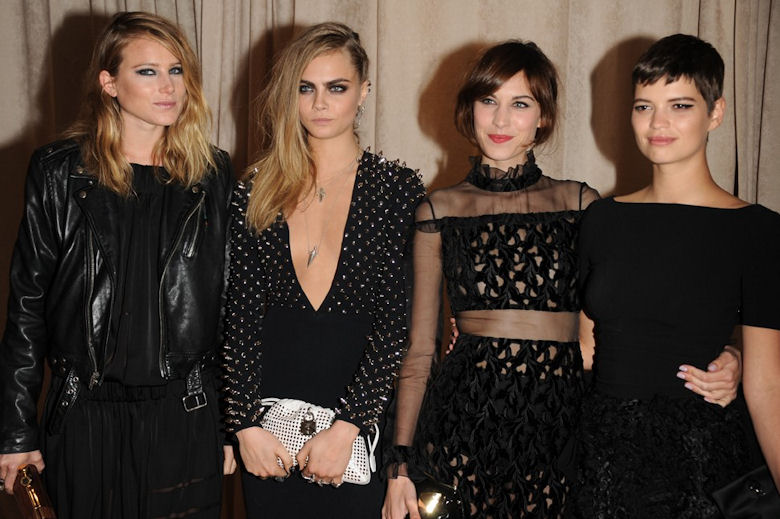 I'm weird. I am not a normal bloke.
"Is any man?" I hear you ask.
"Oh, tres drole! Touche!" I reply in French (don't worry, all will become clear, ma cherie).
And yes, you're right of course…men are generally quite silly. But now my secret must out AND HERE GOES!
I like shopping, particularly for clothes. There, I've said it.
And not just shopping either. I like to browse through certain…shall we say, uh… 'specialist' magazines too - Fashion Magazines to be exact.
Because, although not claiming to be the epitome of fashion myself, I 'just lurve' clothes and fashion.  Growing up in the far-flung reaches of the Empire, I harboured dreams of one day visiting the most fashionable city of them all…London! 
Imagine bumping into the impossibly cool Gary Newman (any under-30's can look him up!) or catching a glimpse of Mr Fashion, the late, great David Bowie himself, leaving Billy's nightclub! Or seeing a New Romantic swishing stylishly around Covent Garden in full pirate outfit (is that even possible?).  I'm showing my age now but London is forever young, and nowadays the uber-cool crowd has headed east and Shoreditch is most definitely the new place to see and be seen!  
It's despite my dubious fashion credentials then, that I admit to being more than a little excited by the imminent arrival of London Fashion Week!
And although my friends and certainly my wife, will find this prospect more than a tad 'amusant', I just think that this is THE most fascinating event on the UK cultural calendar.

The combination of high camp, high fashion and a host of parties with the gorgeous and the desperate getting even higher is like high art to me.  Not to mention the gossip, the bitching, the back-biting, the paranoia, the sex and…hang on, I'll get to the women in a minute…  
And so with all this glitz 'n glamour set to the backdrop of the world's coolest city, for me it makes for one of the most awesome weeks, like…EVER!
WHEN AND WHERE?
So how to partake of the mayhem and merriment?
Well, first of all, LFW is actually a bi-annual event with the Autumn/Winter stage (the one we're concentrating on here) being catchily called AW16, and with the Spring Summer collections being SS16.
Make sense? So the When is:
19 - 23 February  London Fashion Week – all the main events in and around Soho
25 - 28 February  London Fashion Weekend – at the Saatchi Gallery in Chelsea

IT AIN'T EASY
Now the Fashion World, as you'd imagine, is a very cliquey, secretive and paranoid one, so getting into the major runway shows and after parties is v v difficult.
However, don't despair…there are numerous places where you can give yourself the very best chance of star and fashion spotting.
You could for instance, hang around outside of the main venue, the Brewer Street Carpark in Soho (yes you read it right - a carpark – I mean, how avant garde is that!) to watch the pre- and post-show happenings unfold, and as there just happens to be an outlet of popular food chain Bills right opposite, you're sorted... Who knows, you may even catch a 'spontaneous' photo shoot. Soho's Brewer Street, Wardour Street and Greek Street are therefore all good places to hang, as is The Institute of Contemporary Arts on The Mall, and even the Tate Britain at Millbank. 
Soho's Golden Square will be home to screenings, pop-ups, events and special offers. Gobble down the uber-trendy grub and swanky coffee as you take in shows and talks on the vast outdoor cinema screen.
Maybe, like me, you have aspirations of hanging with CaKe on the FROW?

Well unfortunately, unless you're a major celebrity, top fashion blogger, designer or supermodel, Madame Taussaud's is gonna be your best chance…check out Cara 'n Kendall's waxworks there or hit legendary fashion hub Carnaby Street instead – handily it's just minutes away from the Brewer Street big cheese – and they'll be live streaming the coolest shows and playing exclusive behind-the-scenes footage there, so how good is that? 
From Sibling to Peter Pilotto and Marques Almeida, you'll be able to check out what's coming down that catwalk as it happens. The giant Carnaby Street screen will be there all week, and you can also enjoy exclusive offers on both restaurants and clothes shops as well as live music and in-store events. Aaaaaah…too good!
REALITY CHECK
There will no doubt be those cynics amongst us who doubt the value of all of this foppery and frippery, and in that respect I would refer you not to that ghastly pastiche of a woman in TDWP* but to the estimated £100m of orders generated during EACH LFW season by over 250 of the worlds top designers. If like me though, you're already a convert to the madness or indeed if you just have to have that ubiquitous Alexa satchel or to experience first hand the excitement of Cara whispering sweet nothings in St Vincent's pretty little ears, or see Daisy Lowe showing the pros how to work a room, or indeed new kid on the block, Gigi Hadid, stake her claim to Supermodel Status, then prepare for a feast!
Oh, and get a room. Lolz.
My top tips for dossing down in style would be:
The official hotel of London Fashion Week, The May Fair
Or if you need more space to hang your stylish outfits or hold an after show party why not try out a Serviced Apartment - here are some of our top picks for staying central:
23 Greengarden House - St Christopher's Place, Oxford Street
Berwick Street Apartments - Soho
Chiltern Street Apartments - Near Marylebone High Street
Garrick Mansions Apartments - Regent Street
Old Compton Street Apartments - Soho
Citadines Trafalgar Square - Near Trafalgar Square
Oh, and Kendall might be there. Yum.
If you are looking to book one of our luxury serviced apartments over fashion week contact our friendly sales team who'll be happy to find an apartment for you and your family or friends.
Tel: 020 7704 6514 or email: sales@prestigeapartments.co.uk
---
Share this post
---