Terrific Tooley Street
Monday February 1, 2016 by Sophie Oram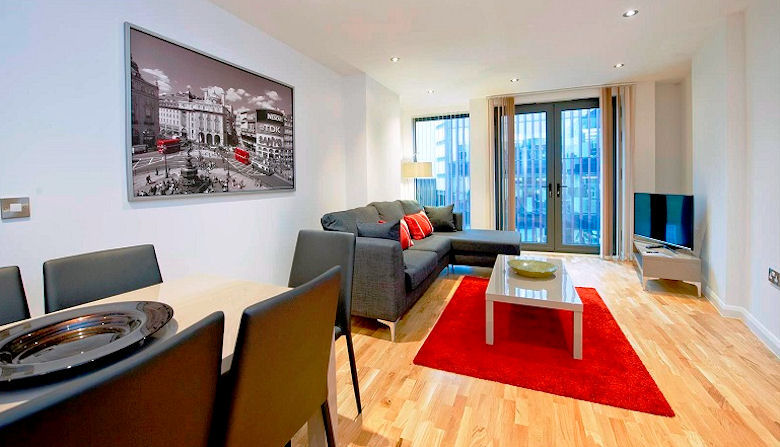 Wow, pizza and beer – our friendly suppliers Flying Butler could not have gone for a more practical, relaxing and enjoyable way to showcase their new London Bridge property than by inviting everyone (in the industry!) over for a visit!
So when my colleague Silvia and I both popped in on Thursday evening, eager to get a glimpse of the new apartments on offer, I can report that we were both most pleasantly surprised.
The Tooley Street Apartments are a new and modern (re-)development, but one that welcomes you in as if you were stepping into your own home. And we all know what a great feeling that is. The freshly refurbished apartments are light and modern and are therefore perfect for either families or corporate stays with a range of apartment types throughout the building.
In terms of layout, the apartments all have an open plan kitchen and living area, allowing them to feel spacious yet comfortable.

Despite some of the apartments facing onto the main road, there is very little noise, just perfect if you're trying to sneak in a quick nap to fight off the jet lag!


What's more, the nearby London Bridge Station just has to be one of the most convenient stations in London. Whilst still being close to central London, having both underground and national rail lines makes it a commuters dream. The apartments are less than a 10 minute walk away and seem to have all of the local necessities one would want close to hand. With Tesco, M&S and plenty of shops and restaurants in the vicinity, you'll never feel the need to travel far for anything.
They're also in an absolutely brilliant location for someone who's new to London and wants to be a part of the London vibe, without actually living in the City. The views of The Shard from the communal roof terrace are absolutely spectacular, and if you can afford it, why not pop along to the high end Shangri-La restaurant for a bit of posh nosh?
I really would like to thank Daniel and the whole of the fantastic Flying Butler Team for inviting us along and providing us with a chance to catch up with everyone…and even meet some of the newer members of their team. Silvia and I both had a lovely night and look forward to seeing you all again soon!
Well done with the new building, it's a winner!
---
Share this post
---