A Royal Treatment at Taj 51!
Friday April 15, 2016 by Elsa Wangsten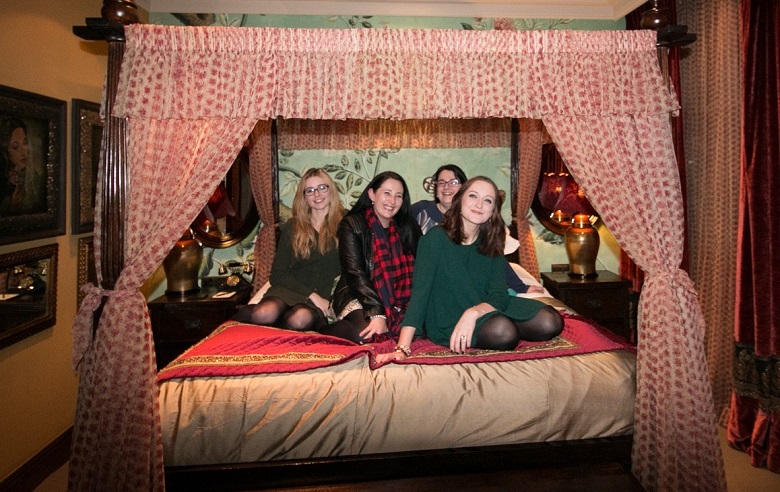 A surprise night out in The Royal Quarter of London, Buckingham Gate, just on the borders of Mayfair with absolutely no idea what to expect having just been advised to 'turn on the glamour, ladies!'
Well, that was our unusual starting point one fine Friday afternoon when Marietjie, Sophie, Silvia and I all got ready to head out towards one of London's most glamourous areas.
Having been invited by John to come for a Friday evening out at Taj 51 Buckingham Gate Suites and Residences and promised a spectacular evening, but with no clue as to the details, we were all very excited to see what the evening would hold!
Squeezing in together with what seemed to be the whole of the rest of London's population on a busy evening commute, we managed to get to St James Park station with just minutes to spare. And so it was that after just a short walk from the station (and after some typical Google Map induced misdirection) we made it only a minute (or two) late to be greeted by John at the glorious reception at Taj 51 Buckingham Gate's sister hotel, St. James' Court, a Taj Hotel.
Being led through to the hotel's lovely bar, we were treated to our own private little salon, aptly named The Cellar Room…fancy!
In front of us we each had a trio of champagne glasses, beautifully laid out on platters in which the lovely waiters poured us three different types of glorious bubbles and laid out some very fine looking appetizers. Not surprisingly they call these 'Champagne Flights'.So naturally talk initially turned to business, and the conversation drifted towards how we could most effectively work together in the future, whilst at the same time being instructed on which bubbles and delicacies to consume!
Naturally,we eventually drifted off the topic of work however, and began some rather lively discussions about Adele (it was Friday night after all!). Once the champagne, appetizers and conversation had been enjoyed it was time to have a nosy about the place!  
Two for the price of one
Starting off in the courtyard situated in the centre of both properties, we were immediately off to a good start, being mesmerised by the exterior of the buildings. The hotel consists of 7 Victorian townhouses in total, and with a beautiful green oasis in the middle, it make for a truly lovely summer evening out, especially in the warming sunlight with a fresh cocktail in hand!
With the Taj hotel having been split up into two parts (one half being a 'normal' hotel and the other consisting of serviced suites & residences), we of course were a bit more interested in the latter, whilst finding out that the bar (in addition to the various restaurants, located in the former) is still open to guests staying in the suites & residences.
Heading into Taj 51 Buckingham Gate Suites & Residences, we were greeted at their 24 hour reception, and we found out that it was exclusive to the building - with a separate lounge for guests waiting to check- in, which we thought was a nice touch and made the whole process much more personal. So once our jackets had been taken by the very polite butlers (there is a butler service for all guests) we headed off to view some serviced suites and oh my! Serviced suites they are indeed!!
Moving on
Taj 51 Buckingham Gate is made of 3 townhouses, each with its own unique style, style and character. Within each townhouse, each floor consists of a few suites (either 1,2 and 3 beds) with outer doors that can be locked and magically transform the suites into 4, 5, 6, and even 7 bedroom residences…great stuff!!
And in attempt to create a modern yet warm and homely feel, we felt they'd definitely succeeded and were all impressed by the décor in all the suites we saw, with the overall neutral palette of beige, grey and brown tones being nicely complimented with accent touches of yellow, blue, red and purple.
In addition to the great styling, there is also maid service available twice daily, personalised welcome baskets, espresso machines with free refills and those all-important spa slippers! Taj 15 Buckingham Gate guests will certainly feel like they're staying in a truly luxury hotel but with the added benefits of the essential appliances of home, each suite also has a fully equipped kitchen.
Bedrooms can be customised according to various guests needs too, with the second bedrooms in the 2 and 3 beds available to be set up with twin beds and TV screens in each bedroom.
The wow factor
After having been properly 'wowed' by the supposedly 'normal' serviced suites we also got the chance to have a sneak peak into the hotel's well known Cinema Suite, and this, ladies and gentlemen, is something truly extraordinary!
With everything from incredible wallpaper to a study that looks like it's been taken straight out of Downtown Abbey, to a red carpet leading to the bedroom (which in turn was something that made our jaws drop), to the massive shower room with personalised disco lights, to a leather armchair for pedicures in the second bathroom to the incredible living/cinema room… I just feel like even a huge 'WOW' is not really a big enough word to describe it!
And while it can't be explained in words, and you'll have to see for yourselves, this really is a stunning Suite. If you're unlucky and the place is already booked out on your dates (or you don't have £5000 to spend for the night!) then take a quick peek at our photos from the visit (and then you'll want to spend that £5000!)
And finally…
Following the tour, which had left all of us a tiny bit speechless, we were taken into Kona, Taj 51 Buckingham Gate's very own fine dining restaurant for a private dinner in the Peacock Room and what a meal it was! Three courses of pure shamazing deliciousness and incredible wine to go with it…we were properly spoilt! There is also Taj's own Michelin starred 'Quilon' restaurant at the hotel.
They say time flies when you're having fun and after talking about food, celebrities, travelling, our previous crazy jobs and a bit more Adele, we were all surprised to discover that the time was closing in on midnight and we had to catch our last tubes home. I guess our time at the ball had to end at some point…unfortunately…until next time that is!
What an amazing time we had, and we'd all like to say a massive thank you to John for taking time out on a Friday evening to see us and for the royal treatment we received at Taj 51 Buckingham Gate, we are some really lucky ladies!   
Prestige Apartments has a wide range of serviced apartments on offer throughout the UK with options to suit all budgets and group sizes.  Please get in touch with the sales team who will be happy to discuss how they can help you with your serviced apartment needs. 
Tel: 0845 838 5148 or email: sales@prestigeapartments.co.uk
---
Share this post
---