Our Top 10 Tips On Surviving The London Marathon - Part 2
Friday April 8, 2016 by Alex Wood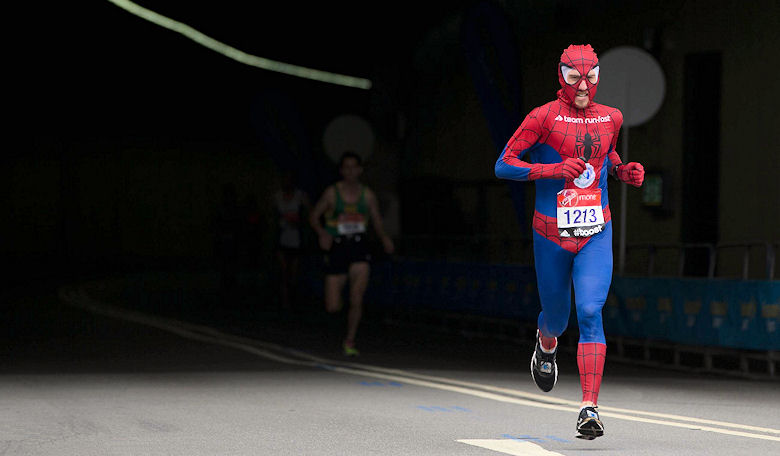 The world famous London Marathon is 'just around the corner' on 24th April and if you've got either friends, relatives or work mates running or if you just fancy a great day out, then you'll need to be prepared!
We've already looked into how to survive and enjoy the 42 hellish kilometres (or 26 murderous miles if you're British) when running a marathon, but what about if you're a supporter? It's a long day and you've got an important job to do cheering on your runners.
So once again we've turned to multi-marathoner Jane 'The Janner' Sheridan and this time she's going to give you her top tips on how to make the most of a marathon if you're not running.


Jane's top 10 tips for marathon day
1) Wear comfy shoes - or you'll feel like you've run a marathon yourself at the end of the day!
2) Plan where you're going to be watching the race from (have a couple of spots picked out) and make sure that your runners know where you're going to be and on which side of the road. It's way too easy to miss someone across the crowded pack if you're on the wrong side.
3) Wear something distinctive to make yourself easy to spot in the crowd. 
4) Use the tracker system to know when to expect your runners, they all have a chip on their shoe so you can see when they've passed each 5k point and the half way point.
5) Check the weather forecast and take whatever you need - waterproofs, warm clothes, sun cream or all of the above (this is the UK after all!)
6) Arrange a place to meet your runners after they finish: the A-Z markers are good but there are thousands of people so don't all go for the S flag, it might be tricky getting a phone signal with the rest of London trying to do the same thing!
7) Get there early to see the elite runners if you can, they look like they're hardly putting any effort in but they just whizz past you so quickly, it's awe inspiring stuff and can make the hairs on the back of your neck stand on end!
8) Shout, cheer, clap, whoop and do whatever comes naturally to help the runners put one foot in front of the other. Call out the names on their shirts to urge them on, especially in the latter stages - you wouldn't believe the difference it makes to hear your name. Clap and cheer those names even if you can't pronounce them - they'll know that you mean them (and you probably won't be the first to get their name wrong).
9) If you need to cross the road, don't run across too close in front of the runners, as those tired legs can take a bit longer than normal to change direction so you could make someone trip or jar their legs without realising it, and believe me, they don't need even the slightest hindrance! 
10) ENJOY IT - talk to anyone you like for the day without feeling like a freak of nature. Today is one of the very few days in London when it's completely acceptable to spark up a conversation with anyone in your immediate vicinity. Soak it up. 
So there you have it.  An expert's advice on how to make the most of a very special day. 
Whether you're a runner or supporter, the London Marathon is a fantastic event to visit and you'll see London in a way that you could never have imagined or expected.  Why not come this year? 
If you're looking to book an apartment for the London Marathon then just get in touch with our friendly sales team who'll be happy to find an apartment for you and your family or friends.
Tel: 020 7704 6514 or email: sales@prestigeapartments.co.uk
AUTOMATIC ENTRY TO OUR GREAT LONDON MARATHON COMPETITION!
By booking an apartment over the London Marathon weekend, you'll automatically be entered into our prize draw for a chance to win a 1 hour sports massage by www.urbanmassage.com  
How's that for a post-race treat! 
---
Share this post
---