The madness of the Rugby World Cup
Friday September 11, 2015 by Guest Blogger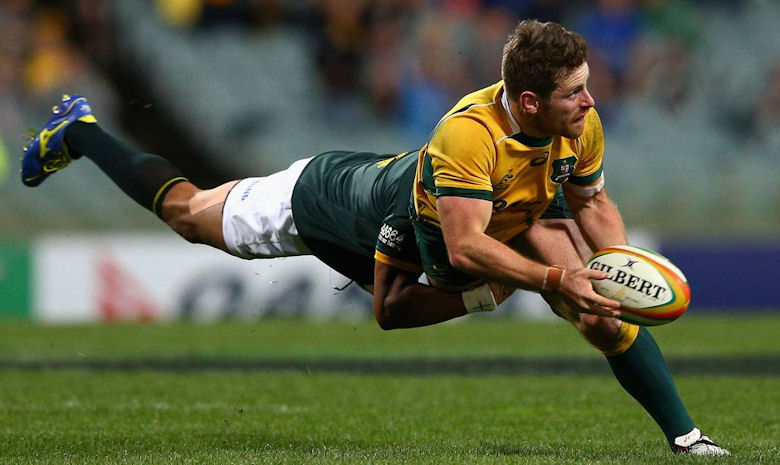 I love the camaraderie, the brutality, the gentlemen players, the bounce of the oval ball, the smell of Deep Heat in the changing room, playing in the mud and rain, watching the great players…in short I pretty much love everything about the great game. So to have a Rugby World Cup coming to our shores is like, the best thing ever!
And the great thing is that a whole bunch of people that have never played the game (my wife, bezzie mate, etc) have been 'converted' (terrible pun, sorry), and love it as much as I do. Yay and double yay! I just can't wait for the action to start, and the different (but like minded) fans from all over the world to start arriving. So for those of you who are still uninitiated into this great sport and thinking about coming over to join us on the dark side, I've put together a bit of a Beginners Guide to the 2015 RWC.
Are you ready for kick-off? Here we go!
10 reasons why this Rugby World Cup is going to be just brilliant.
Brutally powerful men engaged in gladiatorial combat.
Filthy, blokey rugby songs and the associated banter.  
Reigniting old sporting rivalries…ooh la la!
Foreign muck (their food…and drink…which we'll ridicule and then consume by the bucketload!)
The Mad coaches and even madder fans.
Tight jerseys, short shorts, muscles galore…and that's just the cheerleaders.
The New Zealand Haka and the various, humorous responses to it.
The must-win games and the grudge matches.
The drama, tears, elation and heartbreak.
Finally, and obviously (totally politically incorrectly), the fighting.
Oh my Gosh, did I already say that I can't wait? I did? Ok, well it's going to be a really open contest this time and so here are my…8 potential winners!
The Southern Hemisphere power struggle...
New Zealand: Tournament favorites.  Formidable skill, speed of thought, ambition, dynamism, power and relentless desire…the All Blacks have it all, and they know how to win. Despite their 'ultimate chokers' tag.  Captain Richie McCaw inspires and incenses in equal measure, living on the edge of the game's laws. 
Australia: Coming good at just the right time, they recently beat the AB's. Fetcher David Pocock's supreme ability at the breakdown will ensure they'll have enough ball to release the mercurial skills of Quade Cooper and many other potent attacking threats. 
South Africa have had a terrible build up losing 3 key matches but they'll be hoping that the brutal might of Eben Etzebeth and Duane Vermuelen can release their electric backs Jessie Kriel and Willie Du Plessis. They also have the most enthusiastic (and entertaining) coach in any sport. 
The Argentinians have immense physical presence, best epitomised by the enormous upper body strength of their tight five. They've grown in stature with the ambition of the backs. Expect yet another 'upset'…or two. In 2007…the passionate Pumas beat France heavily…twice.
...versus the Northern Hemisphere giants
England have home advantage, a strong, settled side, and have been lifting their levels for a while now. Down side? They play a highly structured game which they're super reluctant to break free of. Discipline is their watchword and bizarrely, it could cost them. 
The Irish are a proven and determined unit superbly led by Lions legend Paul O'Connell, and brilliantly coached by Aussie Joe Schmidt. They're the Northern Hemisphere powerhouses of the moment, the dark horses of the tournament. Have lost their greatest ever attacking threat (BOD) and have got even better. Write them off at your peril. 
The French performances fluctuate with the tides, but on their day they can sling caution to the winds and hurt any team, as they did to the All Blacks last NH RWC. Capable of great flair, imagination and invention but will coach Saint-Andre pick the right side? Hundreds of thousands of resident French Londoners should ensure awesome support for Les Bleus. 
The Welsh: Exciting and frustrating in equal measure. Passionate and dynamic. And that's just the crowd.  Wales' magnificent Millennium Stadium is the most rocking place in world rugby come match days and the emotion created in Cardiff will not be equalled. Can the players respond? Can they even get out of the Group of Death?
15 exciting venues:
London: Olympic Park, Wembley, Twickenham
South: Brighton, Exeter, Gloucester
Midlands: Birmingham, Leicester, Milton Keynes
North: Leeds, Manchester, Newcastle
Wales: Cardiff
Extra fanzones: Rugby, Trafalgar Square in London
5 key October dates:
17th     Quarter-final 1 & 2 - Twickenham, London and Millennium, Cardiff 
18th     Quarter-final 3 & 4 - Twickenham, London and Millennium, Cardiff
24th     Semi-final 1 - Twickenham, London
25th     Semi-final 2 - Twickenham, London
31st     The Final! - Twickenham, London
Jargon buster!
The breakdown - brutal skirmishes where all important ball retention or concession is contested.
Fetcher: The quick, powerful men who specialize in winning ball at the breakdown.
BOD – Brian O'Driscoll, record Irish scorer, former British Lions captain and all round good guy.
AB's – The New Zealand 'All Blacks' Rugby team.
RM - Richie McCaw, the AB's skipper.
Not rolling away – lying on the wrong side of a ruck, deliberately preventing quick attacking intent. Usually a penalty or yellow card offence. Does not apply to RM.
The Group of Death – only 2 can go through from a group containing England, Wales and Australia.
The Tight Five - the 3 short, stocky men and the 2 giants that live between their legs. They scrum. They punch each other. Then they go for a beer or three and have a good giggle about the foolishness of it all.
Hooker - not what you'd expect. Quite the opposite in fact.
Accommodation:
Serviced apartments are a great option for groups – families or friends – and there are lots of accommodation options in all of the main host locations for the Rugby World Cup.  So if you're coming from overseas and fancy making a holiday of it, why not bring the whole family (or your rugby mates) and explore some of the UK's great cities. Whilst at the same time enjoying a rugby spectacle to remember!
Give us a call now to see what serviced apartment options we still have on offer. 
Tel: +44 20 7603 7623 or email: sales@prestigeapartments.co.uk
---
Share this post
---