The Life and Achievements of Sir Steve Redgrave
Friday September 4, 2015 by Guest Blogger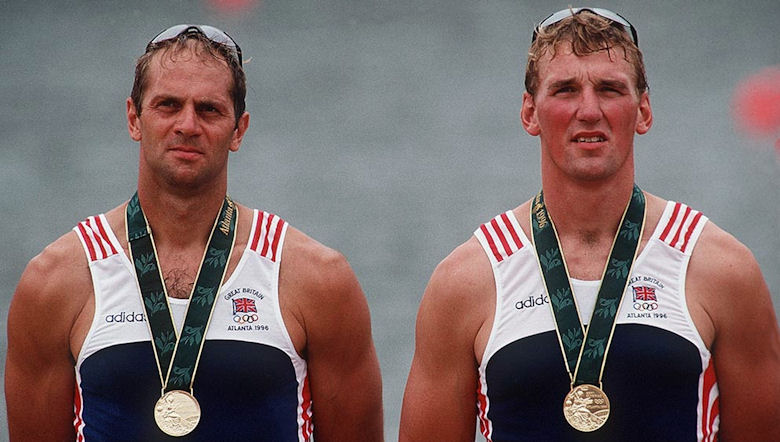 For the very few of you who may not already know who he is (although I really can't believe there are any of you at all!), Sir Steve Redgrave is one of Britain's greatest ever sportsmen. 
He's famous for having won 5 Olympic gold medals in his chosen sport of Rowing in 5 consecutive Olympic Games over a 20 year period.
But he's loved and revered for his down-to-earthness, his humility, his courage and his niceness despite all of that success. He has transcended his sport and become one of Britain's most recognizable and respected ambassadors.  We're very proud of him and seeing what it is that drove him to his incredible achievements therefore, is super intriguing. Let's take a look.
The early years:
Super sportsman Steve grew up in Marlow in Buckinghamshire. Once again, for those who may not know, it's near to Maidenhead, Windsor, Dorney Lake and the world famous rowing venue of Henley-on-Thames.However…despite the fact that Steve grew up near to that famous stretch of water, he was only encouraged to take up the endurance sport of rowing at 16. He says: "Rowing was a sport I never came across as a kid. I didn't know what it was. I was into football and dreamt about scoring the Cup Final winner. I was also sprinting school champion, but there's a massive difference between a 10 second run and rowing flat out for seven minutes."  Interestingly, Steve's other sporting interests include golf and winter sports, and it's a little known fact that during the 1989/90 season, he was a member of the British Bobsleigh Team!
Overcoming illness:
Despite suffering from 3 chronic conditions – type 2 diabetes, ulcerative colitis and an absolute hatred of training…Steve pushed himself to the limits to achieve his aims: "Two to six hours a day," Steve answered when asked what it took to become an Olympic champion. "Seven days a week. A day off once every three weeks, for forty-nine weeks a year."   So it was no surprise then, that Britain's greatest ever Olympian developed into an astute tactician on the water, knowing instinctively when to dominate other crews and when to hold back.
"You have my permission to shoot me"
The strain of competing for so long at such a high level was clear when, straight after winning his fourth Olympic gold medal in Atlanta, Georgia, Sir Steve gave one of his most famous quotes.  Someone asked him if he'd be going to the next Games in Sydney.  His immediate reply: "Anybody who sees me in a boat has my permission to shoot me." Clearly (and thankfully) no-one took this hasty advice, because when Steve and team GB crossed the finishing line to win by a hairsbreadth in Sydney, the whole of Britain was screaming themselves hoarse at the telly, willing this amazing man to an impossible feat.
Life after competition:
Steve does however, go on to say: "Retiring was probably the easiest thing I ever did.  Being an endurance athlete for 25 years, my coach Jurgen Grobler wanted me to do a wind-down programme.  He suggested I do an endurance-based training session every other day – which was a marked step down from what I was doing.  I wouldn't have had the motivation to do that if there was nothing at the end of it to go for, so I committed myself to run the London Marathon. It was a great challenge, I enjoyed it and I ended up doing it three times."  Can you imagine that as an easy post career wind down?!! 
Steve's amazing charity work during the London Marathon, as well as in several other areas…all following on from an incredible sporting career, earned him a well deserved knighthood in 2001.
The 2012 London Olympics:
Although Steve had finally given up competition, he was still involved and became one of the ambassadors for the London 2012 Olympic Bid, helping to secure the games for London that year and he continues to ensure that the event provides a lasting legacy for UK sport.   "When I came back from Sydney, they asked me if I would want to get involved with the bid for London 2012.  That was in November 2000, and of course, the Olympics had been my life since I was a 14 year old, so having the opportunity to try to bring the Games to this country, I was certainly going to get involved and be part of that."
10 great facts about this phenomenal athlete:
10 - Steve's age when he was first inspired by watching American swimmer Mark Spitz winning 7 Golds at the 1972 Munich Games.
9 – The total amount of World championship medals Steve has amassed.
8 – Steve's wife Ann Callaway represented Great Britain in the women's eight at the Los Angeles Olympics.
7­ ­– The number of minutes Steve had to punish himself for in every heat, ¼ final, semi'final and final for 20 years to fulfil his dreams.
6 – 6 foot 5 inch, 225 pound (1.96 metre, 102 kg) Steve is famous for generating enormous power from his large frame
5 - the number of consecutive Olympic Games Gold Medals endurance athlete Steve won starting from the year 1984 in LA, to Sydney in 2000.
4 – Steve is one of only four Olympians ever to have won gold medals at five consecutive Games.
3 - The number of medals which were won together with his long-time rowing partner Sir Matthew Pinsent, who shared his insatiable appetite for competition.
2 – He's carried the British flag at the Olympic opening ceremony twice!
1 – There is only one Steve Redgrave, a man revered in his sport for his intensity and strategic brilliance.
If you've been inspired by Sir Steve and fancy trying out rowing for yourself then just put your postcode into the British Rowing Website 'club finder' (http://www.britishrowing.org/clubs/club-finder ) and it'll tell you where your nearest club is. Alternatively, the Thames at West London is a great venue.  There are lots of rowing clubs dotted along the river in Hammersmith, Chiswick, Kingston & Richmond and you've got one of the worlds great cities just on your doorstep as well.We've got lots of serviced apartments in these locations so if you're looking for somewhere to base yourself, it really couldn't be easier and you can relax in the warm, home comforts of your apartment after a day on the river too! 
Call our sales team on + 44 20 7603 7629 or email sales@prestigeapartments.co.uk for more information on the apartment options available.
---
Share this post
---