Review of a Smart Serviced Apartment in London
Friday October 16, 2015 by Marietjie Snyman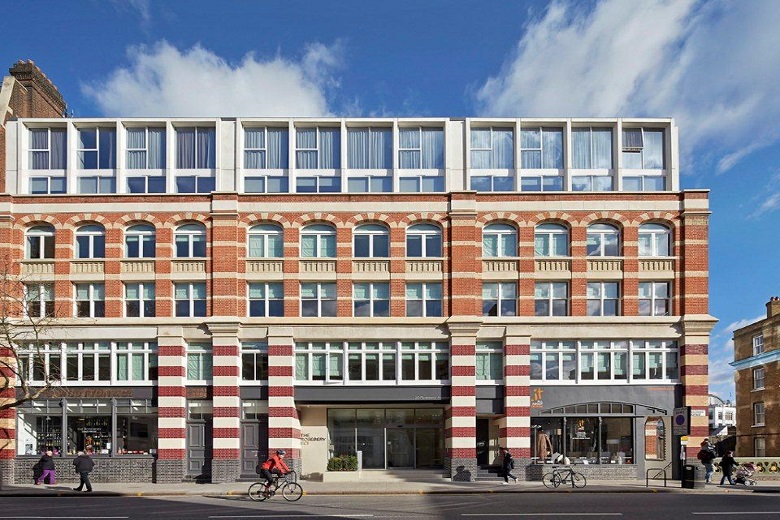 This month we're focusing on technology, which created a very good excuse for me to revisit the rather swish Rosebery Aparthotel, this time taking newbie Silvia (who joined us back in May) with me!
We were fortunate enough to arrive at Farringdon station on the Hammersmith and City line on a beautiful Autumn day. With Silvia in charge of directions, we started the 10 minute walk to the apartments and she did a great job of getting us there despite all the very nice looking restaurants and pubs. I noted that it's a safe walk, and I'd certainly be happy to walk it in the evening. 
First Impression: Wow, it's a beautiful Victorian red brick building.
As we walked in, we were met by Joanna who'd be showing us around. 
This is going to sound a bit weird but the reception area is actually one of my favourite areas in the building. I just loved the feel of the space with its various artworks on display. Always a selling point, you'll be pleased to know that the reception is manned 24 hours a day.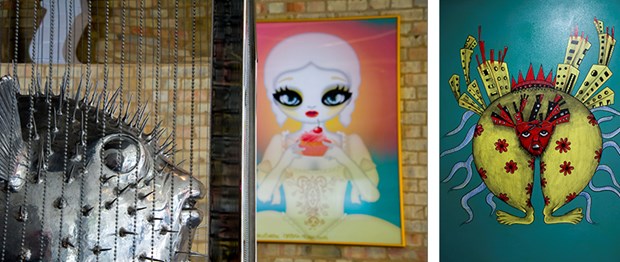 So up to the apartments we went and first off we viewed a premier studio suite.  This studio apartment felt more like an open plan one bed to me. I really liked the big windows which allowed natural light in, making the apartment nice and bright, and this studio also offers a fully fitted kitchen, a work desk and a good sized living area.
In many cases we wouldn't recommend that a longer stay tenant books a studio apartment, however I'm really confident in saying that this apartment would be perfect for either a short or a long stay.
Next up we headed off to view a two bedroom apartment, and I couldn't help but notice how well kept the communal areas were, and we both loved the art on the walls (that you'll find right throughout the building). Chatting away with Joanna she talked us through all the basics of the apartment, which far exceeded my expectations. Again, the apartment was bright and overlooked a garden area. This time there were two modern bathrooms, one being an en-suite. There was also a good main living area with a fully fitted kitchen. The bedrooms were of a good size with plenty of storage space and the master bedroom also has a TV. I spotted that there was also a handy work desk in the apartment.
Now we get to the really cool (techie) bit…yay! Each apartment has a control panel in the wall on which you can set your apartment temperature, look up directions on, or even use to browse through a list of local restaurants.
And if like me, you're one of those few people that actually reads instructions, you'll find all of the instruction manuals for your apartment's appliances and operating systems on there too. How cool is that! It even tells you the weather, which in London, can be very useful!
If you book either an executive one or two bed apartment you'll also find a fancy Ruark Digital Radio in these apartments and have use of a full Sky package (including those vital sport and movie channels).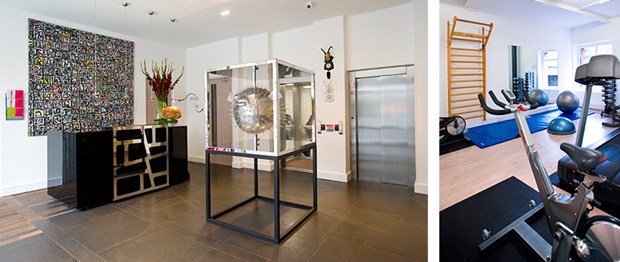 Back to basics:
This location has a gym.
There's a coffee machine in every apartment.
Luxury robes and slippers are included on stays of 7 nights or more in the Executive One Bedroom Suites (please can I stay?).
There's a well-stocked Welcome Pack – with fruit, water, milk, tea bags, coffee sachets, sugar sachets, chocolate bars and coffee pods.
Welcome pack toiletries include soap, shampoo, conditioner, shower gel, body lotion, toilet paper and tissues (replaced during each weekly clean).
Just off reception you also have use of the Printworks Kitchen, which is another cool and artsy area where you can hang out, grab something to eat (the food looked YUM!) or have a drink. You can also order in supplies from there, to be delivered to your apartment.  This area is open Monday to Friday from 7.30 in the morning to 4.30 in the afternoon.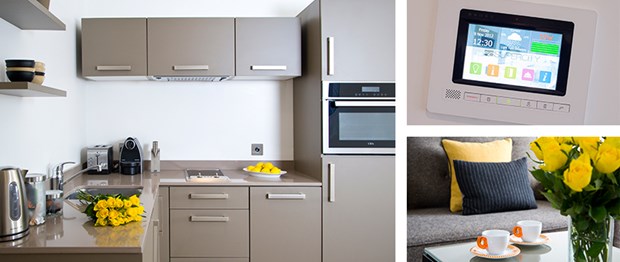 Overall Silvia and I were really impressed and I would definitely recommend these apartments over and over again!
They're techie, beautifully decorated and looked after, and not only that but the rates are really competitive too, so they get a big thumbs up from both of us!
Have you booked an apartment with us? Send me an email and tell me about your stay: marietjie@prestigeapartments.co.uk
If you're planning a trip to visit the UK, Prestige Apartments has a wide range of serviced apartments and vacation rentals on offer in London. We'll have something to suit all budgets and group sizes so why not consider staying in a serviced apartment this year? Just get in touch with our friendly sales team and they'll help you to choose your perfect 'home from home'. 
TEL: +44 20 7704 6514 or EMAIL: sales@prestigeapartments.co.uk
Follow me on twitter or connect with me on linkedin
---
Share this post
---