Serviced Apartments in Monument Review
Friday May 15, 2015 by Harriet Hickey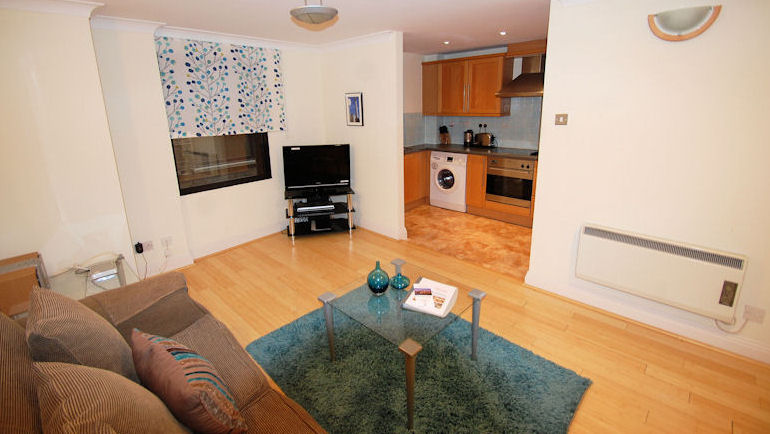 So guess who's back then?
YES IT'S ME, HARRIET!
After what feels like 2 years on maternity leave…actually, hang on a minute, it really HAS been more or less that…I'm back in the saddle and raring to go.
There's a slight twist may I add: I'm working from home in Sheffield!
I commute once a month to the London office which gives me a fantastic opportunity to 'test' out some of the wonderful serviced apartments that we have to offer. Sheffield is my home, its where I grew up and will always hold a special place in my heart, so when it's time to pack my overnight bag and attempt to get on the right train to London, it's important to me that the place waiting for me at the other end feels like a home, albeit a temporary one for a few nights.
During my last trip to London I was lucky enough to stay in one of my favorite areas, The City. I love the buzz this place has, the fact that you're basically slap bang in the middle of the capital and nothing is too far away.
I stayed in a one bedroom apartment in one of our managed (very well managed I may add!) properties, Monument Apartments. Located just a few minutes' walk from Monument Underground station and with a good selection of handy shops close by, these apartments certainly give me a warm fuzzy feeling inside. I immediately noticed that I didn't feel isolated or alone (with two small children it's a rarity that I'm ever alone, but when I am, I don't like it!) as there are people buzzing around, coming home from work, going to work and nipping to the shops. That's the first box ticked on my list of home from home requirements!  
Upon arriving at the building it's great to see that there's secure access and a very tidy and welcoming lobby area. There isn't a reception at Monument Apartments but that doesn't put me off as I know one of my trusty colleagues would be at the other end of the telephone should I need them. I'm notoriously forgetful so anything is possible!
The apartment itself has a very homely feel, decorated in a neutral style with colourful accents in the living room and bedroom. And again, another tick for my list of homely requirements. Yay!

There is also a fully equipped kitchen, which for me is super important. I just love to cook. I also love that I'm able to wash my clothes in the apartment, meaning I can pack extra light and not have to worry about bringing various outfits in case my shirt gets dirty (or I spill coffee on it which is highly likely). It also means that I can make myself lunch: that way I'm sure to avoid spending my entire month's wages on a minuscule pack of Sushi (London prices!) which I will ultimately be disappointed with.
The apartment is very spacious, so for those of you who come to the capital for longer business visits, I can assure you that you're onto a winner.
Whenever I go anywhere I always like to unpack my bag, I'm not one for rummaging through my belongings at 7am bleary eyed. I like to see what I've got and access it quickly! So I was very pleased therefore, to find an ample wardrobe with plenty of hangers, and there's also a chest of drawers but it's one or the other (or t'other as we say in Yorkshire)  for me as I know for a fact that I'd forget something if I used both!
Obviously working for Prestige for the past 5 years, I know these apartments like the back of my hand, however it puts a whole new spin on things having actually stayed in them. I'm able to pick up on things that we wouldn't necessarily pick up on standing on the side-lines; things that could potentially make someone's stay much more pleasant. 
We're very aware that many of our clients are business travelers coming to London for long periods of time, leaving their home and family behind, so we totally 'get it'. We realise that it's really important to ensure that their serviced apartment experience is as 'close to home' as possible and that they'll have somewhere to call a 'home from home' for the duration of their stay.
Because in fact, exactly the same thing applies for shorter stays, just like mine!
If you're planning a trip to visit the UK, Prestige Apartments has a wide range of serviced apartments and vacation rentals on offer in London. We'll have something to suit all budgets and group sizes so why not consider staying in a serviced apartment this year? Just get in touch with our friendly sales team and they'll help you to choose your perfect 'home from home'. 
TEL: +44 20 7704 6514 or EMAIL: sales@prestigeapartments.co.uk
If you liked this why not connect with me on linkedin or read some of my other blogs.
---
Share this post
---