The History of JMW Turner
Friday March 27, 2015 by Guest Blogger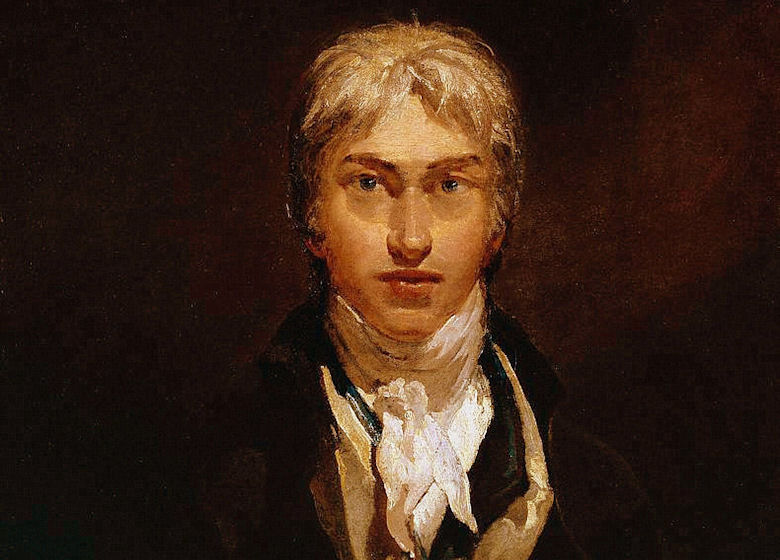 In episode 3 of our greatest Britons series I seek to shed light on the life of (very possibly) our greatest artist.
In the final analysis, a painter has to be judged by his paintings and not his persona, however enigmatic. And believe me, he was VERY enigmatic! In choosing JMW Turner as one of my 12 greatest Britons however, I'm eminently satisfied that I've made the right choice.
Because the paintings, without question, absolutely speak for themselves.
Having spent 4 of the best years of my life at Art School, qualifying as a Fine Artist, and having worked in both commercial and fine art, I've been in awe of Turner's considerable skill for a long time. I was therefore intrigued to see Mike Leigh's new film for myself, in which he looks into the latter part of the eccentric life of Mr (Joseph Mallord William) Turner, and to get more of an insight into the character of our eponymous hero. And well, despite a towering performance by Timothy Spall who won Best Actor at the 2014 Cannes Film Festival for his portrayal of the great man, and a great effort by Mr Leigh to reveal him, I left the cinema feeling that I was only slightly wiser as to the true nature of the man.
Why was that?
Well, as is the case with many famous artists, he was quite simply the polar opposite of straightforward.
A surviving memoir describes Turner (on his sketching tour of Wales and the West Country in 1798) thus:
'I recollect Turner as a plain uninteresting youth both in manners and appearance, he was very careless and slovenly in his dress, not particular what was the colour of his coat or clothes, and was anything but a nice looking young man...He would talk of nothing but his drawings, and of the places to which he should go for sketching. He seemed an uneducated youth, desirous of nothing but improvement in his art...'
And this is what contemporary Edward Dayes said about him in 1805: 'The man must be loved for his works; for his person is not striking nor his conversation brilliant.'
That may seem fairly damning, but there's more to it than that.
Despite Turner's enormous intellect, his patchy education and wholehearted (some would say obsessive) commitment to his art meant that he cut a poor figure socially, and although he gained social confidence later in life, his remarkable emotional sensitivity was the cause of a corresponding vulnerability which meant that he always had his emotional defences up until he felt that he could fully trust people not to hurt him. In fact it may be because of this that he never married, although his father, with whom he was very close, lived with him for 30 years (sometimes working as his assistant, and mixing colours, etc).
In stark contrast, his lifelong friend Clara Wells said of him: "Of all the light-hearted, merry creatures I ever knew, Turner was the most so, and the laughter and fun that abounded when he was an intimate in our cottage was inconceivable."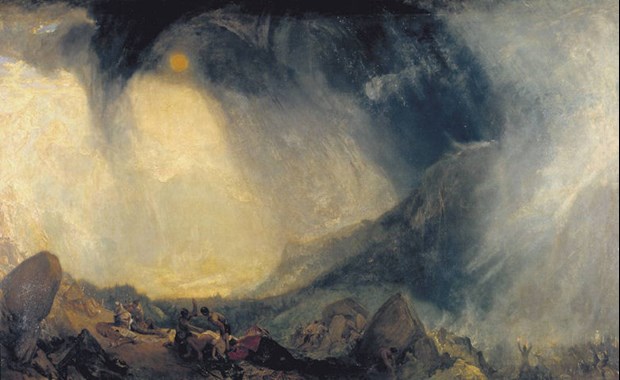 As I said at the start, the paintings speak for themselves, and the self-assured gaze which we receive from his early self portrait (main image) really does tell us quite a bit about the confident way in which he viewed both himself and the world in his formative years. Additionally, you only have to look at his wonderful "Snow Storm, Hannibal and his Army Crossing the Alps 1812" (above) to know that we're dealing with not only a technician of the very highest order, but a visionary who brilliantly anticipated impressionism long before Aix-en-Provence's Monsieur Cezanne laid claim to that lofty title.  
Turner was fascinated by the power of God in scenes of nature, especially the ocean and the sun. He would make many furiously drawn sketches in numbered notebooks and then use those for reference when he painted in his studio. Sometimes he'd place people in the paintings, but they'd inevitably be small and insignificant when compared to the power of nature around them. The tiny elephant (second image above) dwarfed by the elements in the aforementioned painting of the "Snow Storm" is a typical device employed to great effect in this regard. Legend also has it that he had himself tied to the mast of a ship during a storm so that he could experience the power of the sea first hand, but this may not have basis in fact. He had a voracious appetite for discovery and loved traveling to Italy (especially Venice) and this inspired not only some of his greatest watercolours, but a number of his oil paintings too.
He is very probably the greatest painter of seascapes that has ever been, but his 'pre-impressionist' landscapes in both watercolour and oil stand the test of time and are still striking today. Above all (and I said at the very start that I wanted to shed light on what made him so great), it was his fascination with, and eventual mastery of light (as evidenced in his masterpiece "The fighting Temeraire" - below) in all of its many facets, that really sets him apart as one of the great painters of our age.
In JMW Turner we really are talking about one of the true artistic greats, someone who was not just a paragon of the British art scene, but one of the world's brightest stars. I would strongly urge anyone with a serious interest in the many talents of this amazing man to look into his formative influences here:  http://www.turnersociety.org.uk/Turner_biography.pdf
And if not, just look at the paintings.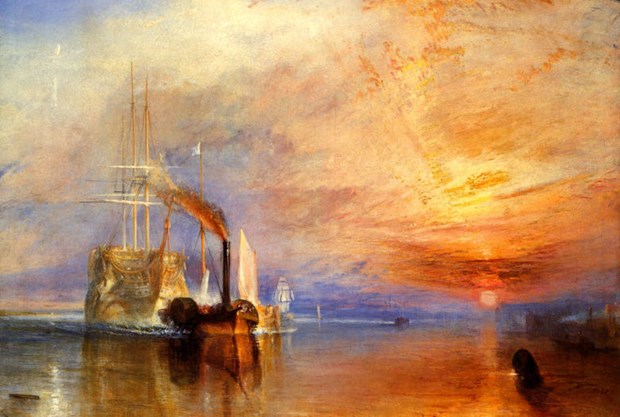 Did you know Turner was born in Covent Garden? Why not follow in the footsteps of this Great Briton and book a Covent Garden serviced apartment as your base to explore the area or visit the house where he lived with his mistress and where he died eventually in Cheyne Walk, Chelsea.  
Prestige Apartments has a gallery of serviced apartments in London for you to choose from.  Just get in touch with our friendly sales team and they'll help you to choose your perfect serviced apartment for a picturesque stay.   
Tel: 020 7704 6514 or email: sales@prestigeapartments.co.uk
---
Share this post
---