Using a Serviced Apartment when Moving House
Friday June 12, 2015 by Aleksandra Guzek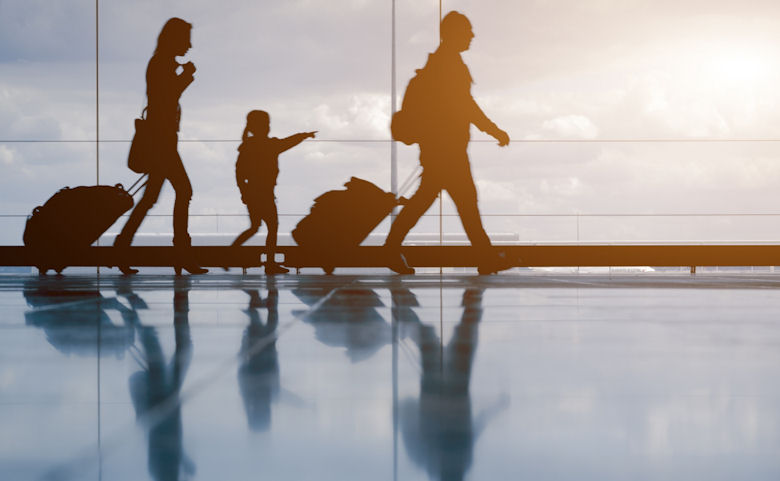 Relocation…also known as moving, is the process of vacating a fixed location (such as a residence or business) and settling in a different one. A move can be to a nearby location within the same neighbourhood, a much farther location in a different city, or sometimes a different country. It usually includes packing up all belongings, transferring to the new home, and unpacking, as well as administrative or bureaucratic tasks, such as changing registration data, change of insurance, services etc…
Boring!!!
This Wikipedia description is certainly very factual but as you probably know already, here at Prestige we're all about having fun, so here's what WE think about Relocation…
Ok. The decision's been made. And you ARE going to leave your sensational new summer clothes, trendy Brazilian flip flops and awesome house with that amazing swimming pool behind and relocate! And it's going to be to this leading global city, with its thriving art scene, its commerce, education, entertainment, fashion, finance, healthcare, media, research and development, tourism, and transport all contributing to its prominence… Yup, it's London, baby.
But hang on a mo…that's a lot to be prepared for! To help you out, we've prepared OUR top 5 tips before you relocate:
Area:  Where's home?
Like the lady said: "Location, location, location."
The absolute, top of the list, most important decision you're gonna have to make…is what area you'd like to re locate to. Different people will have different priorities. Some will be looking for a family friendly location and some (like those ultra knowledgeable types, the ex-pats) will only be interested in fashionable areas (with all the associated coolness that goes with them…the uber trendy pubs, boutique shops or B-list celebrities hanging around, trying not to be spotted). The one thing they both want is that feeling of security and safety.  So, to that end, it's essential to do all your online research well in advance. If you're able to, speak to friends & family living in or nearby the place that you're looking to move to, or indeed, just pick up the phone and call us. We'll certainly be able (and more than happy) to help if you're relocating to London.
Schools:  Play  together, stay together
This may well be the priority for families. Even ahead of the golden rule of location (although the 2 do tend to go hand in hand). And again, all the research can be done online. The best place to go to will be the local council website. It's really important to check the best schools and nurseries in the area you're looking to move to. It's every parent's nightmare to have an unhappy and grumpy child, and you really don't want to have to deal with the daily drama of  your child not wanting to go to school. That is one serious headache right there. So, schools are fun, but you need to find the right one.
Transport :  Welcome to public transport, let TFL  be your guide
Right. There are two realistic options: You either find your nearest Mercedes dealer (which would be eminently preferable) or you sign up with the TFL.  If like me, you're a car freak and you believe that it's either the best or nothing then you'll buy yourself an awesome Merc, put the roof down, tune in to your favourite radio station and proceed to swan around London with the top down. How cool is that?
Ok, down to earth now…
If you're not a full on petrolhead, you'll need to become familiar with the TFL (Transport For London) website at:
https://www.tfl.gov.uk/ where you'll be able to check out all the buses & trains in your area or http://www.tfl.gov.uk/plan-a-journey/ is incredibly useful if you need to plan your journey to and from work.
Please do keep in mind that London Black Cabs are the most secure and comfortable taxi transport in London. They may not be the cheapest but they are reliable. And you could always have a great chat with a proper Londoner…and find out which famous people have been in his/her cab…and how nice/horrible they were!
Shops:  I could give up shopping but I'm no quitter
Here at Prestige (Ok, here in the female half of the Guzek household) we love shopping and we're proud of  that. We believe shopping gives you happiness. It's safe to say that whichever location you choose, you'll have plenty of shops around because London is one of the undisputed global capitals of the shopping world. And most of the shops and supermarkets these days will have their own online sites, so again you'll be able to check exactly where your favourite shop is, and I can assure you, market forces being what they are, most of them will be on your door step. Especially if you like the worlds leading brand of coffee. Just bear in mind: other brands ARE available.
The Entertainment factor:  remembering to have fun
 Once you've established that you have the perfect school/ nursery for the child/children, and that there are plenty of cool shops in the local area, you can begin looking into the area of personal happiness…yes, that means for yourself. Fancy a fancy dinner after work? Restaurant - check. Need a quick (or not so quick) glass of wine after a stressful day at work? Bar - check. Want to meet new people to hang out with? (especially when you've just left all of your friends behind) Club – check. In this case online research is not necessary. Your bit coin is worthless here, sir. Here at Prestige we know all the fun places in London…one of our staff has almost certainly already been there and done that. You can trust us on that!
Are you relocating soon? Send me an email  and I'd be happy to help: aleksandra@prestigeapartments.co.uk
If you're planning a trip to visit the UK, Prestige Apartments has a wide range of serviced apartments and corporate housing on offer in London. We'll have something to suit all budgets and group sizes so why not consider staying in a serviced apartment this year? Just get in touch with our friendly sales team and they'll help you to choose your perfect 'home from home'. 
TEL: +44 20 7704 6514 or EMAIL: sales@prestigeapartments.co.uk
---
Share this post
---