Our Trip to Visit Luxury Serviced Apartments in Birmingham
Friday June 5, 2015 by Elsa Wangsten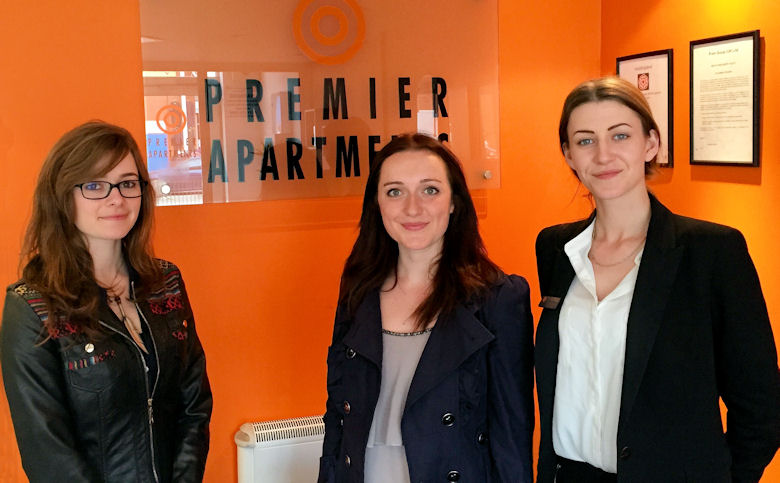 New girl Sophie from New Zealand has joined us here at Prestige to help out with reservations and with new blood in the group comes the opportunity to get out and see some people and apartments.
And so why not to take the chance to head outside of London's borders for a change, we thought? Well, that said and done, we booked some tickets to go up north to Tamworth and Birmingham rather spontaneously because we felt why not?! It'd be a great chance to catch up with one of our corporates and for our new 'little' Sophie, (well I'm 'little' Elsa, so its only fair!), as well as myself to view a couple of providers in Birmingham.
And so it was that way ahead of time and with a bag filled with goodies we met up at Euston, grabbed a hot beverage to go (I'm guessing you already know from where), and jumped on the train heading to Tamworth. With the weather looking like it was about to treat London to some amazingness, lots of sunshine and high temperatures, we were casting some worried looks towards the dark clouds lingering in the sky a bit further up north….
After two hours on the train we duly arrived in Tamworth, together with the sunshine that then luckily stayed with us for the rest of the day! We headed for our first appointment with one of our corporates, treating them to some of our goodies, after which we headed back to the station to get on the train to Birmingham.

Once again, with some extra time on our hands, we felt like being spontaneous and scheduled in some more viewings than we'd originally planned! And that said and done, and a quick call to Staycity and we had our first viewing of the day arranged – sweet!
After a quick stroll around Birmingham, including the giant and amazing shopping centre 'The Bullring' as well as discovering some interesting street art (the East London-lover in me was thrilled), we met up with the lovely Lucy at Staycity. Having just returned from maternity leave we were her first viewing back and we can't say anything else but that she did a terrific job! We got to see a one-bedroom apartment, an executive one-bedroom apartment and a two-bedroom apartment, all of which were very lovely! And with China town and a host of other restaurants around the corner and it being just a few minutes walk from The Bullring and Birmingham New Street Station, the location is totally perfect!

"It's amazing how the sound doesn't travel through to the apartments, despite being in the heart of Chinatown!"
Following this we headed down the street to Premier Apartments and met up Pippa. She showed us a two-bedroom apartment and also told us that the floors in all of the apartments are being redone, one apartment floor at a time and on its on its way for all of them to look new and shiny!

Also, just being minutes from the town centre, the apartments are great for corporate stays with shops and restaurants close by and easy access to other parts of the UK from New Street, Moor Street and Snow Hill stations. Snapping a quick photo with Operations Executive Mariam, getting some goodies from Pippa and saying our thanks, we then realised that yet again we were going to have some time to kill before our last appointment of the day at Staybridge Suites!
"A great option for families traveling as the second bedroom gives you the option to have either a double or twin beds (and we all know how kids feel about sharing things..!)"
So, what to do in Birmingham?
"Well, why not visit a museum?" was our brilliant idea. And why not make it the Thinktank Science museum while we were about it! Well that was the plan…but having a bit of a walk to get there and not much time left when we eventually arrived, we settled for a look around outside, enjoying some streaks of sunshine before heading back into the town centre and finding Staybridge Suites located very centrally just minutes away from The Bullring again as well as Birmingham Moor Street station, perfect for both corporate and leisure stays. Being treated to a cup of coffee and a seat in the lovely lounge area, we rested our feet for a couple of minutes while waiting for Stacey who had offered to show us around.

Getting to see a studio apartment and a one-bedroom apartment we were both very impressed by the design and standard of the apartments and would definitely have booked ourselves in for a nights stay had we not had a train to catch back to London the same day! Also, benefiting from a gym (always a plus for this Swedish gym bunny!) and a laundry room, it really feels like guests will get the most out of their stay.
Saying our goodbyes to Stacey, we once again headed out into the sunshine, enjoyed a (very) late lunch by Birmingham Cathedral and then eventually made our way to the train station to head back home to London.
The communal areas at Staybridge Suites are a brilliant idea, not only do they offer you the opportunity to feel like you've 'gone to the office' to do a little work (without leaving the building!), but it also offers solo travellers the chance to mix and mingle with the other guests."
Having avoided the rain all day and also met up with some new lovely people I think its just fair to say that our little day trip up north gets a double thumbs up! And lastly can Sophie and I just say a massive thanks to everyone who took the time to see us! It was great!
Please also follow me on twitter @ElsaWangsten or connect with me on LinkedIn
Prestige Apartments has a wide range of serviced apartments on offer throughout the UK with options to suit all budgets. Please get in touch with the sales team who will be happy to discuss how they can help you with your serviced apartment needs.
Tel: 020 7704 6514 or email: sales@prestigeapartments.co.uk
---
Share this post
---