Find out why we loved Lorraine at the 2015 BTS
Thursday February 26, 2015 by Aleksandra Guzek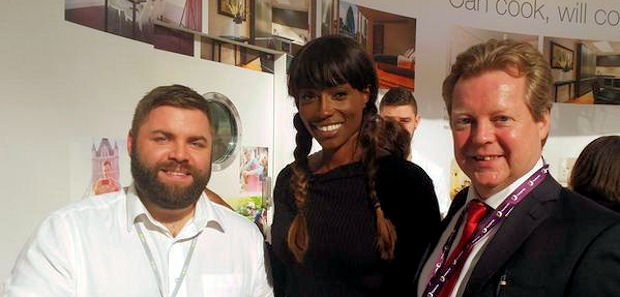 clean shaven Nick with Lorraine and Shaun on the GoNative stand at the bts
Serviced apartment provider Go Native welcomed professional chef and TV personality Lorraine Pascale to their stand at the Business Travel Show in February, hoping that Lorraine would inspire business travellers to improve both their cooking and culinary knowledge!
And true to form, Lorraine admirably demonstrated exactly how to successfully cook in a serviced apartment kitchen when travelling on business!
Prestige Apartments' roving reporters for this mission of discovery were myself and Nick Wood, who is no mean chef himself. Nick absolutely loves cooking and has himself travelled extensively with his former job working for the British Forces charity SAAFA so he knows only too well the benefits of staying in a serviced apartment with its own kitchen.
As well as providing space, flexibility and freedom, serviced apartment guests can also enjoy the additional benefits that a kitchen offers: allowing them the chance to work to their own timetables, eat the food they enjoy the most, and follow a healthy diet.
Lorraine is renowned for her love of good food and baking, with her series 'Fast, Fresh & Easy' demonstrating stress-free cooking that delivers exceptional results. Her most recent TV series, 'How To Be A Better Cook' embodies her focus on easy-to-follow, simple yet delicious dishes and this approachable and simple cooking style resonates with business travellers.
During the 2015 Business Travel Show, Lorraine (or one of her sous chefs) were on the stand running cooking demonstrations in the purpose built kitchen, helping to reduce concerns about unfamiliar kitchens and equipment, and showing how to make the most of cooking for one. Visitors were able to interact with these demonstrations with Lorraine saying: "I'm passionate about inspiring people in cooking, whether they're new to it or a practiced cook. It's easy to let a diet slip, or to eat out every night when travelling, but whipping up fresh, exciting dishes is quick and simple to do." 
Shaun Prime, managing director of Go Native said: "Having a kitchen and the freedom that this brings is one of the most critical differences between a serviced apartment and a hotel. This flexibility is important, especially if you're staying for an extended period. With her emphasis on simple yet tasty dishes, Lorraine is the perfect choice to demonstrate how to enjoy cooking while travelling on business, and to inspire our guests with new dishes for future stays."
So what more can I say...a friendly host, delicious food cooked by professionals and Prosecco at 11 in the morning – thank you Go Native for this superb kitchen experience! For a quick glance of the day click here...
---
Share this post
---