Luxury, location, long stay and lovely London views
Monday February 2, 2015 by Marietjie Snyman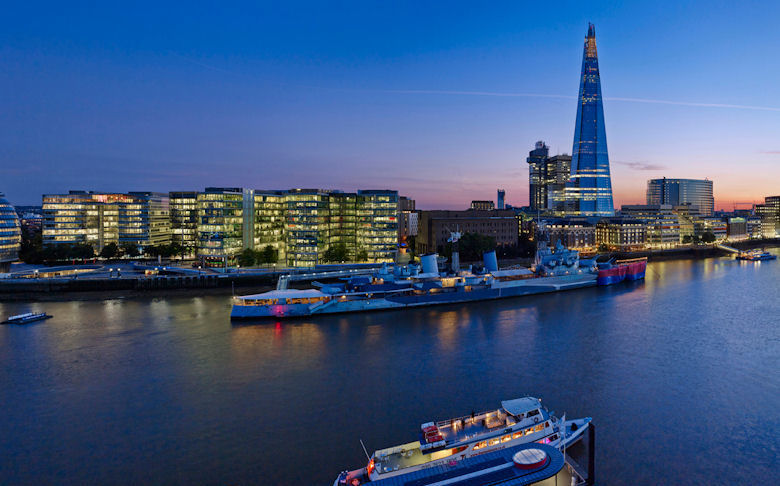 HMS belfast as seen from luxurious cheval three quays
I've lived in our amazing capital for almost 12 years now, and it just never gets boring - there's always something to do or see in lively London.
The history around every corner, the unmissable galleries and museums (most of which amazingly, are still free!), the summer festivals, the great restaurants (and bars), and of course my favourite, the mad Londoners themselves–what a wonderfully disparate bunch they are! So apart from maybe peak time tube travel (which can be pretty hardcore), I totally love London.
And naturally, being in the industry that we're in, sharing my insider knowledge of the city is another thing that I love to do.
So having a good understanding of a guest's needs and requirements is essential to me, and its certainly a very different proposition finding suitable apartments for either a corporate or a leisure guest.
Bearing that in mind, I wanted to share my Best of London Locations with you, and so here we go in: The View, The Luxury, The Location and The Long Stay!
The View: Cheval Three Quays at the Tower of London
I was lucky enough to be invited to view these apartments while they were still under construction.
Safety comes first so with my stylish new bright yellow jacket, workman's helmet (and boots)my guide and I headed for the penthouse apartments. Agreeing that the queue for the lift was too long (men at work)…we decided to take the stairs. Nine floors later and trying to catch my breath I was standing on the balcony with a 180 degree view of Tower Bridge, the Tower of London, The Shard, The River Thames and the most sensational London views – wow! These amazing apartments have been open for just under a year, and revisiting them (even if you can't afford one of the 2 bed penthouses), reconfirmed to me just how good they are. I'd still recommend booking your next stay here for the very best views in London and for the high standard of the apartments.
*Daily Maid Service (Monday to Friday)   *Air Conditioning   *Pets allowed (£)
Nearest tube: Monument or Tower Hill
The Luxury: Flemings of Mayfair
As you arrive and the friendly, well-dressed doorman gives you the nod – your Flemings Mayfair experience starts! 
The apartments are individually designed with beautiful wallpaper and elaborate but stylish furniture which definitely adds to the whole experience. You can choose to enter Flemings either via the hotel or by the apartments own private entrance. A couple of minutes wander down the road and you'll find gorgeous Hyde Park on your doorstep. There's no doubt at all in my mind that you'll be looked after by some very attentive staff, and the apartments also offer twice daily maid service. Spoilt or what! When can I move in? I noted that a choice of twin beds and sofa beds are available (perfect for families) and the opulent marble bathrooms come with bathrobes and slippers too. These unique apartments are certainly luxurious and you'll have full access to all of the hotel's services too, such as the their award winning restaurant, The Grill.
There's also room service of course, the fitness centre(naturally), a 24-hour concierge service, and let's not forget their famous cocktail bar! The apartments really are very special and although the price reflects this,(for my money) it's money well spent. I've also heard great things about their afternoon tea with the choice of Traditional high tea and Champagne or Chocoholic afternoon teas. I'm hoping to try one of them soon!
*Air conditioning   *Linen Change - every three days   *Personal shopping (£)
Nearest tube: Green Park
The Location: 23 Greengarden House Apartments
Nestled quietly behind London's famous Oxford Street you'll find St Christopher's Place, a pedestrian street.
You're surrounded by 'retail therapy opportunities' and the enormous choice of restaurants that you'd expect staying in the West End. Just a few minutes' walk from top of the range Bond Street and too too trendy Marylebone village, these apartments are an ideal location for shopping, sightseeing, eating, working and just enjoying London. As the name would suggest there are twenty three (one and two bedroom) serviced apartments here. The apartment's entrance is comfortingly secure and once inside these homely apartments you won't be disturbed by the hustle and bustle of London life – thanks in part to the double glazed windows! These apartments are a little gem and the location is why I'd want to be staying here if I was visiting London!
*Maid service daily   *Babysitting services   (£) *Air conditioning
Nearest Tube: Bond Street
The Long stay: 56 Welbeck Street
Arriving with high expectations I wasn't disappointed…
Right in the heart of Marylebone with the West End just a short walk away, these apartments are decorated with neutral greys and white's which give them a very stylish and chic feel. You can see that a lot of thought, planning and money went into decorating these apartments. The rooms are spacious and bright and some even offer outside space. With all this space you can truly move into your new London Pad and experience London living like it should be. Yes, you'll be paying a little more than average (okay, maybe even a little more than that!), and you do need to book for more than 90 nights… But if you have the cash to splash then this would be my top recommendation for a long stay in London.
As a resident you'll benefit from secure and private entry, a 24-hour telephone concierge service, a grocery shopping service, help with dinner reservations, business services and booking of in-room spa treatments (which you'll unfortunately have to pay for – we wish you didn't) all of which are available as part of your stay! Need I say more?
*Air Conditioning   *Linen Change - every three days   *Gym/health club on site
 Nearest Tube: Bond Street
Have you stayed in any of the above apartments? Send me an email and tell me about your stay: marietjie@prestigeapartments.co.uk
If you're planning a trip to visit the UK, Prestige Apartments has a wide range of serviced apartments and vacation rentals on offer in London. We'll have something to suit all budgets and group sizes so why not consider staying in a serviced apartment this year? Just get in touch with our friendly sales team and they'll help you to choose your perfect family friendly apartment. 
TEL: +44 20 7704 6514 or EMAIL: sales@prestigeapartments.co.uk
---
Share this post
---