Luxury Serviced Apartments In Chelsea Review
Friday December 18, 2015 by Aleksandra Guzek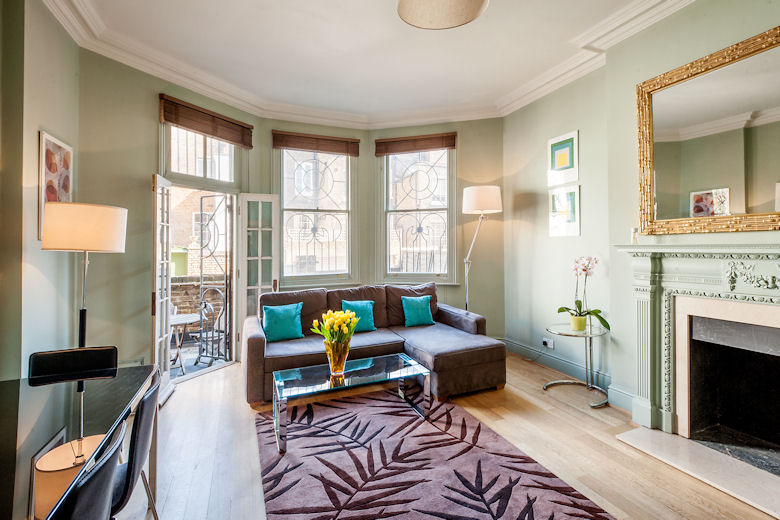 It's been 9 years since my first visit to The Apartments in Chelsea but I can still remember the day of my interview like it was yesterday…for the Assistant General Manager's  position that I was offered the very same day!
It was my very first experience working within the hospitality industry, and it was the place where I learnt such a lot about the industry, where I met people that I'm still friends with today, and managed the apartments that I probably know better than the owner himself!
So wow, what a journey it's been…they've gone through so many changes, and they've upgraded and refurbished most of their apartments in the last few years, but most importantly, they're still the same friendly team I worked with all those years ago. In my opinion, there is no better place to experience the wonderful area of Chelsea than by staying at…The Apartments.
So you can imagine that when I found out that I was going to be able to spend my next weekend in one of the lovely 1 bedroom apartments on Draycott Place, I couldn't have been happier. Not only would I get to experience the Chelsea lifestyle right on my doorstep, but I'd also get the feel of the apartments we offer on a daily basis AND get my Christmas shopping organised!
And so on Friday night, we packed our bags, got into the Merc and made the short 5 mile journey across West London to Chelsea.  As always, we picked up the apartment keys from the safe at nearby 41 Draycott Place – a very easy process indeed. All you need to remember are the 2 codes: one for the front door and the other one for the safe, where the keys will have been left for your collection.
The apartment we stayed in was located at 49 Draycott Place, which is less than 50m away.  It's always been my favourite apartment, so you can imagine how pleased I was when I found out that this specific apartment was the one allocated for my stay!!!
With high ceilings, a real fireplace and the most spacious and comfortable living room – this apartment is definitely full of character. Each apartment comes with a basic SKY package (which can be upgraded for a small extra charge), its own WiFi and a weekly maid service.
There is a fully equipped kitchen including: an oven, hob, microwave and the two most important appliances: a dishwasher and washer/ dryer! Great kitchens like this one are the main reason that people book serviced apartments. And if you are arriving late after a long flight, then you would definitely be pleased to know that the welcome basket consists of tea, coffee, milk & biscuits.
For me then, after having spent a lovely night and feeling refreshed, Saturday was all about the shopping…after all, It's Christmas time!
It's that time of the year when you get to spend all of your hard earned money on others. Yes, that's right, the time of year when other people's needs are even more important than your own.  The King's Road is a magical place, full of shops mixed with art galleries & restaurants. Walking along The Kings Road is more like a sightseeing trip than a stressful  'spend it all' day out. There are plenty of really nice cafes & restaurants but my personal recommendation would be a Gelato shop – Amorino. They definitely sell the best ice cream in London.
We were also lucky enough to see the annual Christmas Lights Switch-on, which took place on 7th November at the Duke of York Square.  This all-day annual event was a fun and festive family occasion, which included  the arrival of Father Christmas to his Chelsea grotto (how lucky was our timing!)and the chance to meet him and his friendly elves, ending in the beautiful festive lights being switched on at 4pm.
So what is it about Chelsea? Well…it has some beautiful period houses, lovely parks and surroundings, a nice vibe and it's an absolutely brilliant shopping district! And that's coming from someone who lives and works just across the street from the giant Westfield shopping mall in Shepherds Bush. Chelsea's the place where you get to experience the beauty of London, it's full of history and character, and for me it's just an unmissable tourist spot.
 Now If only I could afford to live there!
Are you planning a trip to London? Send me an email  and I'd be happy to help: aleksandra@prestigeapartments.co.uk
If you're planning a trip to visit the UK, Prestige Apartments has a wide range of serviced apartments and corporate housing on offer in London. We'll have something to suit all budgets and group sizes so why not consider staying in a serviced apartment this year? Just get in touch with our friendly sales team and they'll help you to choose your perfect 'home from home'. 
TEL: +44 20 7704 6514 or EMAIL: sales@prestigeapartments.co.uk
---
Share this post
---