London Christmas Shopping Spree Routes
Friday December 4, 2015 by Guest Blogger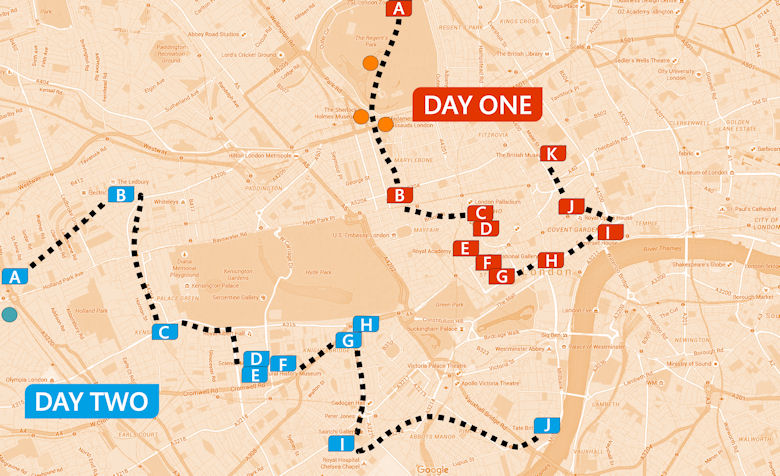 So in the month of utter foolishness and retail madness that is December, we're taking you on a very special two day shopping spree in magnificent London town!
And better than that…we're going to plan your route so well that you could max out on 'Mad Donny' Trump's credit card and still have the bailiffs round for tea.
Are you quite sure you're ready for this?
Ok then, let's go!
Day 1
Bearing in mind that it may be a rather long 2 days…why not kick off here with a sneak peek of the cuddly animals before getting stuck into the Zoo shop - it could be the last time you'll be totally chilled today!  And if you need help with the transport then bookmark the TFL journey planner before you start!
Once you've got your goodies, and if it's a nice, crisp winter's day, take a leisurely stroll through beautiful Regent's Park before jumping on the tube at Baker Street (if not, you can get the 274 bus to Baker Street and all the way to Marble Arch if it's tipping down).  Then from Baker Street it's just one stop on the Jubilee line (silver) to Bond Street and your next stop is just over the road.
In shopping terms, this is my Church. My go-to gaffe for gorgeous garments and great goodies. It's an unfailingly lovely shopping experience and I just glaze over in this place, and almost never leave without a purchase, which for me is unusual. There's also a tremendous food hall on the top floor for a mid-morning coffee. Lunch would be ideal but there's no time today! Your challenge, when there is and should you choose to accept it: find a window table. (if it's packed, shoot over to John Lewis where there's another good eaterie, the choice and quality of food may not be as big or as clever, but there's a great vibe 'n views).
And now (depending on the weather and the crowds that is) your next stop is only a short walk along Oxford Street to Oxford Circus where you'll head south down Regents Street. If you want to save your legs then you can grab either a 12, 88 or 453 bus towards Regents Street/St James
Frazzled parents, kids running amuck, students flying stuff at the heads of both, wild gesticulating, a madness in the air, becoming desperation as the day approaches. I mean, come on, what's not to like! After the madness of Hamleys turn right out of the shop and take your first right again into Foubert's Place, then left up Kingly Street and you'll discover a West End gem…
Super posh Liberty is the big draw with timber beamed frontage and stunning art-deco styled interiors but there's plenty more. The whole area is awash with on trend garb galore. Shoes to die for. Store after cutesey-stylistically-perfect store. And some brilliant food and pubs nestled amongst it all, what's more. 'Wright Brothers of Soho' fish restaurant is a particular fave of ours. Yum.
Time to venture back out onto Regents Street. Head south, cross over the road and turn right into New Burlington Street, then wander down Savile Row (if you're a boy, maybe it's time to get a new suit?) before finally taking a right again into Burlington Gardens. You'll spot our next shopping treat ready to welcome you. If however, you're already feeling really footsore then skip the stroll and just jump on any bus down Regents Street for a couple of stops to Piccadilly Circus, before crossing over Piccadilly where you'll take another bus one stop to the Old Bond Street/Royal Academy stop…but it honestly is quicker to walk!
The poshest 100 metres of Shopping you're likely to find just about anywhere outside of Monte Carlo. Pas cher? I think not, mon ami.  I bought the tie I was married in here. I might sell it on Ebay one of these days and buy a Ferrari. If you manage to make it through Burlington Arcade with funds still available then you'll find yourself emerging out onto Piccadilly, where just to your left lurks our next fabulous destination.
The shop. Has nice things. Verrry nice, arty things. I can feel my wife hauling me away even as you read this. After all that shopping and art however, you're probably in real need of a pick-me-up, so dodge the traffic to cross over Piccadilly for another London institution. And yes for more shopping (of course) but also a spot of lunch/afternoon tea! They do standard and champagne versions…I know which one I'd have!
Me love this shop long time, and me love their posh tea and cake combo even more if that's possible. Or…OMG…those bubbles! Is it time for bubbles? Yes, it is! Overexcited? Just a bit.
Ok, now that you've rested your feet and recovered your composure, it's time to head back onto Piccadilly, down Haymarket and left onto Pall Mall. Where you'll find yourself face to face with our next destination sitting all along one side of Trafalgar Square. (Alternatively, if you're feeling a bit lazy or just too weighed down with shopping, take the tube at Piccadilly Circus as the Bakerloo line is one stop to Charing Cross.
Mmmm. To sleep, but not to dream. The National has a Van Gogh that fills my dreams in a disturbingly Goya-esque fashion. This is my Ministry of Sound. And there's a genuinely nice shop too. If you read The Guardian and have muesli for brekkie, I defy you to walk out of here without a bag attached to you.  
Now if you've got time…and it's on the way anyway…kind of...why not pop into our next bonus stop? Somerset House.  Jump on either the 91 or 23 bus up The Strand and you'll reach this stunning location in just a couple of stops (get off at Aldwych).
Surprise, surprise, there's another awesome Van Gogh here – a self portrait, and that would normally be enough, but come Crimbo and the erection of the famous temporary ice rink with surrounding shops with an amazing array of hot chocolate, treats and a vast array of Crimbo fancies to splurge on…and, well!
Next stop is a real Christmas treat too, offering both plenty of opportunity for much needed recovery as well as a veritable multitude of shops, bars and restaurants.  So head back onto The Strand, cross over to turn into Southampton Street and reach…
What can I say…shops, more shops, bars, shops, restaurants, shops, street performers and yet more shops!  This is one not to miss…but keep an eye on your wallet!
It's been a long day so we'll take pity on you now, and although it's an easy 10-15 minute walk to our next stop, it's also a very short and comfy tube ride!  Haul your aching limbs and bags onto the tube at Covent Garden and take the Piccadilly line one stop to Holborn, then walk along High Holborn and up the aptly named Museum Street and you'll find this amazing building opening up in front of you!
O.M.G. Don't even go there. I won't have a solitary word said against the font of bewonderment and sorcery that is the British Museum shops. They lurk in 3 equidistant spots around that superbly designed central atrium and contain treasures. Treasures I tell you!  After all that you deserve a treat and one of our faves is the London Cocktail Club on Shaftesbury Avenue – just a couple of minutes stagger from the Museum down Coptic Street.  Take a seat, order a cocktail and the evening is all yours!! You've done it!
Day 2
Our local haunt, and it's a good one. Our very own 21st century shopping city has a certain Dubai Mall-ness about it,  its style is top-end, its attitude is give-it-plenty. You is West Side now, innit. There are, however, some great economic eating options too, so once you've had your coffee and muffin and fill of the big brands in Westfield then it'll be time to head over to a different world…the boutique shops of Notting Hill. It's just a couple of stops on the Central Line (red) to Notting Hill Gate.
Rings, bling, hats, tat and everything in between…let's go bargain hunting, yeah! It all gets a bit high-end towards the Westbourne Grove end and handily, that's where the celebs hang. I have stalked several.
Wander up Pembridge Road to grab a bargain (yeah, right!) in world famous Portobello Road, then hit the high end stuff around Ledbury Road and Westbourne Grove. 
If you're feeling lively, it's a lovely walk down Kensington Church Street to our next stop or jump on the Cirle or District line for one stop to High Street Kensington station.
Also good for celeb spotting. Ken Church Street offers avant garde fare and antiques before you work your way down the Hill to arrive at a good, solid Shopping experience on the High Street.
3 for the price of one at our next destination.  If you're saving your legs grab a Circle Line tube at Ken High Street to South Kensington. Otherwise take a stroll through along the side of stunning Hyde Park and down Exhibition Road to arrive at South Ken's triple threat.
What can one say about the Science Museum…it's excellent and the shop has a great selection of gadgetry and nerdy DIY stuff. This is Geek heaven. Anyway, I don't care. They have a space capsule. That went to the moon. The moon.
Sneak through via the Science Museum entrance if the queues are long (yes, these cultural grand-dames join up in the middle)…before encountering not only the magnificence of the displays, but more importantly, the shops; some are dino-specialized, some are for the serious tourist…but the main one really is a thing of beauty and seduction…tally-ho, wallets away! If you have an aversion to people of a tiny stature with a tendancy to scream a lot, then I'd suggest you avoid this area.
The Victoria and Albert shop is just great, packed with pictures and postcards of all the stuff you've just seen, ornaments, swords, armour and build-it-yourself weaponry for the kids, just loads really (and Alex W - the missus - recommends the café for lunch and recommendations don't come higher than that).
So where does one go after that tasty trio?  It simply has to be our next destination which is sort of a museum of shopping itself!  So now you can either stroll along the Cromwell Road or jump on the 74 bus to Knightsbridge.
Some say mega-ripoff, I say mega-brilliant. For a bit of a wander, a bit of a mooch, a bit of (very strange) people-watching, and picking out the (very odd) bargain, this is a top notch affair. As for the 'famous' Sale…well, it's mayhem…definitely give that the flick.   Now let's head off to its very chic (and quiet) neighbour just a little further up the road.
Smaller than you'd think, and snootier…but there is some properly mad, eccentric stuff (think Issy Miyake), and it feels a world apart from the teeming hoards of the Knightsbridge Massive…and then there's always their great little café to sip a contemplative cocktail in, or indeed, take lunch.
Right, post-recovery and it's time to get back on the job so let's go!  So you absolutely could grab a 19 or 22 bus which'll drop you off right on Sloane Square, however then you'd miss all the lovely shops on offer as you walk down Sloane Street! Go Sloane I say.
Stroll up and down looking cool and ogling the amazingly wealthy and sickeningly healthy types. Maybe even go into the odd shop or two. If you didn't do lunch at Harvey Nic's then pop in for a relaxing pint in one of the many nice locals. Oh, and unless you arrived in the Maserati, don't bother buying anything…you couldn't afford it.
So, when it's time, jump back on a Circle or District line train (yellow/green) at Sloane Square towards Victoria station. Change onto the Victoria line (blue) for one stop to Pimilico. It's just a short stroll along the river or a quick bus ride ( the C10) to the Tate Britain Art Gallery. 
Support the Tate – buy their surprisingly reasonable but insanely cool t-shirts, mugs and other artist inspired paraphernalia. I'm an artist, and I can't get enough of these 2 places. Like I said before, my wife literally has to drag me out. There's a brilliant pub just around the corner but I forget it's name now…see if you can find it. So that's Tate Part One. Now for the really adventurous, there's a riverboat trip along The Thames where you can take in some superb sites along the way – the Houses of Parliament and Big Ben, the London Eye, National Theatre & Shakespeare's Globe.  It leaves from nearby Millbank Pier and goes right up to the Millennium Bridge where you can hop out and visit Tate Britain's stunning sister museum, The Tate Modern. Bon voyage!
Ok, seriously though…you don't have to do all this. It would in fact be more foolhardy than Phineas Fogg to attempt it…but dammit, wouldn't it be some story to tell your grandkids!
Prestige Apartments has a wide range of serviced apartments on Special Offer in December throughout the London with options to suit all budgets and requirements.  Why not get in touch with the sales team and give yourself an early Christmas Present!  
Tel: 020 7603 7629 or email: sales@prestigeapartments.co.uk
---
Share this post
---