Free Activities for the Family in London
Friday August 21, 2015 by Alex Wood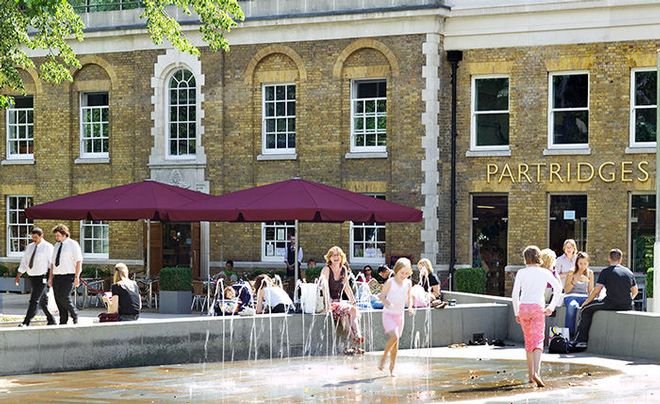 The summer holidays can end up being an expensive time for Mum and Dad...sometimes very! But if you've booked yourselves into a serviced apartment then you've already made a great decision that'll help with the costs. And to stretch your budget even further we've put together some really great ideas on how to entertain the kids...for free!
1. THE SKY GARDEN IN THE WALKIE TALKIE
If you love a view but don't want to pay the eye-watering prices of The Shard or The London Eye then the SKY GARDEN is the one for you!  The mad (and quite controversial) building alone is worth a visit but when you shoot up to the 35th floor, well...that's when the fun really starts. You'll be unceremoniously deposited (not really, they're all really rather nice actually) in a public garden with some utterly spectacular city views. The Sky Garden boasts three stories of landscaped gardens, observation decks, an open-air terrace, two restaurants, a bar and an uninterrupted panorama of the city's impressive skyline. Entry is free, but visitors must book their 90-minute time-slot at least three days in advance on the Sky Garden website.
2. the SOUTH BANK AND JUBILEE GARDENS
The South Bank is always a great destination for families. It's traffic-free, has wide pavements, fantastic views of some iconic London landmarks, and there's always lots of free stuff going on. Why not start off by going to Waterloo station and then head towards The London Eye (don't worry - we're not suggesting you have to go on it - unless you really want to!). It's a great vantage point for really tremendous views across the River Thames to the Houses of Parliament and Big Ben. Once you've had your fun taking loads of snaps, the kids can run around and play in Jubilee Gardens. As well as the green open space to safely run around in, there is also a playground for the under 11's. And there's also a really cool skate park underneath the Southbank Center which is the beating heart of the skate scene in London. Kids will love watching the skaters and BMX riders doing their tricks and if they bring their boards they can have a go too. Just remember that bikes and scooters aren't allowed in Jubilee Gardens. 
You'll always find something interesting at the awesome Southbank Centre where they put on loads of free events all year round, but particularly in the summer. The Royal Festival Hall is great too, as well as being a handy spot to stop for refreshments and toilet breaks!
3. ARTY Fun
I know art galleries aren't usually a top pick for most kids (Mrs Van Gogh would probably have disagreed), but the stunning Tate Modern is just great for families and you only need to buy tickets for special exhibitions. There's usually a special giant sized exhibition in the huge Turbine Hall entrance which will amaze the kids, and there are regular child friendly activities to get them involved. There's also a really nice family friendly café on level 1 (overlooking the river Thames) which has a buggy park at the back and a kid's menu (and remember that at lunchtime children eat free when an adult buys a meal! Yesss!), which was recently named Best Family Restaurant in the Time Out Eating & Drinking Awards.  
If you've got their creative juices flowing with a trip to the Tate then why not drop in for a free art class at CASS Arts.  These sessions happen every Saturday morning (10am-noon) at Cass Arts branches in Islington, Hampstead and Kingston, and are a great way to inspire budding artists. A free activity table is set out with a range of materials and the kids can let their imaginations run wild. Children must be accompanied by an adult, but sessions are drop-in (limited places!) and all materials are supplied free.
4. MUSEUMS
The Science Museum is great for nerdy kids (only joking, it's one of London's most awesome spaces, and brilliant fun for all) and they've got a range of activities over the summer for families to enjoy.   There's also a great section called the Launchpad which is packed with over 50 interactive exhibits where kids can do the actual experiments themselves.  Apart from these, there are lots of other different exhibits where kids and parents can find out all about science, explosions, outer space and how the world was created. The nearest underground station is South Kensington but Gloucester Road is also close by. The museum has a very good family restaurant, Deep Blue (located on the ground floor at the back of the museum), which serves meals prepared on the premises and kids can choose from a selection of meals starting from just £5.95.
The Natural History Museum is right next door and makes for an equally great day out for the kids. The galleries are once again, jam packed full of interactive exhibits and they have lots of great family activities such as the hands-on science lab, holding live animals like snakes and chameleons in the Animal Vision show, and everyone can experience an earthquake in the Volcanoes and Earthquake gallery!  The Dinosaurs Gallery is always a big hit with kids (of all ages - I love it) where they can meet a terrifying T-.rex, unearth Baryonyx bones and inspect the Triceratops skeleton. If they're inspired by their visit you can always come back to one of the monthly Dino Snores sleepovers where kids get to explore the museum after the staff and visitors have gone home!!! Does it get any more awesome?! They can stay overnight with loads of fun activities to keep them busy from torch lit trails, designing a Dino T-shirt, live shows and best of all snuggling down to sleep in the shadows of the dinosaurs in the main gallery! Aaaaaaargh!
5. PARKS
There are lots of parks around London for kids to explore but the big draws are Hyde Park and Regents Park.
Every year millions of Londoners and tourists visit Hyde Park which covers 350 acres and is home to a number of famous landmarks including the Serpentine Lake, Speakers' Corner and the Diana, Princess of Wales Memorial Fountain. The park also offers various recreational activities including open water swimming, boating, cycling, tennis and horse riding. There are plenty of places to grab some refreshments around the park, but it's also a top spot to bring your picnic on a sunny day.
 
The Regent's Park, designed by John Nash, covers 395 acres and has excellent sports facilities spanning nearly 100 of those acres, including the largest outdoor sports area in central London and a fantastic wildlife garden designed for and by kids. The park also has four playgrounds dotted around the park, all of which have toilet facilities nearby so no one gets caught short!  
We mustn't forget about one of London's newest parks, The Queen Elizabeth Olympic Park, in East London on the site of the 2012 London Olympics. Try out a new sport in one of the iconic venues of the 2012 Olympic and Paralympic Games or take part in a range of free outdoor activities and events. Or why not zoom to the top of the UK's tallest sculpture, ArcelorMittal Orbit, for breathtaking views across London? If you fancy taking it a little easier then you could choose to wander the Park's free trails, take the kids to the exciting playgrounds, relax in the peaceful parklands or enjoy a leisurely meal at one of the restaurants.
We also asked our resident mums Alex G and Daisy for their insider tips and here's what they suggested...
Alex Guzek: It's quite hard to find good entertainment for toddlers these days - especially free, but I can tell you what my son Hugo's favourite is - it's in Chelsea at the Duke of York's Square, near the Partridges Restaurant, where they have these great water fountains - he absolutely loves them! When it's hot we go there and he rides his scooter and gets wet and he loves it, and it's all free! And there's always lots of other children there, which is great.
Daisy Iovtcheva: Alexander enjoys the Transport Museum, it's free for children but adults have to pay a £15 annual fee and can then go as many times as they wish. 
We also like Holland Park with the Japanese garden and there's a very nice "green" playground for children. Another nice park (although not very central) is Ruislip Lido in North West London - a beautiful lake and playground for children with a nice pub and coffee shop and great little railway which is about £4 for an adult and a child. Another great park with, in my opinion, the best playground for children in London, is Battersea Park.
So that's a small taste of some of the great free stuff there is to do in London with kids, but I'm sure that you've got some great ideas of your own.
Prestige Apartments has a wide range of serviced apartments and vacation rentals on offer throughout London. We'll have something to suit all budgets and group sizes so why not consider a staycation in a London serviced apartment this year. Just get in touch with our friendly sales team and they'll help you to choose your perfect family friendly apartment.
Tel: 020 7704 6514 or email: sales@prestigeapartments.co.uk
---
Share this post
---