PAS TEAM NEWS - AUGUST
Monday September 1, 2014 by Marietjie Snyman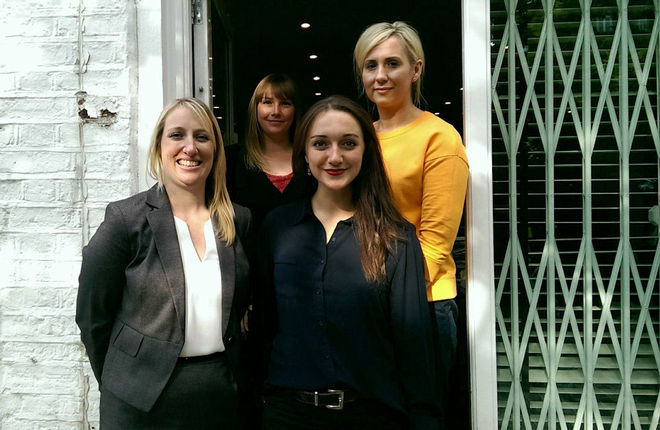 nothing to see here, just some fab chicks hanging out
Barring a last minute miracle and an Indian Summer miraculously materialising, its goodbye summer dresses and flip flops - Summer seems to be over! Sob!
And to add to our woes, it's been one of THOSE months' here at Prestige! We've been working desperately hard to make sure that everything is ready for the launch of our NEW website and booking system. Fortunately for us, the lovely Guestline team, who are handling the back-end booking system (Dan, Dennis & Lisa) have been keeping everyone's spirits high by providing cakes and giggles!
As launch date (the 8th September) is nearing, we're all getting more and more excited!! By now you'll almost certainly have responded to the call from myself, Alex or Richard asking for updated photos. Thank you for all the supersized photos we've received so far. If you haven't yet had a chance to send yours, or have any questions please just get in touch with us. Also a special thank you to Richard who has been working very hard to prepare all the photos for the new website - we can't wait to see it.
Away from the internal excitement, it was lovely to see Oyinda from Rated apartments again, when she came to visit us and meet the team. Another visitor was Kate from The Apartment Service who spoilt us with cupcakes - it was brilliant to finally meet you Kate, and we're looking forward once more to coming to see the team in Wimbledon!
All hard work and no play? Errm, not for these Prestige girls...and our August team outing proved a real treat! The girls went to see Porgy and Bess at the Mighty Open Air Theatre in Regent's Park. They got soaked in the rain, enjoyed yummy hamburgers and had a great night. Various drinks were taken including the now obligatory plastic cup of wine, as well as cider, beer and even some Pimms! But don't take my word for it...read Kata's sensationally crazy blog: "The adventure of the five prestigious hobbits in the forest of the fairies..."
I was sad so not to be able to go with the girls on that occasion, but had my own adventure when I road tripped to Scotland! I had a great time in Glasgow and then moved on to my totes fave city - Edinburgh to watch The Royal Military Tattoo no less. You can only imagine how many fit, uniformed Scotsmen were on show!
And a very special birthday happened in August - which we celebrated with a breakfast here in the office! Once again, a Very Happy Birthday to our amazing MD Alex Wood! Unfortunately I'd get into trouble if I disclosed how many candles were blown out...but lets just say it was about halfway between a Big One and a Really Big One! :)
Nicky made the most of the bank holiday weekend when she took the opportunity to go back to her roots in Nottingham. Whilst there she stayed in a serviced apartment (of course) while also taking the opportunity to visit (the bank of?) Mum and Dad. Thank you very much to Mark from SACO for arranging Nicky's apartment. Read all about her trip here...
Our awesome Alex G is currently on holiday in Poland and we're missing her terribly (just don't tell her we said that!). We hope she has a very well-deserved break!
Swedish uber-youth Elsa also took a mini city break, this time to Liverpool. She keeps telling us that it was to see the sights and take photos but we hear from a very reliable source that she might have gone to check out those cheeky scouse boys... and one in particular! We look forward to seeing the Pinterest board of her trip soon (wink, wink!!!).
There hasn't been any time at all for apartment viewings and meeting new providers this past month but watch this space - post website launch we'll be out and about again and seeing all of you. Get in touch with me if you'd like to arrange a viewing or just catch up.
Alex Wood and I will also be attending the annual HBAA forum in Birmingham next week so If you're attending too, we'll see you there! We'll be on the serviced apartment stand.
The countdown has begun...7 days to go before we go LIVE!
Marietjie and the PAS Team.
---
Share this post
---