Sheffield Highlichts - Things To Do In Sheffield
Friday October 31, 2014 by Alex Wood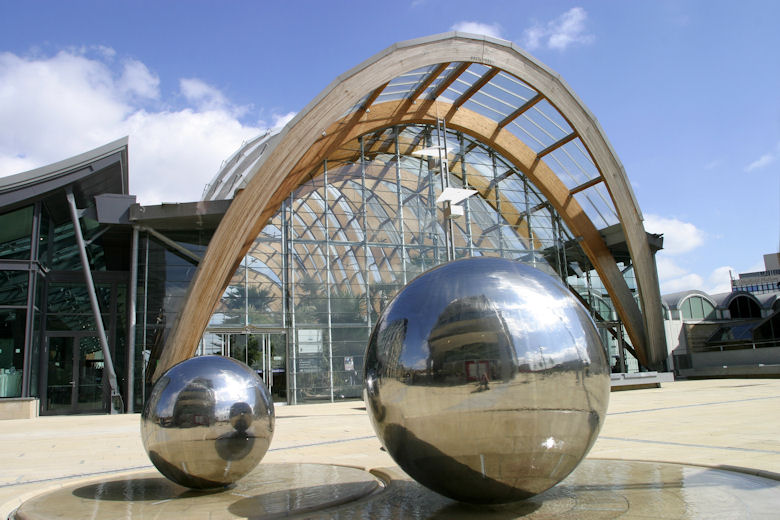 ALEX G & ALEX W OUT AND ABOUT IN SHEFFIELD...
We'd like to share our city of Sheffield highlights from our recent trip up north, as recommended to Prestige by home grown old girl Harriet, and experienced by Swedish Elsa and the 2 Alex's... 
We loved the pedestrianized Fargate area where you can shop to your hearts content – something that's not going to be a surprise to our other halves.  The area runs between Sheffield's picturesque Barker's Pool (complete with its spacious paved area and modern fountains )and the High Street, with the Anglican Cathedral (which we'll discuss in a minute) at the bottom of the avenue.  So you can't really miss it because its right in the heart of the city. It's also apparently a popular place for street entertainers and muzo's although on the day we visited they seemed to have the sense to stay indoors! We have it on good advice from a local (can you guess who?) that this is not the norm. Mmmm? They also hold a Continental Market here about 4 times a year, with stalls selling cheese, sweet goodies, clothes, plants, jewellery and ornaments, so that's good to know with Christmas on the horizon.
Around the area one can also find the Town Hall Square and the magnificent City Hall, and Surrey Street then leads you to more attractions including the Winter Garden (to be discussed shortly!), the Millennium Galleries (closed when we were there) and the main train station.
The Cathedral (told you we'd come back to it!) looked a bit of a mis-match of styles at first, that is until we looked into it a bit further and discovered that it's actually very interesting inside. Beautiful stonework, some great stained glass (and some unusual, modern stuff too) and we found out that some parts even date back to the 13th-century…pretty amazing. There's certainly a lot to look at inside, including a very unusual fence in the St George's Chapel made up of swords. And also hanging in the cathedral is the stainless steel ship's bell from WW2 warship HMS Sheffield.  The area around the Cathedral was definitely our cup of tea (or coffee) with lots of legal types in suits to keep Elsa happy and plenty of trendy cafés for our yummy mummy's Alex G and Harriet.  We'd particularly recommend Couch (we ate there) which does amazing burgers (including veggie ones if you're into that kind of thing) and salads and some very indulgent cakes!!  
And finally our fave place (especially for keen gardener Alex W) was the wonderful Winter Garden…   This amazing ark of a building rises out of the Sheffield streets and brings a bit of tropical hot house summer to the cold northern winters. It was certainly a welcome relief on the cold, damp day we chose to visit to be able to escape from the rain and wander around looking at the gorgeous plants.  It helped that there was a lovely little café on site as well where we stopped for quick refreshments and more cake!
Unfortunately we didn't get a chance to visit the Sheffield Botanical Gardens this time (as we were pushed for time) but Harriet tells us they're a lovely place to visit - now we can't wait for the summer and it'll give us an excuse to go back up to Sheffield again for a picnic…
For more hints and tips on what to do in Sheffield why not check out our online Sheffield City Guide... 
Prestige Apartments has a wide range of serviced apartments and vacation rentals on offer in Sheffield. We'll have something to suit all budgets and group sizes so if your coming on holiday or being relocated to this great city why not look for a Sheffield serviced apartment. Just get in touch with our friendly sales team and they'll help you find your perfect location.
Tel: 020 7704 6514 or email: sales@prestigeapartments.co.uk
---
Share this post
---