ALI G SPOTTED IN SHEFFIELD...
Friday October 31, 2014 by Aleksandra Guzek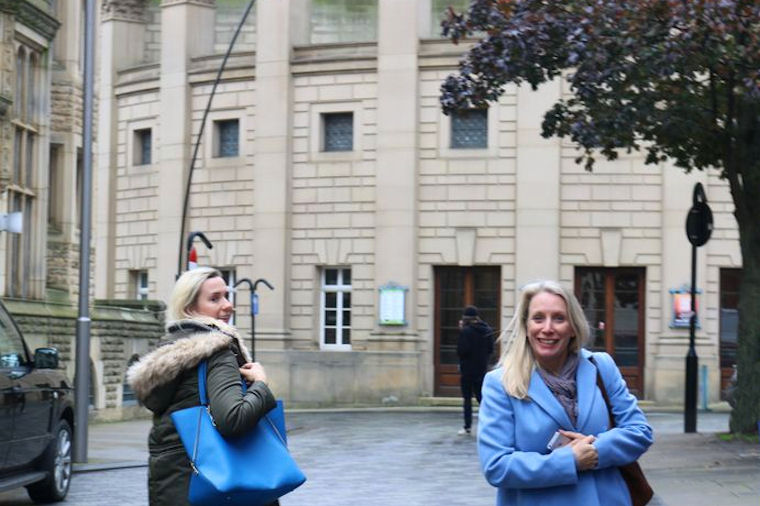 spot the alex!
It was a week full of surprises.
Firstly we congratulated our lovely Kata on the birth of her beautiful daughter Annabella and secondly, we welcomed a new addition to our Mercedes Family – yes, our boss lady Alex W got a new car. And not just an everyday car – but a new Mercedes SLK, 125th anniversary special edition one, and YES it is better & prettier than my AMG C class. So when Alex suggested that we go to Sheffield all I could think about was me being driven to Sheffield in her shiny new Mercedes with the roof down, enjoying the last bits of sunshine…
Well, I couldn't have been more wrong…we met at Kings Cross St Pancras station at 9am and got THE TRAIN to Sheffield at 9:25am.
The plan was cheeky – we go to view Sheffield's apartments and meet the providers, and have a wander around town investigating some pre-chosen attractions, and also sneak in some quality time with my BFF Harriet (at home on maternity leave). So, 2hours, 4 coffees, 2 teas & 2 croissants later we arrived at the train station in Sheffield. As this was my first time in Sheffield I really wasn't sure WHAT to expect and I must say, I was very pleasantly surprised. The Sheaf Square just outside the station was amazing! The gateway contains seating, trees, lighting and two large water features, one of which includes the spectacular steel sculpture The Cutting Edge. This new art installation aims to give the visitor arriving by train a really great first impression of Sheffield– and it certainly worked for me!
Our first appointment was at 12 o'clock and so we met up with Jennifer at Halo Apartments who kindly showed us around her St. Paul's apartments. The new apartments are located in a modern apartment block within the Peace Gardens, just a short walk away from the train station and in close proximity to the famous (for snooker) Crucible and the Lyceum Theatre. With 24hour reception, secure entry phone system and on site security, you couldn't feel more secure! The apartment we saw was nice and spacious with a fully equipped kitchen and modern bathrooms. Every apartment has a large plasma TV, a washer/dryer and that all important dishwasher. There is onsite parking available too which can be arranged at the time of making your booking. The view was amazing and the floor to ceiling windows gave it that extra special feeling of spaciousness.
Excitingly, the next part of the afternoon was meeting for lunch with our much missed Harriet and her little ones, Eva & Sonny. But before that we had just enough time to do a quick whirlwind tour of the nearby Cathedral…and you can read more about that in Alex the boss's blog.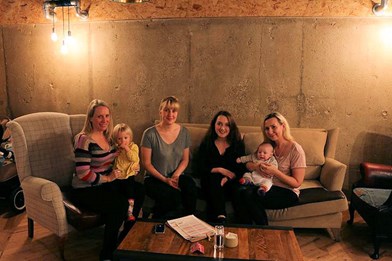 Harriet had booked a table for us in a place called Couch, Coffee & Stuff on Campo Lane and as per their reviews (once again, they did not disappoint) our lunch was delicious. With great food, comfy sofas and lovely company, we chatted happily away (the main topics being babies, boys, H's new house, Elsa and her new boyfriend and why she is not allowed to move to Liverpool, Alex W planning a pool in France and by far the most important one - how much we've all missed Harriet) until a full 3 hours of gossip later, we realised that we had another apartment viewing to attend to!
Luckily the next apartment was only a 12 minute walk away on West Street so we got there on time and were met by Barbara from KSpace Apartments. We viewed 2 of their buildings: The Sinclair Building & the West One complex. And again both properties were way beyond my expectations…
The 2 bedroom apartment in the Sinclair Building was huge. I suspect that the lounge in the 2 bedroom apartment was the same size as my whole 1 bedroom apartment in London or maybe even larger! The KSpace apartments are located within a short walk of both Sheffield University and Sheffield Hallam University, and are in the locality of the Hallamshire hospital and Sheffield Children's hospital. And although I'm in danger of repeating myself– everything that the traveller (both leisure& corporate) might need was included: a large flat screen TV, wifi, a fully equipped kitchen and modern bathrooms. The highlight of these apartments for me was having one of the bedrooms with TWO double beds. Yes, that's right – the bedrooms were so large that they could easily accommodate 2 double beds in them. Amazing.
Anyway, Harriet was doing her own thing while we did our viewings and the plan was to catch up with her at the Winter Garden on our way back to the station.  We had to get moving though as we were running out of time so after a quick 10 minute walk through Fargate shopping area (no time to stop!! L) we joined up with HH for a last goodbye at the Winter Garden (told you we would be back for more!).  And here is some more about these attractions from Alex W.
And then almost before we realised it, it was already time to head back to the station to catch the train (yes – the train, and not an SLK – #disappointed :)).
It was nearly the end of a really great day out – Harriet, we love you and miss you and can't wait to see you again. And as for Sheffield – what a great city – highly recommended by me, a London lover.
Prestige Apartments has a wide range of serviced apartments and vacation rentals on offer in Sheffield. We'll have something to suit all budgets and group sizes so if your coming on holiday or being relocated to this great city why not look for a Sheffield serviced apartment. Just get in touch with our friendly sales team and they'll help you find your perfect location.
Tel: 020 7704 6514 or email: sales@prestigeapartments.co.uk
---
Share this post
---