A Stroll Through West London
Friday October 24, 2014 by Alex Wood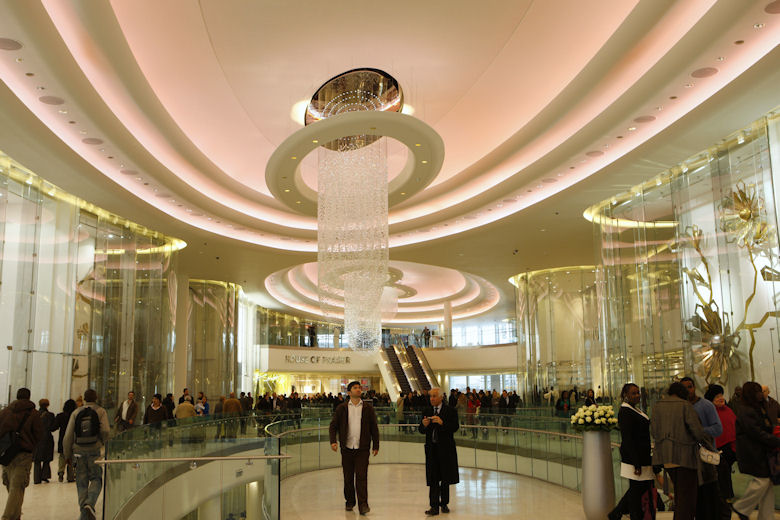 WESTFIELD LONDON'S POSH & PRICEY VILLAGE AREA
In todays blog we're staying close to home and examining the areas surrounding our lovely Shepherds Bush offices in West London.
We're located in a pretty little, cobbled mews lane very near to one of London's most famous local landmarks (sometimes known as 'that blue water thingy'),the Thames Water Tower on the roundabout at the bottom of the West Cross Route. I think it'd be fair to say it's not everyone's cup of tea, but hey, we like it! 
Why don't we go through the keyhole now, and visit our 5 favourite West London places!
1. Directly north of us, and worryingly close for our trendy young staff, is the awesome (and sometimes quite pricey) shopping village that is Westfield London. This enormous homage to consumerism has become a landmark in its own right, and despite its daunting dimensions, we love browsing the maze of shops, people watching (uh, getting down with the kids from the sanctuary of a champagne bar), trying out some of the many exotic foods available, and…well, it goes on and on. And as for our top tip here? That'd definitely be catching a movie at the superb top floor venue, followed by burgers and beers below!  
Where to stay:  St James House Apartments – Studio apartments from £85 per night plus VAT
2. Over to the North East of us, just beyond Holland Park's super swish white stucco townhouses lies the cosmopolitan 'village' of Notting Hill with all of its associated trendiness – and thus further shopping opportunities. This brilliant and quite charming suburb is just great fun with its endless quirky stores and 'out there' crowd, and the charms of the world famous Portobello Road Market are themselves fairly irresistible!
Where to stay: Linden Gardens – Studio apartments from £95 per week, no VAT
You may very well be able to see where this is going by now. Yes, the West really is (pretty much) Best when it comes to retail therapy and wide open spaces.   So let's go there, quite literally, in spectacular fashion!   
3. And where better to do that than by heading down south, as its only a short stroll down Holland Road before we encounter the broad majesty of Ken(sington) High Street…and guess what? Yes, inevitably, there are yet more great shops, bars, cafes, restaurants and pubs in which to dispense with our hard earned cash. At least, the girls keep telling me its hard earned…  By the way, there are some great antique shops and markets here as well, some stocking pretty high end gear so be sure to bring those cheque books.
Where to stay: Cheval Thorney Court – Two bedroom apartments from £380 per night plus VAT, Three bedroom apartments from £686 per night plus VAT
4. Next stop in our tour we head South West of us and there's some (mild) relief from the fashion police in the form of the far more eclectic styles to be found on the boys and girls lurking furtively outside of the Hammersmith Apollo (great, great venue – we've  caught bands as disparate as Kasabian and Ultravox there) and down the Fulham Road. In fact this area abounds with arty muso and theatre-types and they're to be found all the way from nearby Shepherds Bush venues Bush Hall and the Shepherds Bush Empire down to the Lyric in Hammersmith's tawdry main drag, King street. Sadly the iconic Palais was demolished in 2007, but the scene is still going strong. I have great memories of seeing Siouxsie and the Banshees there in the eighties – showing my age now!
Where to stay: SACO Hammersmith – One bedroom apartments from £140 per night plus VAT, Two bedroom apartments from £190 per night plus VAT
5. Even if we do manage to make it past the shops in Shepherds Bush and head west out of London along the Chiswick High Road, we're still in danger of spending serious amounts of cash in charming Chiswick.  This is Alex Guzeks' dream location in London and with it's café society, chic boutiques and green spaces I can see why she loves it.  And it's full of yummy mummies so she'd fit right in!
Where to stay: The Chiswick Apartment – Two bedroom apartment from £145 per night plus VAT 
Your turn…
Now you know our favourite areas of West London, but there are so many great locations in London to choose from and we'd love to hear your suggestions.  Let me know by nominating your favorite on Facebookor Twitter (#PASholidays) and I'll put together all of the favorites throughout the year in a round up review post!
Prestige Apartments has a wide range of serviced apartments and vacation rentals on offer throughout London. We'll have something to suit all budgets and group sizes so if your coming on holiday or being relocated to this great city why not look for a London serviced apartment. Just get in touch with our friendly sales team and they'll help you find your perfect location.
Tel: 020 7704 6514 or email: sales@prestigeapartments.co.uk
Follow me @alexwpas or +alexwood 
---
Share this post
---