PAS TEAM NEWS - SEPTEMBER 2014
Thursday October 2, 2014 by Marietjie Snyman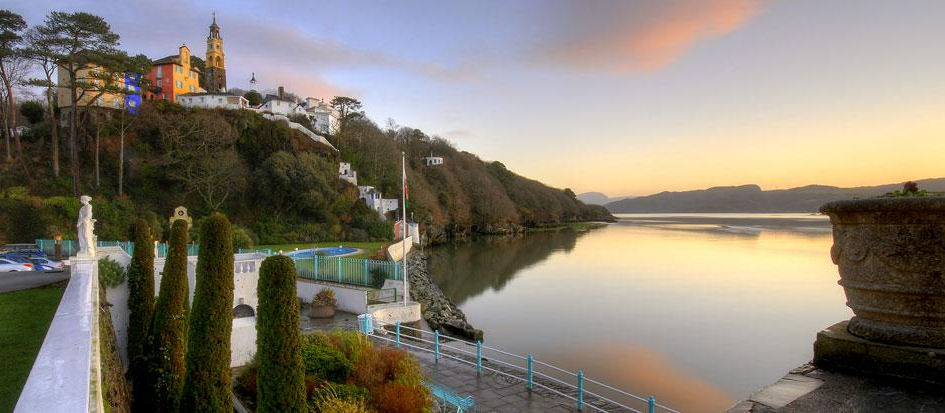 wow! it's nicky's fave town of portmeirion
Phew, at last…September is over! And what a white knuckle ride of a month its been! We've had so many highs (and occasionally some lows), that we've all been left feeling a little bit dizzy!
Alex Wood and I travelled to Birmingham at the beginning of the month to attend the HBAA annual forum, at which we were excited to see many familiar faces!
So we excitedly donned our Serviced Apartment T-shirts (Size Does Matter, mine read! Huh!) and took to the stand with the usual Serviced Apartments suspects – a Globe trotter, the Check-in Londoner, a Premier peep, the Staybridge Sweeties, a Scottish dream, and the Silverdoor chicks.
In the evening we enjoyed a little Gin in Tea Cups and we WON AN AWARD. YES, you heard me right…we won an industry award!
Accommodation Agent of the year! Wow. Not only is it the first time this award has been won by someone in the serviced apartment industry, but we we're doubly thrilled to find out that the award is given out based on the reports of HBAA's "mystery shoppers"!
Totally overexcited, we danced (and drank) the night away and paid for it all the next day. Actually I can report, and I only speak for myself here – 2 day hangovers are not cool! It was however, really great seeing everyone there!
As you probably know by now, and after a LOT of hard work, we've finally launched the NEW website and we've gone live with backend system Guestline/Reslynx too.
We're very happy with the website which has many improvements, including larger, clearer images and a simpler layout.
There are clear tabs showing apartment types, general information, location, amenities and terms of booking, and we've also simplified the booking process. For instance, you'll no longer need to log in to confirm your booking online – just tell us that you want to go ahead and we'll do the rest.
We hope you all love it as much as we do!
Before we forget, we need to say a big Thank you to Go Native for hosting a great night at their NEW location, India Street. Elsa and I enjoyed bhajis & bubbles and took in the amaaazing London views!It was also lovely to catch up with Jake, Agnes and Kim.
Away from socializing, I was lucky enough to be shown around by Ryan and Clare from theLivingrooms Group, and finally getting to see No 5 Maddox Street and 56 Welbeck Street was just great – what beautiful apartments!
We've also had quite a few office visitors, which we always welcome, and bringing treats along is certainly to be encouraged...
We've had Nicole from The Flemings, Jeannine from Stayhof, Angelica from Cheval Residences, Sonata from Citadines and finally the lovely leprechaun himself, Liam from Flying Butler(Richard's bezzie mate). It was great to see you all and keep the visits coming!
Alex W attended the ARP (The Association of Relocation Professionals in case you didn't know) awards and she had a great night catching up with some 'old' friends and making some new ones. Thanks again to Louisa at ESA for the invitation and it was great to get a chance to meet a few more of the ESA team in some more sociable surroundings.
Nicky took some time off to explore Wales on a mini break, and apparently Portmeirion really stood out for her – we're told it was beautiful and quite unique, built in a Italian village style. This is of course, where iconic TV show The Prisoner was filmed back in the 60`s. Looking at the Wikipedia listing I'm surprised Nicky came back!
I celebrated my "25th" birthday again (not 34th Richard!!!) and got spoilt rotten by the team: cupcakes, wine and finally I'm officially part of the PAS Pandora Club – Thank you for my bracelet and charms – I really like them!
It feels like only the other day that we heard the very exciting news that our "office mum" Katawas going to have her very own baby, but the time has flown by and the day we've all been dreading arrived last week...
It was time to say goodbye (for a bit) so we all went for a lovely meal here in West London, and enjoyed a couple of glasses of wine and oooh-ed & aaah-ed over tiny pink baby grows.
We know Kata will be an amazing mum and we're already missing her desperately!
Marietjie & The PAS team.
---
Share this post
---