Happy Diwali - The Hindu Festival Of Lights
Thursday October 2, 2014 by Marietjie Snyman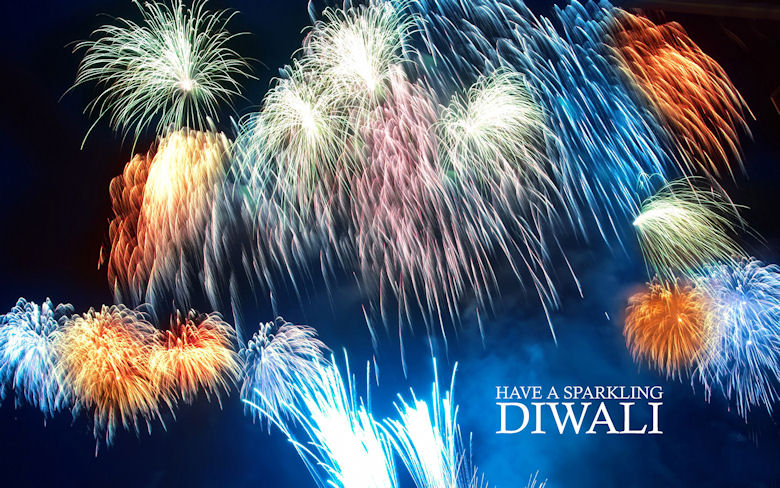 DIWALI'S AWESOME FESTIVE FIREWORKS!
With London being one of the world's most cosmopolitan capitals, we're fortunate enough to be able to engage with, and to experience a vast range of cultures from all over the world. One of the most influential of these, and one that's most certainly not limited to London, is the well-knownHindu Festival of Diwali.
Over the centuries however, Diwali has become a national festival that is enjoyed by almost all Indians regardless of their faith, and so Hindus, Jains, Buddhists and Sikhs all celebrate it in one form or another. 
This year Diwali (or Deepavali - the word meaning 'rows of lighted lamps') falls on Thursday, 23rd October.Diwali is celebrated in October or November each year (the exact date is dependent on the Hindu lunar calendar), and originated as a harvest festival that marked the last harvest of the year before winter. India was an agricultural society where people would seek the divine blessing of Lakshmi, the goddess of wealth, as they closed their accounting books and prayed for success at the outset of a new financial year.
Today, this practice extends to businesses all over the Indian subcontinent, which mark the day after Diwali as the first day of the new financial year.
During Diwali, Indians celebrate with family gatherings, glittering clay lamps, festive fireworks, strings of electric lights, bonfires, flowers, sharing of sweets, and worship to the Goddess Lakshmi. Some believe that Lakshmi wanders the Earth looking for homes where she will be welcomed. People open their doors and windows and light lamps to invite Lakshmi in.
The festival is also referred to as "The Festival of Lights" because houses, shops and public places are decorated with small earthenware oil lamps called diyas. Also keep an eye out for Rangoli's drawn on floors. Rangoli's are colourful patterns and most often a lotus flower.
This time of the year signifies the victory of light over darkness, knowledge over ignorance, good over evil, and hope over despair. What a great way for people from all backgrounds to come together and celebrate!
It is also believed that now is a good time for you to spring clean your home! Buy yourself something nice and wear it. If you've been toying with the idea of starting your own business – go for it – make sure to pray to the Goddess for a successful year.
Fun Fact: Did you know that…Diwali is an official holiday in India, Nepal, Sri Lanka, Myanmar, Mauritius, Guyana, Trinidad and Tobago, Suriname, Malaysia, Singapore and Fiji? No. we knew you wouldn't!
Not from the UK, celebrating Diwali, and staying with us in one of our serviced apartments? Why not invite work colleagues over to celebrate with you and cook them a traditional meal in your kitchen.
And don't forget to head to Trafalgar Square in London, 12th October between 2pm – 7pm. The Mayor of London will be supporting and funding a free Diwali Festival celebrated by people of all nationalities, races and religions. There will be a parade, Garba dancing, fashion shows and the food is going to be amazing!
For more information: http://www.diwaliinlondon.com 
And of course our Diwali celebrations just wouldn't be complete without some huge firework displays – so keep your eyes open for those!
Happy Diwali!
Follow me on Twitter: @MarietjiePAS or connect with me on LinkedIn.
Travelling to visit family and friends this year? Why not stay in a serviced apartment? With apartments located all over the UK we are able to provide accommodation at your chosen destination Contact our sales team to make a booking today
Tel: 020 7704 6514 or email: sales@prestigeapartments.co.uk
---
Share this post
---