ALEX WOOD GOES HOME!
Friday May 30, 2014 by Alex Wood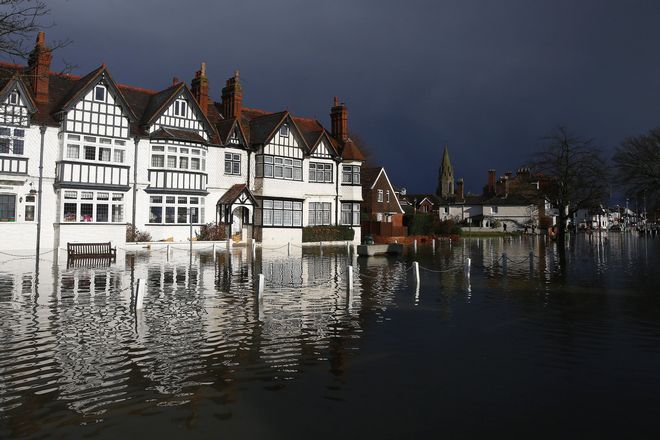 Thamesview in Staines & Clarendon's Wraysbury Hall.
Having grown up in Wraysbury and passed a lot of my (misspent?) youth hanging around with the 'Staines Massive', I jumped at the chance to review our serviced apartments in the area. What a great opportunity to revisit my old haunts and have a little trip down memory lane to boot!
The sun was shining and it was a lovely spring day when I set off on my road trip down the M4 with my colleague and friend Alex Guzek along for company.
We'd arranged to visit Thamesview in Staines as our first stop, and despite our worries about delays we got there with plenty of time to spare as the drive out along the M40 from west London had been so quick. PAS girls aren't known for their skill with directions and as it had been so long since I'd last been in Staines that I'd been kind of expecting to get a little lost! We needn't have worried though as Thamesview Apartments were actually very easy to find. We took the junction off the M25 onto the A30 and we were there in no time at all, and as the name suggests they're right next to the River Thames! We parked up in the apartment's private car park and found the friendly manager, Pat, in her onsite office along with the owner of the apartments, Andrew, who also acted as our tour guide.
Thamesview Apartments are a small development of 3 townhouse complexes which are each divided into several serviced apartment units. First we saw a couple of great studio apartments with plenty of space and, as Andrew demonstrated, the pull-down beds are all ready made up and are very light. Once put away you'd hardly know they were there as they disappear into panelled cupboards. With their separate kitchens and bathrooms they have the feel of a one bed flat rather than a studio apartment.
It was then time to have a look at the one and two bedroom apartments which have spacious living rooms with open plan kitchens. All of the apartments that we viewed were very well maintained, clean and tidy and the traditional styling of the decoration gave them a very comfortable, homely feel. As a final touch on our way out we were greeted by the beautiful scent of Lilly of the Valley flowering in the very well tended communal gardens - always a sign of good luck! (These great value apartments will be joining the Prestige portfolio in July so look out for more details coming soon)
Having seen a good selection of the serviced apartments at Thamesview, Alex G and I said our goodbyes to Pat and Andrew and took the opportunity to pop into nearby Staines town centre(on foot) to get some lunch. The Elmsleigh Shopping Centre was just as I remembered it from my youth with plenty of high street shops and a nice, big Marks & Spencer's, however the High Street had been pedestrianized and with an extra shopping area and cinema complex created since my day, it seemed much bigger than I remembered!
After a quick refuel at Starbucks (always a favourite for us Prestige girls), we jumped back in the car to head on to our next stop, Wraysbury Hall, located just a few minutes drive from the town centre. I was so busy pointing out the sites to Alex though, that we nearly missed our turning!

Wraysbury Hall is set in a beautiful, rural area on the banks of the River Thames just past Staines. To reach this stunning spot you have to drive down a lovely leafy lane and through the gated entrance and follow the drive up to the house - very posh indeed! Again, a veritable plethora of parking made our life very easy and as we were running early we popped in to say a quick hello to the Clarendon team at their onsite management office.
At this point we really should say a big thank you to Carmen & Peter who showed us around a selection of apartments inside this characterful old red brick building. Some of the apartments were just being upgraded and a particular favourite of ours was a beautiful 3 bed with a conservatory style dining room overlooking the grass lawn leading down to the river. Most of the apartments have some outside space, and with the location that the apartments have, it would be a shame not to. The River Thames is virtually on your doorstep and with the sun shining through the trees it was a truly beautiful spot to spend an afternoon. (And Peter, we're still waiting for that invite to the Hot-tug hire on the river!!!)
Unfortunately duty called and we had to get back to the office, so we sadly said our good-byes to the Clarendon team and headed off, but not before we took a cheeky detour! I just couldn't resist the chance to pop in to Wraysbury village itself, which is just a quick 5 minute drive down the road. Amazingly, very little had changed since my childhood and there were even some of the very same local shops and pubs still going strong.
I was even able to point out to Alex the very slides and swings on the village green on which I'd playfully slid and swung 40 (you said 30! - Ed/Hubby) years ago!
Happy memories!! 
Follow me on Twitter @alexwpas
---
Share this post
---