A PERRETT IN PEASCOD?
Sunday May 18, 2014 by Marietjie Snyman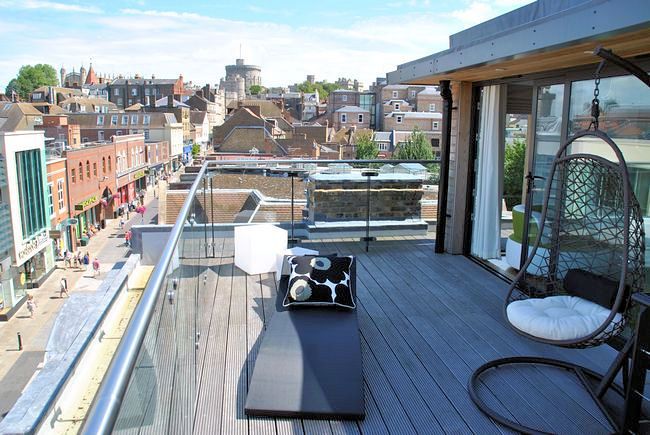 It was a normal Friday afternoon here in the Prestige Office – last minute bookings and phones ringing. Not that I'm complaining, we like it busy (chaotic!). But you all know That Friday Feeling…and after it's knocked once…all you want to do is to get that darn weekend started already!
So, my weekend plans. Well, I'd been invited by Sarah from Accommodation Windsor to spend the night in one of their plush Penthouse Apartments in Windsor town centre, Peascod House.
And yes, at the risk of repeating myself: Perks of the Job! YES!!
…and it was a Penthouse, overlooking Windsor Castle (#EXCITED!!)
Finally I made it out of the office, running a little late (absolutely nothing unusual there then – Ed), but hoping that TFL London would be kind to me.
Uurghh, Friday afternoon travel chaos. With my trusty little purple suitcase in tow however (it's now been all over the UK), I boarded the congested tube to Richmond and finally got on the train to Windsor with my-tunes (i-tunes, my tunes – geddit?) playing loudly in my ears.
Being distracted by all sorts of things (people watching, social media, etc), I finally looked out the window of the train and realised that I was no longer in busy London – but in leafy, pretty and peaceful Berkshire…and relax!
At the station I jumped in a cab: I needed to go and collect the keys from Accommodation Windsor's office. Had I been arriving during work hours I would have been met, but with my arrival information in hand (they even have pictures!) I was confident that there would be no problems. And if all else failed I had an out of hours number to call for help.
Key safe mastered then (doddle – yeah, right – ED) and keys in hand, my friendly cabbie drove me over to the apartment which was just a couple of minutes away.
Arriving at the apartment I had to make my way through a few gates and entry systems – a very secure apartment and fob entry! Love that.
I carried my own bags (well, THERE'S a first) upstairs to the living room area, and feeling a tad shattered thought: well, let me just put my bags down. As I surveyed my surroundings I said out loud: Now this…is VERY nice! (talking to yourself after the age of 30 is quite normal I'm told).
My first instinct was of course, to rush over to the wrap around balcony to check out the views! So – what did I see? Well, cobbled streets and the famous Castle too, with great views of the main pedestrian shopping street, Peascod Street.
Back inside I found myself thinking, mmmm, I need a glass of wine. But then I heard a little voice (I'm pretty sure it sounded like Boss Alex W) saying: "Marietjie, Work first….Wine later?"
So I had a good look around….
The kitchen is kitted out with everything you need and more. There's even a coffee machine(which always gets a big thumbs up from me!), and so many kitchen gadgets I didn't even know what do with half of them, but I'm sure all you foodies out there can prepare an absolute feast while staying in this apartment. And although the apartment only sleeps two adults there's more than enough cutlery to have a few friends over and be served dinner at the 6 seater dining room table.
A pet hate of mine: Arriving at an apartment where the kettle is full of water…well I can confirm that the kettle was empty! Happy Girl.
The apartment is decorated in a quirky style with lime green being used throughout – I also had the sense that all of the furniture and general decoration in the apartment had a lot of thought put into them. Very stylish! And of course there's free unlimited wireless internet – perfect for a corporate or perhaps a couple who like the finer things in life!
I also spotted an ipod dock, and the welcome pack had all the information needed for a pleasant stay. They even included a couple of restaurant recommendations.
Another big 'like' was the sky-lights that are strewn all over the apartment, making the rooms nice and bright.
The bedroom is beautiful with access to the balcony. There's a very comfortable bed and a dressing table for the ladies. And another plus for us girls…impressive cupboard space!
Very unusually the apartment offered two full bathrooms (with showers). One bathroom is downstairs by the front door and the main bathroom is next to the bedroom. Both bathrooms were spotless with complimentary toiletries. I can also report a great shower – no water pressure issues here!
Okay so, leaving the best for last:
The Balcony! At that point I'm afraid I just had to open a bottle of wine and take in the views and outside space that was on offer. Wow, coming "home" to this every night and enjoying those long summer nights! Aarghh, one can only dream…
From the balcony you can see Waitrose, M&S, Monsoon, Lush and oh yes, Threshers (OMG – ED).
Initially when I arrived, I did think – Gosh it's a shame that the apartment doesn't offer parking, but I took that back as it was now very clear that you don't need a car – you just couldn't beat this central location. I did note that parking WAS available nearby at reasonable rates.
Work done…
A friend (Oh yeah? – ED) arrived and we spent most of the evening on the balcony making full use of the sun loungers (by moonlight) catching up and enjoying the apartment!
Next morning we woke up to a beautiful morning! We had coffee on the balcony and planned our day.
Dressed and ready for the day we locked up and strolled towards the castle…and had some much needed breakfast!
We then walked back over to Accommodation Windsor's office where I dropped the keys back in the key safe. An easy, no fuss check out! (check out time is 10am)
Rushing back to the castle we made it just in time for the changing of the guard! Men in uniform - always a treat…though purely for tourist purposes of course!
Windsor has always been a favourite of mine and I'm never disappointed when I visit! I can honestly say with hand on heart – this was my favourite visit to Windsor so far and I'm pretty sure Peascod House and Team Accommodation Windsor had a lot to do with that.
Thank you Sarah and Lisa for the invitation and for arranging the stay!
I've been around the block a couple of times when it comes to viewing serviced apartments….and I'm not entirely sure if I'm allowed to say this…but…
…Peascod House is definitely in my TOP 5!
Follow me on Twitter: @MarietjiePAS
---
Share this post
---