MY ATM EXPERIENCE
Wednesday May 14, 2014 by Marietjie Snyman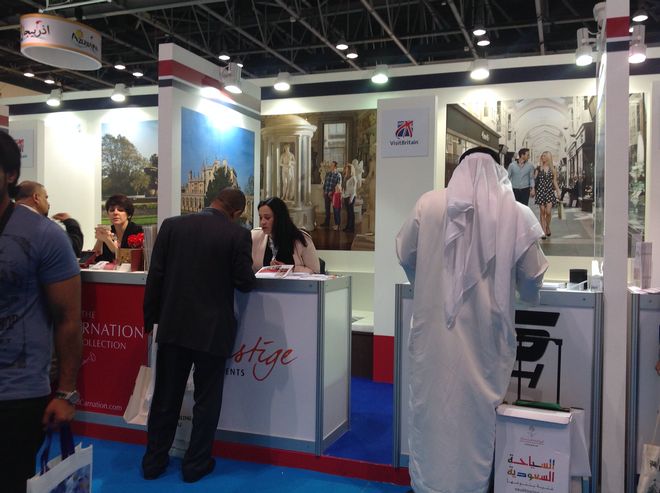 Having not been to Dubai or the ATM before I wasn't quite sure what to expect…well, was I in for an interesting week!
Lucky for me I had Alex and Richard to show me the ropes as they had both attended the ATM the previous year.
We arrived two days before the start of the show and while the bosses had the right idea and enjoyed some down time, I chose instead to play the tourist. Directly after having arrived from Abu Dhabi by bus the night before, I then proceeded to hop on another bus and did a city tour taking in all the sights and sounds of this UAE metropolis.
I also went on a desert safari (and even rode a camel – though photo evidence of that particular adventure will remain hidden for the moment!). 
We started prepping for the ATM on the Sunday with registration, having a team strategy meeting and visiting our stand. We almost had a disaster with the artwork for the stand not being as it should be – but luckily Alex had a quick word and we were reassured all would be okay. 
That night we attended a drinks reception at the British Embassy which was a great opportunityto mingle and meet a lot of the people that we would be spending the next week with on the UK pavilion. Visit Britain was also on hand to give us a helpful (and rather lengthy) presentation as well as some cultural info and hints on the UAE.  
So Monday morning arrived…and we were ready for the 'speed dating' (Hosted Buyers) session.  Armed only with our business cards, sensible shoes and friendly smiles, we went for it! It turned out to be a great first day except for 6 very sore feet!
The next couple of days flew by. It was so interesting meeting people from all over the world face to face and understanding their cultures and business needs. We even made some new friends! 
At this point we really must mention the Clarendon and Deep Blue lads – great guys one and all, and besides being very good at the selling aspect, still managed to retain enough energy to do a little socialising after hours. It was lovely bonding with you guys.
Thanks also to Jeroen from The Arch for giving us his valuable input, and Marisa from Red Carnation Hotels for lending us her string/glue/whatever when we needed it. Also worth mentioning Craig from The Spires, Galina & Nick from Dreamhouse and Dana from Clover London - Great to see you guys!
The exhibition centre is such an impressive space. I went to walk the floor and on my return I realised that I didn't even notice that there were a further three halls. Dunce! So YES I went back to explore further, and I found the UAE stand to be by far the most impressive, but then if you look at the buildings in Dubai that would appear to make sense!
Spending all day on our feet and talking/selling to 'strangers' was very tiring. Even for me, who can usually talk all day long in normal circumstances. Yes, even I felt totally knackered at times.
So we made sure to take some time out after work. Not all of it, I hasten to say, in the nearby McGettigan's pub. Richard had the chance to re-live his youth by going to the Wild Wadi Water Park, and I hear it's a must!  He was raving (what's new?) about the 'black hole'? Apparently it's pitch dark in one of the tunnels, and hurtling through it at high speed on a bobbly round lilo is the thing to do. Mmmm, dunno?
For myself, I popped down to the giant Dubai Mall where I was mesmerized by the Fountains, marvelled at The Aquarium and had the opportunity to go up the world's tallest building – theBurj Khalifa.  Amazing, amazing views!
And Alex the boss? Well, I hear that she enjoyed some much needed me-time.
I'm not sure what I was expecting from the week but looking back at it now, it really was a great experience and so worth the sore feet, hard work and tiredness. Have you ever been so tired that you haven't noticed the plane taking off? On the way home I couldn't even stay awake for a minute...I was very nearly fast sleep even BEFORE we boarded the plane. Richard tells me there were some great movies!
The thing I most enjoyed about the ATM was meeting the people…I learned so much about the Arab culture.  
The last day was almost a little sad…after seeing the same faces every day and sharing so many (so many) laughs, we'd formed some lovely bonds! So once again a massive Thank You to everyone who made our ATM experience one to remember….you know who you are.
Have a look at our highlights: ATM 2014 - Pinterest
---
Share this post
---