ALI G IS IN SLOUGH (THAT'S NEAR STAINES)
Saturday May 10, 2014 by Aleksandra Guzek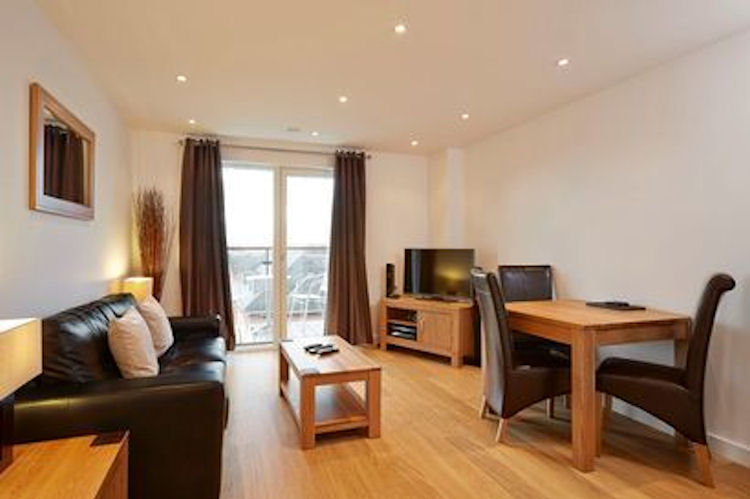 Fortunate, blessed or maybe just lucky - yes it was me, Alex G! I'd been delegated to visit the lovely town of Slough!
So on the morning of the 11th April, and together with my other half (who was acting as driver) & our little son Hugo (who was acting up), I jumped into our flashy new Mercedes C class (AMG)car and drove over to view Rivington Apartments.
It wasn't a long journey - it only took us half an hour to get there. I'm not entirely sure if this was because it's so close to get to from West London, or because my other half was speeding! As we've not received any speeding tickets yet I'll have to assume it's because it's actually so close.
The apartments complex was very easy to find (that's if if you have an up to date Satnav - we didn't, so it took us a little bit longer ?), and there is also a train station just couple of minutes away from the apartments if you're using that method. It's pretty much in the perfect location if you need to catch the train to London on a daily basis. We parked the car in the car park outside of the property and while the boys were enjoying watching passing trains nearby (as you do when you are 2 and 31), I went to see the apartments.
I had arranged to meet Sarah from ESA. Sarah has helped me with many enquiries over the years I've been with Prestige Apartments but this was the first time that we'd actually met in person. It was so nice to finally put a face to the voice. The apartments too, were lovely and exactly what you would have expected from ESA - spacious & high quality apartments with solid wood furniture.
Every apartment is finished off to an exceptionally high specification using natural materials with a neutral, relaxing colour scheme. They all come with modern technology (like LCD TV's with home entertainment system and Sky TV, as well as free wireless internet access). Every apartment has a fully equipped kitchen with a spacious living area perfect for having your family or friends over for dinner. There's a weekly housekeeping service and quality bed linen and towels are also provided. There's a great selection of shops, bars and restaurants within walking distance from the apartments too. There is also a Starbucks, which if you know me, you'd know is my favourite coffee shop in the whole wide world!
Slough is a town of big brands like O2, Segro & Reckitt Benckiser. They all have their headquarters there, so if you're going on an assignment or work for any of these companies and require a serviced apartment, then Rivington Apartments is the place to be. You get the space and quality furnishings that every family will feel comfortably and safe with - and all apartments have a secure entry phone system. It's a home from home where you and your family can experience a truly great stay away!
Written by Alex Guzek. 
---
Share this post
---