Shop 'Til You Drop In Brimingham'S Best Shopping Centers
Monday March 31, 2014 by Alex Wood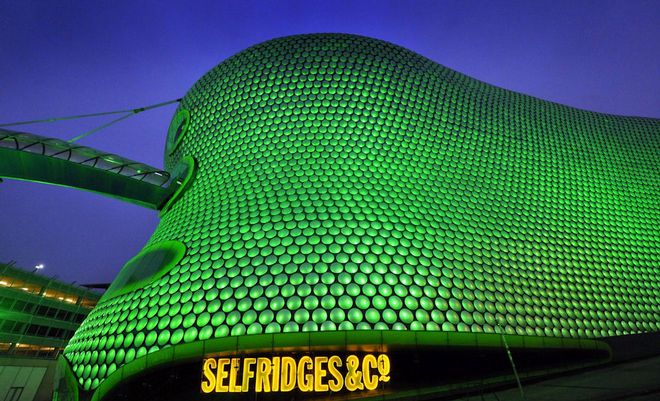 You could quite literally shop 'til you drop in Birmingham. No, really...you could. If you're into retail therapy then you're going to get some intensive care here!!  As shopping is something we pride ourselves on doing well here at Prestige we felt we should get the low down for ourselves.
The shopping centres are famous in their own right in Birmingham - that's how impressive they are!! Our first stop was the glamorous Bullring which needs no introduction and not only houses the department uber-store that is Selfridges, but also a range of high street stores that will make your head spin. There is something for every taste in fashion, high and low end, and every conceivable food to ease you through the ordeal of making a decision on where best to send your money.
Luckily for us the sophisticated Mailbox is not all that far away, and is possibly even more upmarket (if that's possible) with Harvey Nichols, designer boutiques, canal side dining areas and a Michelin starred chef's flamboyant restaurant (and adjoining Champagne Bar - all on the 25th floor) in residence at The Cube.
Linking these two centres is Birmingham's most famous street, New Street, which takes you from the Bullring at one end to the Town Hall and Council House at the other. Fully pedestrianized, this street has more than enough shops to keep you busy all day too! Make it stop! And while you're there, don't forget to explore the fabulous Piccadilly and Burlington Arcades as well.
We also really mustn't neglect to mention the world-famous Jewellery Quarter, which is home to hundreds of extremely talented craftsmen - you can even commission your own piece while you're there. And it's not just jewellery either - there's a thriving arts scene here as well, so expect to find fashion boutiques and trendy restaurants mingling in with the bijouterie.
So there we are...if you're anything like the Prestige team and you just love shopping then in this city you'll have found your paradise!
OUR TOP TIP: END UP AT THE AREA AROUND THE MAILBOX FOR COCKTAILS IN THE BAR AT THE TOP OF THE CUBE - WHAT BETTER WAY TO END YOUR DAY THAN WITH FANTASTIC VIEWS OVER THE WHOLE OF THE CITY.
Take a look at our Birmingham City Guide for more tips and hints on what to do and where to visit in this amazing city...
Planning a shopping trip to Birmingham? Contact our sales team to book a Birmingham serviced apartment.
Tel: 020 7704 6514 or email: sales@prestigeapartments.co.uk
---
Share this post
---