A WEEKEND BY THE COAST - E(L)SA IN BOURNEMOUTH
Tuesday March 25, 2014 by Elsa Wangsten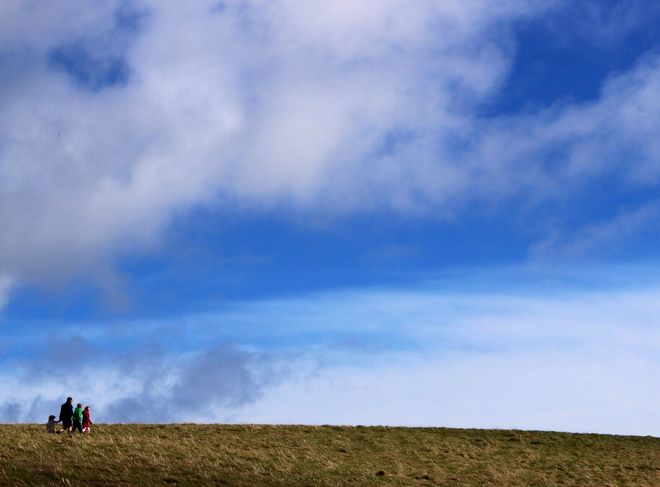 Having a never-ending love for the streets of London and the buzz that fills that town, I think that'll always be my favourite place to be. However, being a country girl and having spring and my favourite time of the year just around the corner, I felt like it was time (just for a couple of days) to breath in somewhat more 'fresh' air and take in some greener landscapes.
Having a rare, unplanned weekend and an urge to go down and explore Dorset, I was in the mood to be spontaneous and so booked a weekend away. Having looked around I realised that the best location to travel to, and for having as a 'base' would have to be Bournemouth, only 2 hours away by train from London. 

Being a photo enthusiast as well as very keen on exercise, I thought I would try to get down and wander for a whole day in Purbeck along the Jurassic Coast. And with this being quite far down I thought I'd better plan my trip from Friday to Sunday in order to have the most time possible on Saturday for exploring. 

With that said and done, and with train tickets booked, it was now time to try to find somewhere to stay, and what better than a serviced apartment?! Having worked in the industry for about ten months now, I've seen a large selection of them on viewings and open nights but I had not yet stayed in one. So, a perfect opportunity! Having a look around I was kindly offered an apartment by Louisa at ESA at their Exchange Buildings in the aforementioned town

Leaving the office on Friday afternoon (after having the sun shining in through the windows all day - promising!), I set off to Waterloo and managed to catch an earlier train. I knew however, that this wouldn't be a problem because even though ESA arrange a meet and greet, and I had given them an arrival time already, they ask all guests to call them two hours prior to arrival to confirm their arrival time - so, sorted! 

Getting a large cup of tea for the journey (Note - no coffee this time!), I settled down in my seat, plugged in some music and had a bit of a rest...there's something so soothing about train journeys don't you think?
Arriving at Bournemouth station at twenty past eight and with rain pouring down, I treated myself to a cab and was at the apartment in no-time! Being greeted by Liam from ESA guest services, Igot a quick introduction to my apartment, a lovely one-bed on the ground floor, and was shown where to find everything and who to call in case of having any problems. As a guest, you'retreated to a little welcome pack consisting of tea, coffee, milk, butter and bread and for me, arriving quite late and not having had the time to go grocery shopping, this was perfect. I can also, after burning my toast, confirm that the apartment does have safety utilities and that the fire alarm does work! 

After being out for a drink with a friend it was time to get some sleep as Saturday was planned as a day for going down towards Purbeck and I don't think I've slept that well in ages. Comfortable beds and a quiet bedroom (despite it being on the ground floor), made it difficult to get up in time, and I can honestly say that a part of me wanted the rain to pour down outside for me to stay inside the rest of the day! 

Locking up my apartment, which was conveniently located just a few minutes walk away from the city centre and Bournemouth pier, I headed for the train station again. This time the method of transport was going to be by bus and with the bus stop just down the street this all worked out smoothly and easily. 

Wandering all day along the coast snapping photos with the wind in my hair, I arrived back in Bournemouth tired and hungry, and what could be better than having shops just around the corner for you to buy some groceries. Because it's this that is one of the key points of having your serviced apartment...you have a fully equipped kitchen so you're fully able to cook your own dinner! ESA also provides you with a welcome folder where you can find a full list of addresses of closely located shops and banks, as well as giving you all of the relevant information such as how to connect to the internet, etc. 

Being absolutely knackered from my adventures along the coast, and probably also all the fresh air, it was time for yet another good night's sleep before heading back to London. With agenerous check-out time of 11am there's no rush in the morning, and you're able to take your time. 

Heading back to London I had a little reflection on my stay and can confidently say that this, being my first stay in a serviced apartment, was really up to expectations. The apartment wasclean and fresh and had lots of small details that really made it feel like a 'home away from home'. I didn't miss any of my 'home' kitchen utilities, and there are also many small details in the apartment, such as the embroidered towels and the signature ESA 'twigs', that made it feelpersonal and 'homely'.
All in all, a perfect apartment for a weekend away, as well as for someone staying longer on business, and I can highly recommend it to anyone travelling south. As I have yet to explore the Isle of Purbeck and Swanage I will definitely be back here soon!!
Follow me on Twitter : @ElsaWangsten
And have a look at the photos from my trip on Pinterest!
---
Share this post
---