M IN M! (MARIETJIE IN MAIDENHEAD)
Monday June 30, 2014 by Marietjie Snyman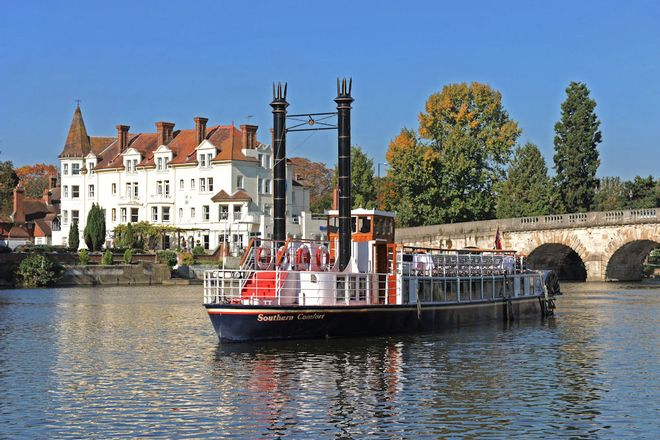 Did I tell you? I recently spent a lovely morning in Maidenhead viewing serviced apartments with ESA!
And brilliantly, getting to Maidenhead from Paddington only took me 36 minutes! And whilst at Paddington, I noticed that there are even quicker trains!  Typically however (if you're a regular follower of my travels and travails), I missed that one...as I was getting coffee. (I was ahead of scedule for once - So it was all good!)  I need my morning coffee! (Mmmm, no product placement at this juncture…that IS unusual - Ed)
So, Louisa from ESA met me at Maidenhead station (about 2 minutes' walk from the apartment and with plenty of nearby shopping too!), and we zipped around the town viewing a selection of their apartments in a variety of different locations.
My pick of the ESA Maidenhead apartments was without doubt, Burghley Court.  This great property offers 1, 2 and 3 bedroom apartments, however due these apartments being so popular, I could only view a 1 bed on the day!
Walking into the apartment I immediately noticed the amount of space you'll get when booking this apartment.  You'll definitely not have any suitcases standing around as the apartment has somany storage areas. 
The bedroom was of a good size too,  with built in wardrobes and a TV. (this comes as standard across all ESA apartments). There's secure free underground parking as well, although make sure to mention that you need parking when booking.  Oh, and each apartment also has secure video entry.
The kitchen has all the modern cons you'd need, and again there's no shortage of storage. I noticed that the cupboards were well stocked with cutlery and crockery, and there's a dishwasherand also a washer/dryer in the kitchen. The microwave is integrated above the oven which I really liked as it saves on counter space.
So, when you check in,  you'll be met upon arrival, 24hours a day…all guests are.  You'll then be shown around the apartment and given the run down on how everything works too, which I always find handy.
Upon arrival there'll also be a welcome pack waiting for you in the apartment. And there are even three different types of these available depending on length of stay! I've given you an example of a long stay welcome pack below. Additionally, Louisa told me that If guests do have any special dietary requests, just to make sure to let her team know before arrival.
Also, I must mention, for those with kids, the development has a very safe, residential feel to it and includes a secure children's play area!
So here's that long stay welcome pack:
THE FULL PACK - minimum 1 month stay
1 pint of milk
A medium sliced loaf of bread
A 250g bar of Flora or similar
1 litre Tropicana orange juice
4 branded yogurts
A medium Cheddar cheese
6 free range eggs
A variety pack of 8 cereals
40 PG Tips or Tetley teabags
A 50g jar of Nescafe coffee
A half a kilo of sugar
A Sainsburys taste the difference pot of jam
227g Robertsons Golden Shred Marmalade
Carrs or Jacobs cheese biscuits
Back in the room!... So along with free wifi the apartment also offers a full sky package.
Oh, and if like me, you're on a budget or have guests staying, then you can arrange for the sofa bed to be used.
Overall, I thought the apartments were well looked after and that the neutral décor would suit both corporates and families. I could certainly see myself staying there.   
A unique selling point for Burghley Court is the communal roof terrace - perfect for those long, summer nights…and also handy for smokers! 
Louisa and I also visited:
Lewis court: Located above Waitrose and just a few minutes walk from the town centre and train station.
Hendry Court: These apartments all have juliette balconies and are right next to Park View apartments.
Park View: Yes, you've guessed it - you have park views! And its only a couple of minutes walk from the station.
We then drove to Reading where I got to see  The Q Building apartments which offers a very central location, perfect if you're not driving while staying there. 
Another short drive later and we were at Heron House which is located at Kennet island across the road from the Greenpark Business Park. I also really liked these apartments. The apartment I viewed had outside space, and I also noticed that the The Piazza which the apartments are in has its own gym, hairdresser and restaurant – very handy I thought! (as you're such a gym bunny Marietjie! – Ed)
To finish off the day in typically girly fashion we went for lunch at Zest in the business park where we both ordered slimming salads and caught up on some girly chat. 
What a great morning! We'd seen a host of apartments in all sorts of  different locations so thank you again Louisa, for taking the time to show me around and now I'm really looking forward to that dinner we discussed!!!
Follow me on Twitter: @MarietjiePAS
---
Share this post
---