100 KINGS ROAD LAUNCHES NEW BIKE SCHEME
Thursday June 26, 2014 by Marietjie Snyman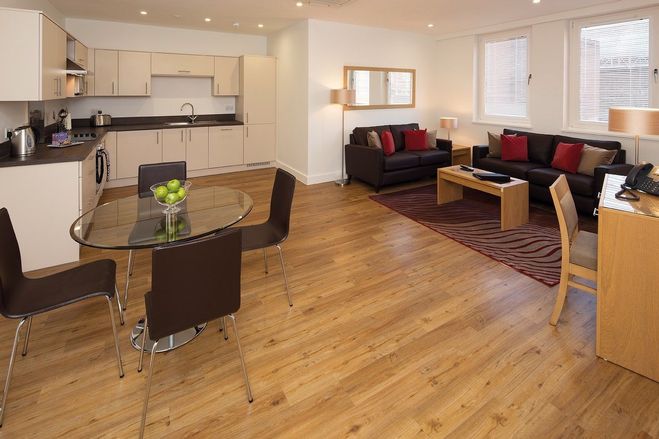 Alex G and I went to view Reading's newly opened (and very impressive) 100 Kings Road Apart-Hotel apartments (by House of Fisher) back in January.
It was then that Sales Manager Aneal intrigued us with their new bike scheme that was to be launching soon! At the time however, he wouldn't tell us much as it was TOP secret stuff.
Finally though, we have all the news and we're able to share it with you!
Marietjie: So Aneal tell us how the idea came about?
These days many companies promote a greener lifestyle. We found that many corporates either cycle into work or use car-shares. Also many of our clients from all over the world prefer not to drive in the UK. We're always trying to think ahead and come up with ideas on how to better our offering to our clients so we thought why not.
M: I see – good thinking! How has the uptake been on this additional service, any takers?
It's actually been great! We have 4 bikes available: 3 male and 1 female (sorry girls! girl power I know!) We provide you with a helmet and the bikes are all kitted out with lights. With the ever changing British weather we're finding it to be quite weather dependant - but hey - the summer's been good to us so far, so fingers crossed it continues.
M: How would you book your bike – could you tell us about the booking process?
Well, it couldn't be easier. You simply speak to our Guest Services team who are available 24 hours a day (it's not always the same person though…we do let them have a break!). You can book your bike for the full length of your stay or even just for the day. There's no hire charge however we take a deposit of £130.00 which is fully refundable once the bike has been returned.
Sounds great – When I think Reading, I think of a really busy one way system…that YES, I have gotten lost in!
Ha ha, yes…Reading is very busy! But with the new "ReadyBike" scheme (in cool purple & orange vs boring blue Boris bikes) Reading council has invested heavily in cycle lanes.
Our guest services will also be happy to give you information on various cycle routes if you'd like to go exploring. We have the river running to either side of the apartments so for the adventurous you could easily cycle via the river to Henley or Newbury. We've also had many corporates cycle to Greenpark and other local business parks.
We have two cyclists in our office, are there any cyclists at HOF?
Well, our owner John Fisher and our Revenue Manager have been known to cycle in. Me personally, I'd rather leave it up to the experts!
So Aneal, give us a quick summary of what 100 Kings Road offers…
Glad you asked – we offer:
50 Apartments in total including a range of studio, one, two and even three bedroom apartments! A secure ving card entry system with CCTV and a reception open 24hrs. Guest services are always on hand to help with any questions or maybe booking your favourite restaurant, which we offer our guests amazing discounts for! There's also paid onsite parking available on request.
We have air conditioning and heating systems…and very importantly…unlimited Wi-Fi access and flat screen TV's with Sky so you can watch Wimbledon and the World Cup!
Impressed?? We are…..
Great! So give us the inside scoop then. What's next for HOF?
Well, we're opening another Apart-Hotel in Bracknell around about January 2015 – so watch this space!
Follow me on Twitter: @MarietjiePAS
---
Share this post
---