Our Top Insider Tips For Your Stay In London!
Friday June 20, 2014 by Marietjie Snyman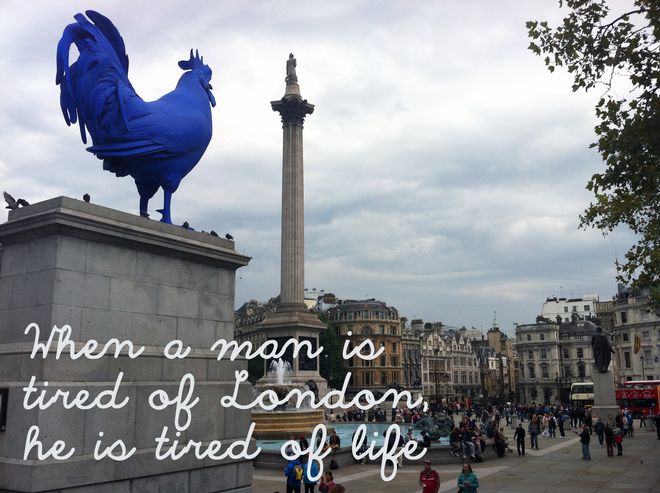 Richard loves to go for a curry and says that although everyone always advises tourist to go toBrick Lane, it's become a bit of tourist destination.  Her insider tip is to venture just a little further south to Whitechapel where you'll find the legendary Tayyabs, on Fieldgate Street.  A visit to thisflamboyant restaurant is an experience in itself but expect to have to wait for a table at weekends.  In fact it's become so popular that these days on weekends you may get turned away if you turn up at peak times but don't worry because if they're full they'll send you down the street a few minutes to the less glamorous but equally authentic Lahore Kebab House. Alex tells us that you shouldn't be put off by the slightly dodgy looking exterior because the food is really great.
Everyone knows about Portobello Road and Notting Hill, but these days east London is where it's at!  Elsa, our hip youngster, recommends trying out some of the markets in this region. OnSaturday there's the amazing Broadway Market which is a great spot to browse for original andvintage clothes or shop for top quality food.  It's right next to London Fields park which is a great spot on a sunny day and has it's own BBQ area and a great pub.  Walking south from the market you'll cross the Regent's Canal which is a lovely spot for a walk in itself, but if you carry on you'll come to Haggerston Park and the Hackney City Farm which is a really fun place to visit even for adults.  And it doesn't stop there - if you carry on over Hackney Road you get to the Columbia Road area where they have a flower market every Sunday and there's loads of cool shops and cafes to visit as well.
Alex is a Chelsea girl at heart and so her recommendation is a great spot to stop for lunch after you've spent a hard morning shopping – that's if you've got any money left!  Housed in a beautiful art deco garage building dating back to the 1920's The Bluebird on the Kings Road is an institution for the Chelsea set and the café courtyard is the place to sit and people watch on a sunny day.  There's also a fantastic restaurant and bar if you fancy going a bit more upmarket which is perfect for trying out all the new designer clothes you've just bought!
Love a cheeky drink and garlic (odd combination we know!)? Marietjie recently visited a Bar inSoho called Garlic & Shots. On the menu: 101 vodka shots and all dishes are served with a good amount of garlic, remeber your breath mints! Their mission: As you leave the restaurant, you should feel like you've been garlic marinated...Make sure to visit the London restaurant and don't forget Stockholm and Palma. We hear the barmaid wears a very interesting "Uniform"
If you like the beautiful old houses in the East End then the Severs House is really something to go and see. Nicky went a while back with a friend and  found it really interesting. It's only open a couple of days a week for tours.
It is near Spitalfields which at the time was very run down and artists had started to move in and refurbish the beautiful old houses.
The house is based on an imaginary family that lived there and is 10 rooms with smells sounds and historic style from the 18th and 19th century. Another tip from Nicky is the Ghost Bus tour!. It is a black double decker bus that collects you and it combines bits of horror, comedy and sightseeing around the ghostly areas of London. She had a great time and the conductor was fantastic!. If you like your fun dark and funny at the same time you will love this way to spend an evening.
Katalin from Hungary is our culture vulture and being a south London resident is keen to promote that area, in particular she's got some great tips for Dulwich and Blackheath.  These are right next door to the more well-known Greenwich but most tourists don't venture further afield.  Her first recommendation is the Dulwich Picture Gallery, just opposite Dulwich Park, and with a very cool pub, The Crown and Greyhound, nearby for refreshments!  It's also less than 15 mins by train from London Bridge or Victoria stations. Next on her hit list is the Ranger's House in which houses the Werner Collection - a remarkable collection of objects and art collected by diamond merchant Sir Julius Wernher - and not forgetting to mention it also has a lovely little rose garden apparently.
Alex is a lady who likes to socialise and her insider tip is to avoid the West End!!  According to Alex the West End is overpriced and over hyped and you're much better off going to some ofLondon's 'villages'.  Her top tip is to visit her old haunt of Islington for a great night out.  Islington is easily reached from Kings Cross so easy to get to and has enough bars, restaurants and clubs to keep anyone amused.  In particular she recommends the Old Queens Head just at the start of the Essex Road where she's spent many a happy evening with friends.  It's getting a bit trendy these days apparently but still worth checking out.
Prestige Apartments has an extensive database of serviced accommodation ideal for your stay in London.  Just give our friendly and knowledgeable sales team a call to discuss your needs on 020 7704 6514 or email on sales@prestigeapartments.co.uk
YOUR TURN...
Do you know of a secret London gem that I've missed? – let me know your favourite on Facebook or Twitter (#PASholidays) and I'll put together all of the favourites throughout the year in a round up review post!
---
Share this post
---