ALEX AND FAMILY VISIT THE PIGS IN SOUTHAMPTON
Wednesday July 23, 2014 by Aleksandra Guzek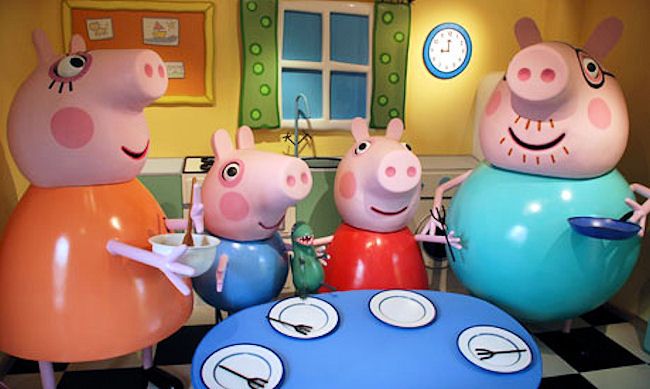 Another trip, another amazing apartment and another story to tell…..
It was a lovely, early Saturday afternoon when we decided to visit Southampton for the weekend. The weather looked promising, my 2 year old Hugo hadn't seen the beach since he was 3 months old, and I needed a tan (real not fake), so Yes, I thought: "Southampton is the place to be."
The Ocean Village Marina is approximately 76 miles (or 123 k's) away from West London (which is my place of residence at the moment but still dreaming of being more south-west). (well, you can just stop that dreaming right now Alex G, as we need you here…and we'll pay!!! – Ed).
So that's just about a one and a half hour drive or 24 hour walk (you wouldn't want to walk though). It's 1 hour 25 on the train from Waterloo too – honestly, it's just so easy to get to.  And not very expensive either – it only cost us £10 each way (yeah, in our top of the range Merc –Ed) (diesel, 2.2L engine, approx. 7L per 100km). For train tickets you would be looking at around £35 - £40 per person one way so it looks like it's actually far more economical to drive there…
Where we stayed...

We arrived around 2 in the afternoon and we'd arranged for our meet & greet to be at 3 so we decided to grab a coffee and some lunch, and you'll all be pleased to know that there is a Starbucks there and a McDonalds too! 
We were booked to stay in a 2 bedroom, 2 bathroom apartment in Sapphire Court, which is one of the buildings we have located in Ocean Village Marina. We were totally amazed – it's such a gorgeous place to be! I am totally and unconditionally in love with Ocean Village Marina! The views, the harbour, the boats, and all of the fancy restaurants nearby – what more could a girl want?
The check-in was quick, and the meet & greet representative very efficient. So you can say what you want, but having a personalised meet & greet really is something that every serviced apartment provider should offer! You're shown around the apartment, given an explanation of how all the appliances work (how to connect to your wifi for example – which is quite possibly the single most important thing in a serviced apartment, especially for corporate clients), and something else so simple - just being told about the area.
The apartment was great – 2  double bedrooms with comfortable double beds, and a storage space that some home owners could only dream of! Spacious wardrobes, chest of drawers & bedside cabinets in each bedroom, 2 bathrooms (1 en-suite) with either a bath or a shower – really, something for everyone. The highlight of the bathroom for me was the Penhaligon's hand wash & body lotions – I love them.
The open plan kitchen & living room was spacious & airy with lots of natural light and an amazing (and huge) balcony with panoramic views of the marina and the Royal Southampton Yacht Club!(Don't start filling in those membership forms quite yet G! – Ed). I'm pretty sure everyone would appreciate this. The most important thing for me though,was the kitchen – especially as I was with my little one. It's such a relief knowing that the kitchen has all of the equipment and appliances that you're going to need, and that you can cook a family meal or even host a dinner party! I was particularly impressed with the welcome pack in the kitchen (full size washing tablets/ dishwasher tablets). It's very rarely that you're provided with not just a sample but the actual full sized products. The washer dryer and dishwasher worked well too!
For all the TV addicts out there – there IS a huge flatscreen TV with full Sky package in the lounge, plus an additional two TV's (one in each bedroom), so any family arguments about what to watch should no longer be an issue! You don't really need any arguments during your holidays, do you? (dunno Alex, anything you want to tell us? – Ed) Just pick your TV channel and hey presto, watch your favourite programme/movie. In our case it was Father Ted/Top Gear/Peppa Pig – you may well be able to guess who watched what – and yes, on this occasion, there is a great prize to be won. Please send your answers to sales@prestigeapartments.co.uk. (entrants must know Peppa Pig's real age - Ed)
Finally, I mustn't forget about the secure underground parking (very important if you drive a nice car). Its easily accessible and there is even a lift so pushchairs & luggage no longer have to be an issue.
What we did...
We decided to spend the Saturday afternoon on the beach – the pebble beach, something that us Poles are not really used to, as we only have sandy beaches in Poland. It's such a nice change, my 2 boys spent an hour just throwing stones into the sea. It wasn't too hot as there was a nice sea breeze, and I tried really hard to get a tan – unfortunately I would probably have had to spend the whole week in the sun with such white legs (good legs though as per boss lady instructions I am not allowed to provide any photos to prove that - sorry) (Editors note – I can verify this, don't ask how.)
The plan for the evening was cheeky – to try to get a table in Banana Wharf Ocean Village Restaurant – unfortunately we were unsuccessful. What we've learnt is that you do need to book a table in advance as this place is so amazing that you can barely squeeze in to the bar, it's so busy in there. We did end up there the next day for breakfast however – and the nicest English breakfast I've ever tasted.
A Very Important Tip for single males and females out there (or just the ones who are curious what's out there) – the night life in the Marina is awesome! Handsome boys racing their boats, gorgeous girls looking for handsome boys with boats…Elsa & Marietjie have already booked their trip to Southampton next weekend.
One more tip – if you would like to be one of those boat owners, the apartments in Ocean Village Marina are so much cheaper than London properties so if you do decide to move there – you would most probably be able to afford a boat! How cool is that? (boats are horrible, marina's even worse – Ed)
The next day we'd planned to visit Paultons Family Theme Park home to Peppa Pig World! The place was extraordinary, it's a place where everyone can enjoy their attractions – from little toddlers to Mercedes driving adults. It's only 10 minutes from the Marina (a 20 minute drive) and we spent our whole day there. I do think it's a great alternative if the weather isn't great and you can't entertain your little ones on the beach. Again the entry tickets price was very reasonable.
And the main attraction there? Easy. Jumping in the muddy puddles.
I just wanted to say HUGE THANK YOU to ESA Apartments for offering to let us stay in their apartment! We really enjoyed our stay and couldn't recommend it enough! Thank you so much!
Follow Alex Guzek on LinkedIn
---
Share this post
---