FLOWER POWER AT HAMPTON COURT
Wednesday July 9, 2014 by Elsa Wangsten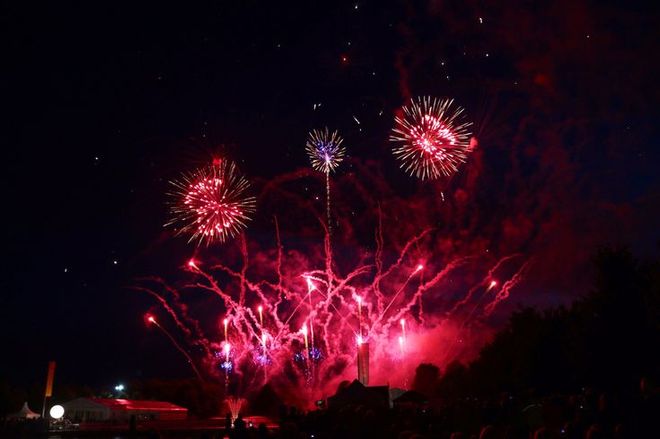 If I say 'Flower Power' most of you are probably just going to immediately think of bohemian dressed hippies during the 70's with their long hair, their John-Lennon inspired round sunglasses and Bell-bottom jeans. But nope, not this time! This Flower Power takes place in real time and occurred when the PAS-girls were treated to go and have a look at the Hampton Court Flower Show (thanks again boss!)
Ordering the tickets way ahead, (yes I know we are very organised over here at Prestige) we started counting down the days, and with the weather finally displaying a bit of summer sunshine, it was an excited bunch that arrived at the office that Monday morning! We'd heard that there would be lots of lovely displays on as well as the evening being rounded off by spectacular fireworks, exciting!!
Planning on what to pack in the picnic-basket (food -and drink-wise), we all ran off to the shops getting small bits and pieces to create a massive, delicious feast. And so, at 5.30pm off we went. A taxi filled with 4 Prestige-girls + friend headed south, down through Twickenham, and after some compulsory queueing with other commuters, we passed Craven House (and of course, as the social media savvy bunch we are, sending a little hi-tweet to Lucy), we finally reached the destination - Hampton Court!
So, after leaving our bags and picnic baskets at the picnic-collection-point, we all (that is Nicky, Kata, Marietjie, Nichola the friend, and myself) had a stroll around the area. The many stands displayed everything from garden furniture, watering systems, garden decorations and of course, last but not least, those Flowers! And it really was Flower Power! Roses by the hundreds (which newlywed Kata especially enjoyed), floors of lavender and so much more. (Having worked in gardening previously, I quite enjoyed having a look at all the ideas on what to do in terms of displays and layout).

Having a stroll around the food-tent we all filled up on small tastes of bread, olive oil, cakes, sweets, sweet fudge and some German sausage. Stomachs filled and feeling that we'd seen all the flowers we wanted to see, we spread out our picnic-blankets under a tree and set up camp. Bring out the hummus, crisps, carrot sticks, cheese, cherries and strawberries - it's picnic-time!
Finally, after saying goodbye to Kata and Nicky, who had to leave a bit early in order to get home with trains and other public transport, me, Marietjie and her friend Nichola were left with the bottled bubbles and the upcoming fireworks - a very good combination indeed! And with the dark settling in, my expectations started rising , as I had brought my camera to capture these spectacular firecrackers! And yes, it was indeed spectacular! To the tunes of a 'Pirates of the Caribbean' soundtrack and an impressively creative way of shooting fireworks, my camera went absolutely bananas - click, click, click!!!
Personally, I would say my highlight of the evening was the fireworks and below you can see what the rest of the girls thought of as their favourite points/moments of the evening.
Kata said:
I loved the tent of roses. I adore roses, it's my favourite smell and my head swam with the scent in there. I could have spent all day there admiring the small, big, delicate and robust roses and their thousand colours. My other favourite was the little coot that was sitting on her eggs beside the lake in the middle off all the hassle. She seemed really comfortable so thanks to the organisers for the notice boards letting us know that there was a wildlife mum there and asking us to be careful around the area.
Marietjie said:
My favorite part of the outing was spending quality time with the girls. Things are so busy at the moment here in the office, so it was nice to just catch up with everyone and share some giggles. My favorite quote of the evening: "Oooh I do love sausage". (really quite uncomfortably warm now - Ed) And as for the grande finale... the fireworks with the back drop of iconic Hampton Court Palace behind...well, it was breathtaking and the best Fireworks I've ever seen.
Nicky said:
I really enjoyed socialising with the girls....and well, let's not beat around the bush...The Fudge stand!....what amazing Fudge! I'm so easily pleased.
All in all - a wonderful afternoon and evening out with the girls, and with no rain in sight all night, I think we can give it a five out of five!!
To see what we saw: Have a look at some of my photos from this outing on Pinterest
Follow me on twitter: @ElsaWangsten
---
Share this post
---