LETS RACE TO CHELTENHAM!
Monday January 20, 2014 by Elsa Wangsten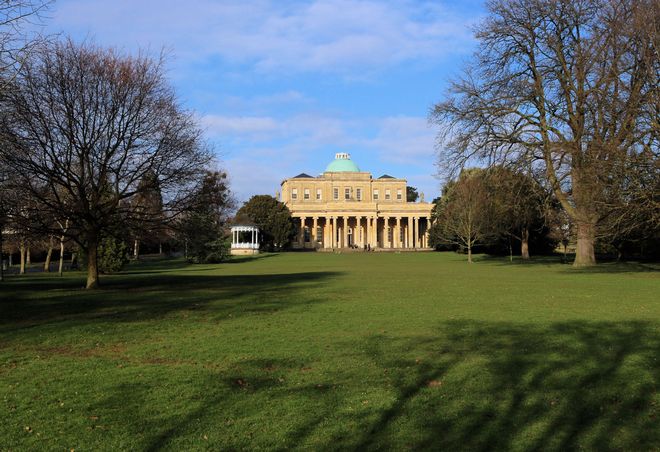 Monday morning and excited once again to be #outandabout!
This time however, the destination wasn't within the M25 but instead I was on my way toCheltenham in far away Gloucestershire. Being my usual early self I had arrived at Paddington station way ahead of schedule and had an hour to kill before my train departed. I took the opportunity to try and cure my cold with a big cup of tea and some research on my destination. According to the weather forecast it was going to be a bit colder than in London and I was glad to have bunkered up with a warm jacket and boots as I planned to explore the city all day once there.
Once the platform was announced I of course bought myself a large latte to go, (...and yes I am a coffee addict!), before heading for the train. So sat down by the window, and once off, I enjoyed a lovely journey up to Swindon where I was to change train for Cheltenham Spa. The sun was just rising and that, together with a frosty morning, created beautiful foggy landscapes on the way up.
With our train being delayed and only three minutes to spare to change trains however, I was forced to make a run for it...
People who know me will know that this would normally not be a problem for me, but having just had the flu it felt like a marathon. Making it to the platform at exactly 9.37, (the train was scheduled to depart at 9.38), I sat down and prepared myself for another hours journey. But as the story goes...when it comes to Prestige girls and train journeys, luck tends not to be on our side.The doors of the train didn't want to close, and this being quite an important safety detail, we couldn't depart on schedule.
Making a call to Bliss Apartments, with whom I had viewings scheduled first thing, I alerted them to me maybe running a bit late and then just patiently waited for the problem to be fixed. Luckily, the staff at the station were working efficiently and we were soon setting off again, towards Cheltenham, only 20 minutes behind schedule.
But hey, there'd be no story without some further implications along the way would there? So I finally arrived in Cheltenham after having to change and wait for a new train in Gloucester!
I finally met up with Paula from Bliss Apartments outside the station and we headed for the first set of apartments at Langton Court where we viewed one of the centally located two bedroom serviced apartments. Being located in the stylish Montpellier district you're close to the Eagle Tower as well as having only a short walk into the town centre.
Next up was The Cheltenham Plaza where we saw a one bedroom apartment and from here you equally have that short walk to the High Street as well as having the beautiful Cheltenham Art Gallery & Museum just a couple of steps away.
Heading off to the third set of serviced apartments, which Paula informed me were actually built by Bliss, we arrived at Saracens Court, two buildings consisting of four one bedroom apartments. These apartments were my particular favourites from the tour with both spacious kitchens and living rooms.
Last but not least we drove to The Coliseum where we viewed a couple of two bedroom serviced apartments. Some of the apartments are split level and it's possible for a double and a single bed to be placed in each bedroom, hence sleeping a total of six, very handy if you're there for a lengthier stay with a larger group. From the higher floors of the apartment you also havestunning views of Cheltenham and there's lift access to all floors, so there's also no need to worry about climbing stairs every day!
After the viewings Paula took me to the Bliss offices where I was offered tea and snacks and got to meet up with Debbi and Phil. We got to have a lovely little chat before Paula kindly drove me back towards Cheltenham town where she dropped me off at The Pittville Pump Room.
On the way we drove past the famous Cheltenham racecourse, and I managed to take a couple of shots (I'm a mad keen photographer) of the magnificent stands and the surrounding park and water pond before strolling through Cheltenham down into the town centre. I had a little stroll and a look around, snapping some photos every here and there, but with the temperature starting to drop and my hands getting too cold to pull the trigger I headed for a Cafe Nero to warm up before my next appointment!
At 3.30 I was due to meet Dawn from Room-B in order to view Suffolk Road Apartments and with me being within walking distance of the apartments, I set off a little ahead of schedule (typically), managing on the way to discover a few more of Cheltenham's hidden secrets.
I walked through the Imperial Gardens where flowers had recently been planted and which had cherry trees already in pink bloom. Walking past Suffolk Square I arrived at Suffolk Road to be greeted by Dawn, who despite her busy schedule, took the time to show me two of her one bedroom serviced apartments which were available. With their darker brown wooden decor they felt very homely, and yet at the same time very modern, which is exactly what attracts me to my ideal living space.
Thanking Dawn for the tour, and with her rushing off to her next appointment, I started to prepare to head back to London. Not before taking yet another walk through Cheltenham's beautiful town centre however, snapping yet another bucket load of brilliant photos to bring Richard (our Newsletter's art director) back from the trip!
He's so demanding!
Follow me on Twitter: @ElsaWangsten
---
Share this post
---