Best Places For Skiing In The UK!
Friday January 17, 2014 by Alex Wood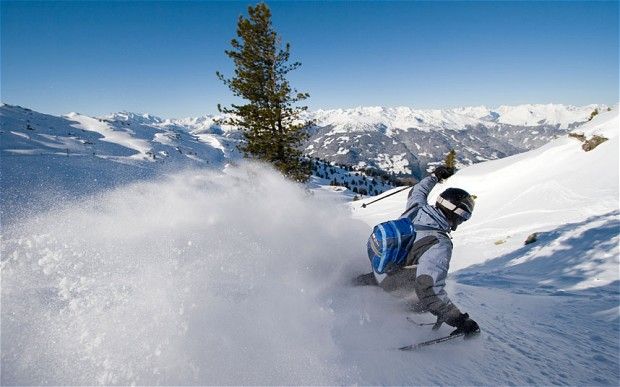 With the credit crunch continuing to have more bite than Luis Suarez, and the pound hitting an all-time low against the euro, many families are scaling back their holiday plans. If you can't afford an Alpine ski trip right now, then help is at hand as there are some great, cheap alternatives right here in the good old UK!
Don't snigger!! Every year more and more snow domes and dry ski slopes are popping up around the UK and if we do get enough snow, what's so funny about venturing out onto our magnificent rolling hills for a slide?
Take a look at our suggestions for the skiing on offer right here on your doorstep and where to stay whilst partaking of this exhilarating activity!
So if you've just gotta have the real thing:
Great snowboarding and skiing locations can be found in both sunny Scotland and in the famously friendly North of England. Here are our top tips on where to hit the slopes without leaving the country.
The Lecht -  situated in the heart of Scotland's largest National Park. 
Glenshee -  Glenshee's impressive 22 lifts and 36 runs offer an amazing diversity of natural terrain for all standards of skiers and snowboarders.
Cairngorms -  Stunning scenery all year round and the top UK ski destination. 
Where to stay? The nearby City of Granite, Aberdeen offers a range of great serviced apartments to meet all budgets.
And up in the frozen North East of England there are plenty of slopes that regularly open for skiers & snowboarders. 
Yadmoss - Hipster heaven - the coolest ski destination this side of the Channel. 
Allenheads -  For FreeRiders - There are no specific "pistes" as such, but when both lifts are running there's about 220 metres of ascent. Awesome. 
Weardale -  This is as close to alpine conditions as you're likely to get in England, with runs of over 1km entirely possible.
Where to stay? All of these 3 brilliant ski areas are just a short drive from the UK's nightlife capital,Newcastle, so you won't even miss out on the Aprés Ski !

Looking for some all year round action? Snow domes & dry slopes are the perfect alternative for those must-skiers amongst us!
Xscape Snozone, Milton Keynes - https://snozoneuk.com/
Tamworth Snowdome, Birmingham/Leicester - http://www.snowdome.co.uk/
Snozone Castleford, near Leeds - https://snozoneuk.com/
Chill Factore, Trafford, Manchester - http://www.chillfactore.com/
Snow Factor, Glasgow - http://www.snowfactor.com/
Mendip Snowsport Centre, Bristol - http://mendipsnowsport.co.uk/
The Snow Centre, Hemel Hempstead near Watford/St Albans - http://www.thesnowcentre.com/
Check out our area guides to find affordable accommodation in a serviced apartment nearby - yet another way to help save money on your ski and snowboarding trips!
Your turn...  
Have we missed out your sweet spot? 
Let us know your fave UK skiing destination. Nominate those gnarly slopes and rad peaks onFacebook or Twitter (#PASholidays) and we'll put together all the favorites throughout the year in a round up review post!
Follow me on twitter @alexwpas
Planning a skiing holiday in the UK? Why not stay in a luxury serviced apartment. Contact our sales team today to book a luxury serviced apartment
Tel: 020 7704 6514 or email: sales@prestigeapartments.co.uk
---
Share this post
---