Watersport Activities & Surfing In Wales
Tuesday February 18, 2014 by Alex Wood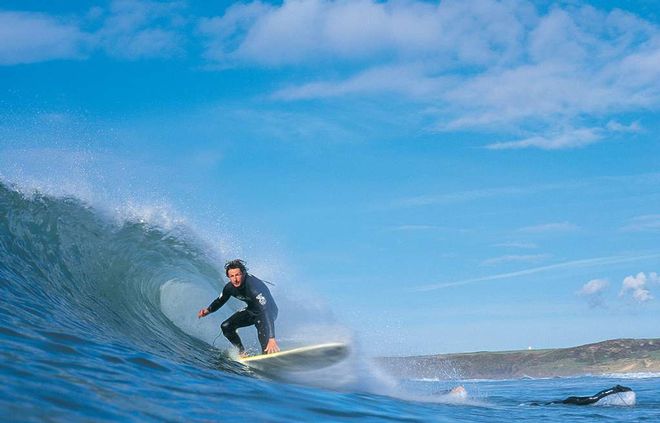 For those of you who like getting their thrills from more active past times, Swansea is the perfect base.
If you follow the five mile sweep of Swansea Bay you'll get to Mumbles, with its medieval castle, quirky craft shops, art galleries and trendy boutiques. Continuing on, and following the coastal route, you'll reach the UK's first Area of Outstanding Natural Beauty, the Gower Peninsula, where you can explore award winning beaches and 34 miles of stunning coastline.
The heartland of Welsh surfing has always been the Gower. The vast majority of Welsh surfing history and its personalities are all interwoven with this wave-packed area. Llangennith is the most consistent and busy open beach at the west end of this scenic peninsula along Rhossilli Bay. There are plenty of surf schools and hire shops along the coast so it's easy to take part all year round.
The naturally breezy weather conditions on the Gower peninsula make it ideal for all types of wind and water sports, with a choice of several large beaches around the peninsula whatever the wind direction, so you can get out at pretty much anytime. Which is clearly ideal for sports such as windsurfing, sailing, kitesurfing and wakeboarding.  And that's not all...if none of those tick your boxes then there is still kayaking or coasteering to try out.
And if the wind or surf isn't cooperating (mainly in the summer!) then Mumbles is renowned amongst Welsh surfers as the place to party!
Where to stay?
If you've been sensible and booked a serviced apartment to escape back to after your adventures then you can recover in the comfort and warmth of your own home away from home.   At Prestige Apartments we have a wide range of serviced apartments on offer around the Swansea area so call us on +44 (0)20 7704 6514 to speak to our friendly team who can help you find your perfect Welsh holiday home.
---
Share this post
---