A RABBIE BURNS AFFAIR
Tuesday February 18, 2014 by Marietjie Snyman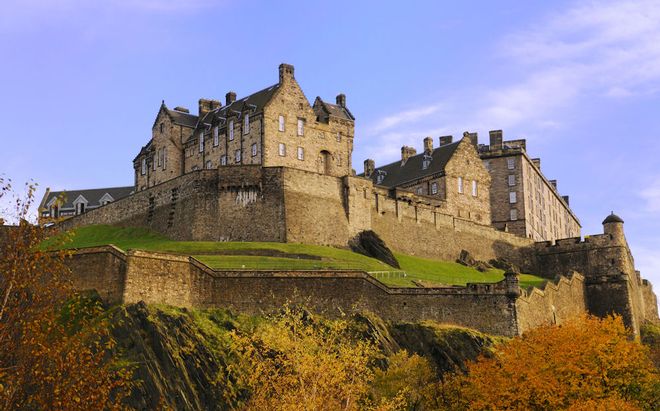 Even though I'm from the Southern Hemisphere and a tiny, wee bit scared of temperatures below freezing, I still love Scotland (YES, even in Winter!) and go as often as I can. So when I recently got invited to a Burns Supper in Edinburgh with friends, I naturally jumped at the chance.
Checking the calendar, I was due to be in Birmingham (read all about my trip here) just before the Burns weekend, so I thought to myself: "Is mixing business with pleasure such a bad thing after all?"
After spending a busy day in Brum viewing serviced apartments and enjoying a mini pre-Burns celebration with StayBridge Birmingham, I woke up (very) early on Friday morning. I got up from the bed of my Premier serviced apartment feeling, I won't lie, a…little fuzzy. Being less than a 10 minutes' walk from New Street station helped however, and I was soon on my way.
Hooray! I got on the right train!  
Always a good start – especially so for me! So I settled in on the train sipping my DC (diet coke….the bubbles help the fuzz) and looking forward to my next stop, in my fave city in the UK - Edinburgh!
I've arrived…
Still being on the clock I made my way to my first serviced apartment viewings. ..enjoying the sights as I made my way through Edinburgh.
Before I know it I'm done for the day and can finally check into my weekend lodgings! Which YES, of course, would have to be a serviced apartment. Its one the perks of the job! Dreamhouse Tollcross was kind enough to offer me a spacious two bed apartment for the weekend's festivities.
Checking into my apartment I had the obligatory peek around and when I say the apartment is spacious I'm not exaggerating!
Being there all by myself waiting for my friend to arrive, I was thinking: "Sheesh, this place is huge! What am I going to do with myself until she arrives?". The apartment really does offer everything you might need for a comfortable stay.  There's free underground parking, a balcony, comfy & solid furniture, and there's also a Tesco & Costa just five minutes' walk from the apartment.  Location-wise you're in the West End of Edinburgh and yet still within 15 minutes walk of Princes Street(SHOPPING!!).  So I would say that this apartment is perfect for corporate stays!
Saturday morning, and after a lovely lie in we headed to South Queensferry to have lunch and take in the views of the Forth bridge(s). We then ventured to Princes Street for a spot of that shopping!
Getting back to the apartment it was time to get ready for The Supper. Dressed and ready, we started the evening with a glass (or two) of bubbles in the apartment!  Was quite impressed by the fact that we had actual champagne glasses – It obviously doesn't take very much to please me!Bachelors take note.
We had pre-booked tickets at the The Royal Scots Club who host a private event every year, but I wasn't quite sure what to expect! On arrival we ordered (guess what) some wine, and mingled. There was quite a mix of people and by that I mean young & old and also kilts…lots of kilts. WINK! 
At the table we were seated: Laddie, Lassy, Laddie, Lassy – you get where I am going with this. All the lasses also got a rose which was nice. Looking at the menu the much anticipated Haggis was first on the menu…but before the Haggis can we served – We toast and pipe the Haggis! This is done by a Piper leading the way and the chef bringing the aforementioned wee beastie into the dining room…
Haggis is served:  Initial planning involved taking big gulps of wine along with each mouthful of the beast (plus tatties). Shockingly, I can report that I actually enjoyed it!
Next up, the entertainment:  We enjoyed listening to The Chapter House Singers before we were blown away by a lady piper – I had goosebumps the entire time. 
The Dinner is served: (it's a roast) followed by Cranachan – and again, I have to be honest…I leaned over to the (much) older Laddie next to me and asked him what Cranachan was…thankfully I was soon reassured that it was a traditional Scottish dessert, and that there was nothing for me to worry about – Phew!!
With the wine flowing nicely the lady piper made a reappearance (my fave part of the night!).Have a listen here…
Next up, and this wasn't at all unusual,  was a Tam O'Shanter poem recited  by a man dressed in a horse suit...I'd like to tell you all exactly what it was about, but again to be honest, I didn't get much!  My thoughts were "Can ye speak slowly?" and "D'ye speak Scots" - Good times!
Approaching the end of the event, us Lassies were toasted (yeah, girl power!!) and replies on behalf of the Lassies were done too!
Saying that we then went home and got a early night!...Errrm that would be lying…we enjoyed the rest of the night well into the early hours sampling lots of the bonnie wine that Scotland has to offer!
Sunday…a somewhat lazy morning spent having "brekfast" in our serviced apartment.
Eventually dressed and ready to face the world, we headed to The Witchery by the Castle. So if you haven't already guessed The Witchery is located at the top of Edinburgh's historic Royal Mile on the left hand side of the road as you approach Edinburgh Castle. We had an amazing lunchwhich got a big thumbs up from me!
This is how they describe themselves on their website:  "The Witchery by the Castle has developed a worldwide reputation for its exceptional dining experience, showcasing the very best of Scotland's produce in the most magical of settings. Now in its fourth decade, the Witchery is a Scottish fine-dining landmark, much loved by loyal locals, its many celebrity fans and visitors to the city alike. "
So when next in Edinburgh make sure to GO and make sure you BOOK!
Following this, I was given a "guided" tour by a friend stopping off at one or two (or three) pubs –for research purposes of course!  With tired feet we headed back "home" where we ordered pizzaand enjoyed some relaxing time in front of the telly.
And that was my weekend in Edinburgh. I headed over to Glasgow and Aberdeen very early the next morning! Fuzziness!
So Thenk ye Edinburgh – I can't wait to go back and might need to convince the boss we need an office in Edinburgh!
See ye efter!
Follow me on Twitter @MarietjiePAS
---
Share this post
---