HARRIET'S WET WEEKEND IN WALES!
Wednesday February 12, 2014 by Harriet Hickey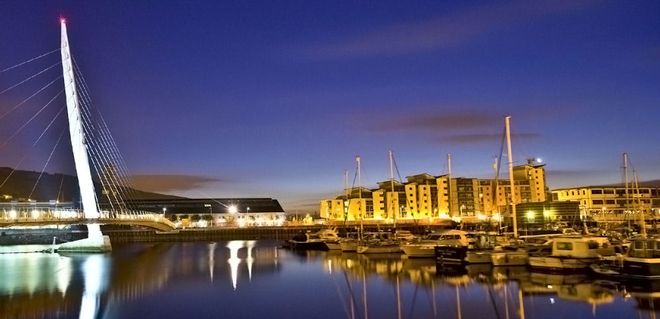 After a lengthy drive to Cardiff from London with a mardy (Ed - northern word for something I think) toddler on the back seat, I finally arrived at Century Wharf serviced apartments and was greeted by the lovely guest services lady, Stacey, from 'A Space in the City' who showed us where to park.
Parking is often essential, especially when you've got everything but the kitchen sink in the boot of the car, so I was pleased to find that it was both underground (it was cold and rainy when we arrived!) and had easy access to the building where our apartment was situated. Once we'd unloaded the car we were taken up in the lift to our apartment on the 2nd floor, and I was immediately and very pleasantly surprised at just how big the apartment was considering it was a one bedroom!
Plenty of space for the three of us, meaning plenty of space for our toddler (and maybe husband too) to run around in, after being cooped up for almost 3.5 hours in the car!
The apartment was clean and tidy and yet still had a homely feel to it – with the occasional vase or figurine along with a few other homely bits being dotted around the apartment. The bathroom was massive and very clean, as was the kitchen. Over the course of the weekend we realised that the apartment had everything we needed. The bedroom was again, huge, and had ample storage space for two people, which is just perfect if you're staying on business for a longer period or even if you're visiting Cardiff for a night out with your girl-friends and need somewhere to store the many outfits you've packed! A girl can never have too many choices…
Once we'd had a look around it was time for me to get back into work mode and head to the A Space in The City offices for a chat. The team were lovely and I got taken for a very nice lunch by Richard the MD as well as Kirsty from Reservations. We ate at Signor Valentino in Mermaid Quay and it was really yummy, and it certainly made a change from the boring daily tin of soup I'm used to! After eating my body weight in lasagne we walked to Quayside Apartments which are, as the name suggests, conveniently located in Cardiff Bay opposite the Millennium Centre.
A nosey around the Millennium Centre is a must – this place is amazing and you should definitely visit should you have the chance. The building itself is something to look at and it has some really great shows on – The Lion King has been secured to celebrate the centre's 10 year anniversary. It's not just inside this place that's interesting, as during the summer months the square outside has previously been transformed into a mini beach where you can play volleyball or perhaps build an impressive sand castle.
Next it was back to Century Wharf to view a range of apartments in various buildings within the complex. All of the apartments are very similar with spacious living areas (some apartments have separate kitchens, some have open plan) and very decent sized bedrooms.
After the viewings and meetings had finished I trotted back to our apartment, but there was no time to relax for me, and we got our coats on and took a (thankfully) leisurely walk into town – it only takes around 10/15 minutes to walk from the apartments in Century Wharf. The town is beautiful and there are so many shops to choose from where you can rid yourself of that 'spare' change you've been meaning to lose for a while. Once we'd got rid of ours, it was time to head back to the apartment, or 'home' as it became called for the next couple of days. It was certainly a welcome relief to get back to a warm place after having been blustered around by the wind!
So it's Saturday and time to go to Swansea...
Which is only a 40 minute drive away! Paul from guest services at A Space in The City met me at Excelsior Apartments, which handily also has underground parking. The apartments are located right in front of the infamous Wind Street so if a proper night out is your thing, with the hustle and bustle to go with it, then these are definitely the apartments for you!
On we went to South Quay apartments; some of which amazing balconies with views overlooking the Prince of Wales Dock, and maybe they're slightly quieter in the evenings (I would imagine) than Excelsior, but no less exciting!
After the viewings in Swansea we jumped in the car and got on our way to Rhossili Bay (its the #1 thing to see in Swansea). I'd been told how beautiful it is there and when I arrived I certainly wasn't let down. The weather was horrendous but despite that, it didn't affect the view from the car park down onto the bay.  It truly is stunning and it's certainly worth a look. I imagine when its sunny and warm, it must be amazing. Unfortunately we couldn't have a walk around, being townsfolk and all, we realised too late that we were less than prepared, with myself wearing heeled boots and not a waterproof in sight, and my husband pretty much the same - minus the heels of course… 
Even the drive back is beautiful, going through all the pretty little villages along the way. Whichever way you look at it, you really should go!
If outdoors stuff isn't your thing, then there's plenty more to do in both Cardiff and Swansea.
The LC2 Leisure Centre (formerly known as the Swansea Leisure Centre) has an array of things to entertain you – you can swim, climb, exert yourself on a treadmill (if you're mad) or have a ball at the Waterpark.
If you're with the kids, then Cardiff has the science mad Techniquest centre where you can have a Eureka moment all of your very own.
I thoroughly enjoyed my time in Swansea and Cardiff and I can assure you that you will too.
So go on, hop in the car or board a train or even a plane and get yourself there!
Follow me on twitter @HarrietPrestige
---
Share this post
---