THE APPLE DOESN'T FALL FAR FROM THE TREE….AT LEAST NOT THIS VALENTINE'S DAY!
Monday February 10, 2014 by Marietjie Snyman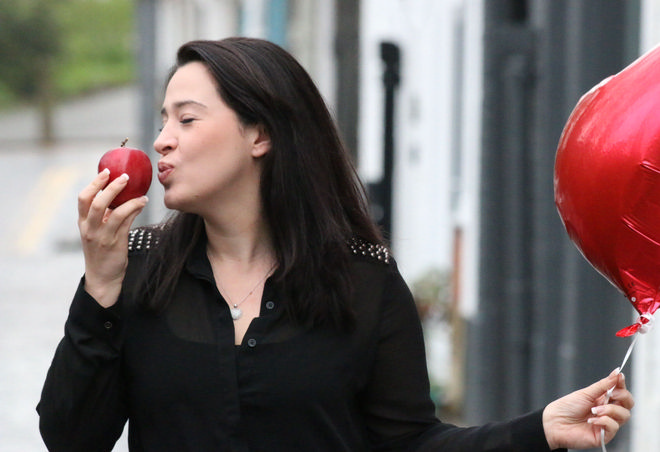 Viewing serviced apartments is my thing and I really enjoy it…but let's be honest, they can sometimes feel a little too familiar (don't tell my boss I said that).
So coming across an unusual serviced apartment makes me a very happy Prestige gal.
I viewed my first Apple Apartment in Greenwich (read all about it here) last year – and well…I was impressed! So when I got the opportunity on my recent Scottish tour to stay at Apple's Granite City (Aberdeen) location… I felt excited and expectations were set long before my actual arrival.
So, to set the mood…you'll be staying in an historic city landmark, a Category C listed church(yes, you heard right, a church) in leafy Rosemount.
It's been sympathetically converted into nine luxury serviced apartments where original features can still be found throughout, which really does add to the experience. My pick of the retained features "bunch" would have to be the stained glass windows …just WOW!
The Aberdeen Apples were very welcoming and made me feel right at home. They even gave me the grand tour!  And once checked into my serviced apartment, I of course had a typically nosey look around…
This is what I found and why I HEART  these apartments:
The building is beautiful & quirky (like me!) 
The location is just a short walk from Union Street, "The Oxford Street of Aberdeen" as quoted by one of the friendly natives…and get this, the nearest pub to the apartment is called The Queen Vic, which any Eastenders fan (like me, again) would appreciate!
The luxury you experience as soon as you enter the apartments...for instance the (seriously) comfy beds, the bathrobes and the cute little slippers! And let's not forget the Daily housekeeping: making your own bed is so yesterday, darlings – it's inevitably better when someone else has done it for you…and left a chocolate on your pillow!
The little extras: Could someone please pass the (filled - tick) salt & pepper shakers? And of course, white wine is always better served chilled in your own wine bucket right?
Whether you'll be staying alone or bringing the family along, Apple Aberdeen handily offers 1, 2 & 3 bedroom apartments.  You won't starve staying there either as I spotted some nice lookingrestaurants and a Sainsbury`s Local across the road. Oh, and always very useful, secure onsite parking.
So with two good Apples ticked off, I'm really looking forward to seeing the remaining ones very soon!
And as always you`ll be the first to know my opinion!
Follow me on Twitter @MarietjiePAS
---
Share this post
---