Property Review - St James House Serviced Apartments, London
Wednesday December 31, 2014 by Alex Wood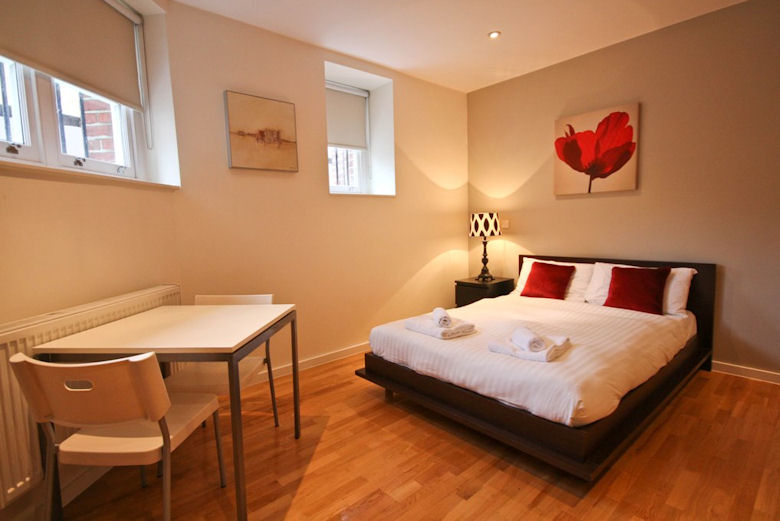 MY STUDIO APARTMENT HOME AT ST JAMES HOUSE
As I travel a lot between our home in France and the central London office, I often find myself staying in serviced apartments.
Normally I'm not that worried about where, as long as it's near an underground station. On one of my recent visits however, I knew it was going to be a busy week and so I booked into the nearest location that I could find to the Shepherds Bush office – St James House, which is owned and managed by Concept Apartments. 
The location was ideal for me during the week with the apartments being located on Holland Park Avenue which meant that I had a quick 2 minute walk to the office. Even better though, was the fact that they were near to both Shepherds Bush and Holland Park tube stations on the Central Line, so it was very easy for me to get into central London.  If you're landing as I did at Heathrow Airport, these serviced apartments are easy to reach via the Paddington Express to Paddington station, after which it's just a quick tube ride on the Circle/District line to Notting Hill Gate and then either a change for one stop onto the Central Line or you can grab one of the many buses heading towards Shepherds Bush. I was so quick this time that I actually broke my own record and was happily settled into my apartment within just 1 hour of landing!
St James House serviced apartments have a self check-in procedure but all of my arrival information had been sent ahead to me, and so with the clear instructions in hand it was very simple.  It was dark by time I arrived, but as Holland Park Avenue is such a nice, well lit road in a good area I didn't feel worried about walking around at night time. I even popped back up to the local Tesco supermarket at Holland Park Station to grab my dinner once I'd checked in.
Although studios do vary in how they're designed, the basic rule is that you'll have an open plan living and sleeping area in the apartment. After that you may find differences in size, in whether the kitchen is open plan or separate, and most importantly whether the bed is full sized or a sofa bed. I'll admit that being used to having quite a bit of space at home, I was a little worried about staying in a studio apartment for the week and whether I'd go slightly crazy with the lack of space.
The apartment I'd booked into however, was surprisingly spacious which was one of its best points! It comprised one large open plan room housing the kitchen/bedroom/living area.  To be honest when I first checked in I did have some misgivings about what I'd done, especially when I saw the size of the shower room (tiny), but after I'd unpacked and organised all of my things I felt much more at home! As the week progressed I even came to enjoy the benefits of studio living.  Instead of rattling around from room to room, everything was to hand, and it felt quite luxurious to make a cup of tea and drink it lying on my bed whilst watching TV!  I'd even joked with my hubby about being able to make my dinner without getting out of bed, and had the studio been smaller that might have been possible, but even I couldn't be that lazy…could I!?  
The other plus point for me was having Holland Park so nearby. I'm training for a ½ marathon and so it was great to have a beautiful park right on my doorstep for a quick morning run.  It's also very near to the Kensington Gardens part of Hyde Park so if I'd had more time I would very probably have ventured further for my run and gone into Hyde Park itself.
By the time I left at the end of the week I was quite sad to say goodbye to my new little home and the thought of having to trudge upstairs to bed suddenly seemed so much effort – maybe I could persuade my husband to move our bed into the living room!!!
So although there are drawbacks such as the communal laundry room and the small shower rooms, in terms of the general upkeep and styling of the apartments, value for money and the location with the local amenities on offer, these serviced apartments really are a great choice for a stay in London.  
Nearest shops:
Holland Park (5 minutes) – Tesco metro, pubs/restaurants, cafes (including Starbucks!)
Shepherds Bush (5 minutes) – Westfield London, loads of shops/restaurants/cinemas/etc.
Nearest station/stop:
Holland Park or Shepherds Bush – both 5 minutes walk and both on the Central Line.
Points of interest nearby?
Portobello Road Market, Holland Park, Kensington Palace, West London Buddhist Centre.
Public spaces/parks nearby?
Holland Park – 2 minutes  &   Hyde Park – 15 minutes walk.
If you're planning a trip to visit the UK, Prestige Apartments has a wide range of all types of serviced apartments and vacation rentals on offer throughout London. We'll have something to suit all budgets and group sizes so why not consider staying in a serviced apartment this year? Just get in touch with our friendly sales team and they'll help you to choose your perfect serviced apartment. 
TEL: +44 20 7704 6514 or EMAIL: sales@prestigeapartments.co.uk
---
Share this post
---