5 Best Christmas Shopping Locations Around The Uk
Friday December 12, 2014 by Alex Wood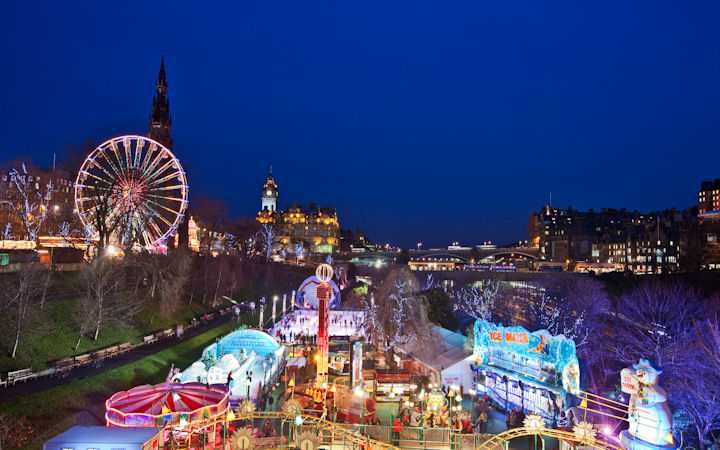 Edinburgh looking it's spectacular best at Christmas time!
If you have any money at all left after the madness and mayhem of Black Friday and Cyber Monday, then how about going back to the tried and trusted traditional method and visit the actual, real shops to find those last remaining presents! And maybe even a little something for yourself. 
Lots of Britain's cities are brilliantly illuminated with festive Christmas lights at the moment, and there are also all manner of displays and markets to tempt us into the city centre shops, and so with the plethora of activities on offer shopping just became a real treat!
We've picked 5 of our absolute favorite UK shopping destinations to help you make the most of the Christmas festivities. Here's our countdown… 
5. Bath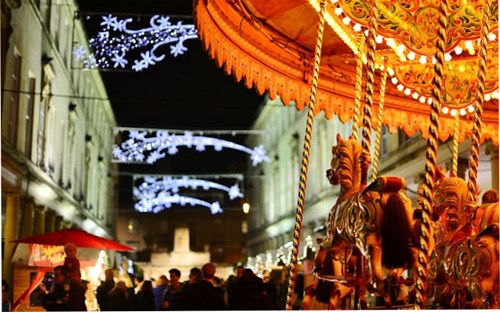 BATH'S BRILLIANT CAROUSEL IS A MUST FOR THE KIDS!
With its delightful regency charm, Bath is always a favorite wintertime destination and over the festive season this World Heritage City is transformed into a Christmas shopper's heaven. In the heart of Bath's main shopping district there's a traditional Christmas market in addition to the hordes of boutique shops lining the quaint cobbled streets.
Why not make a week(end) of it and stay in a family friendly serviced apartment.  And once you've worn yourself out pounding the streets you can ease your aching feet with a trip to the famous Thermae Bath Spa.  Check out our handy Bath City Guide to help you make the most of your visit.
4. Manchester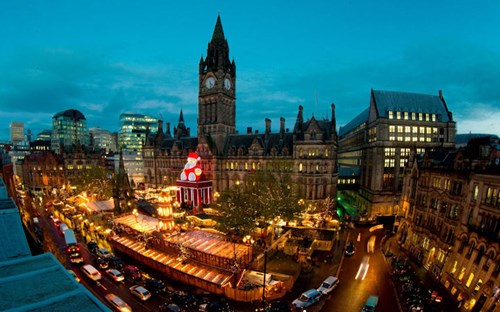 MAGIC IN MANCHESTER AS SANTA SUITS UP...
Manchester is great for shopping all year round but at Christmas they really do pull out all, and we mean ALL, the stops.  There are no fewer than 9 Christmas markets dotted throughout the city, spreading the festivities all over town.  You can even download a handy Christmas market map to help you find your way around:  
With so many attractions offering late night openings to entertain the crowds why not take advantage and stay overnight in one of our city centre serviced apartments.  You'll be right on site to catch some early bargains the next morning before the crowds arrive.  Our Manchester city guide could prove invaluable in helping you to plan your festive trip.
3. Newcastle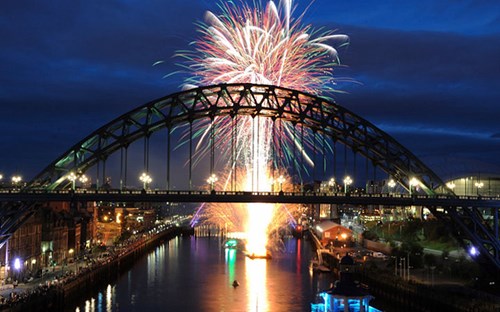 NEWCASTLE'S FIREWORKS AT THE END OF THE CHRISTMAS MARKETS
Let's be honest here. Newcastle is already a shopper's paradise.  They have a great mix of independent boutiques, high street favourites, red-hot designer brands and malls such as Intu Metrocentre and Eldon Square.  But what is more, is that the compact nature of the city and the welcoming coffee shops, pubs and markets make it just so easy to cram in as many stores as you like and refuel in style on your way! 
Newcastle is a great base to explore the beautiful North East too, and so why not combine shopping and sightseeing and stay for a long weekend in the 'Toon'.  A serviced apartment will give you plenty of room to store your shopping while you set off to explore the beautiful coastline and numerous charming seaside towns like Whitley Bay.  Take a look at our Newcastle City Guide to help you plan your stay.
2. Birmingham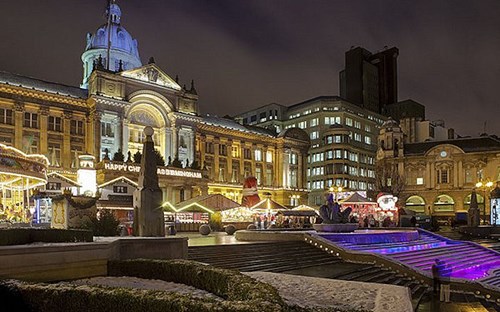 BIRMINGHAM'S GERMAN MARKET VOTED BETTER THAN FRANKFURT'S!
Modern day Birmingham is now very probably second only to London as one of the UK's top shopping destinations.  From upmarket department stores like Harvey Nichols and Selfridges, to the welcoming mix of malls and centres, historic markets or even the world-famous Jewellery Quarter, Birmingham's shops offer you just about everything you could ever want in an attractive and compact space!  And there are also plenty of great cafés, bars and restaurants to keep you going.  Over Christmas, Birmingham's Frankfurt Christmas Market is a huge favorite with both residents and visitors from all over the UK and Europe. It's now the largest outdoor Christmas Market in the country and the centerpiece of the Christmas events calendar and is open until the 22nd December. 
With so many stalls to browse, why not avoid the evening crowds by taking advantage of one of our great centrally located serviced apartments and stay for the whole weekend? With the markets right on your doorstep for a morning browse, remember that there are also plenty of other activities in Birmingham to keep you entertained for the whole weekend.  Take a look at our Birmingham city guide to help you plan your stay.
1. London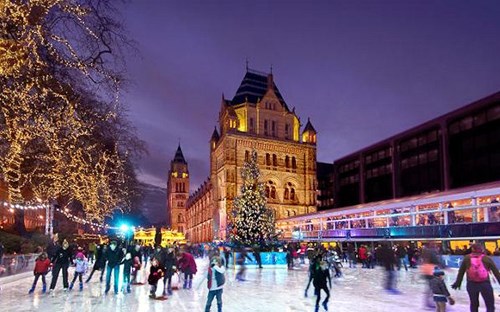 SHOP 'N SKATE AT THE NATURAL HISTORY MUSEUM! 
London is always going to be A number one and top of the heap when it comes to shopping!  There are just so many great areas and options. Pick from high end designer shops, big name department stores, an abundance of trendy high street shopping, independent boutiques and everything in between.  Each area has a uniquely different flavour so whatever you're into, London has something to offer your style…and your wallet!
It would be a tragedy to only spend your time in London shopping because there's so, so much to do.  Once you've finished with the retail therapy there are the innumerable stunning restaurants, bars, theatres, galleries, palaces, museums and parks…we could go on.  Why not make the most of your stay and book a serviced apartment for a few days or even a week - you might just about manage to see everything!   If you're feeling overwhelmed by the choice of what to do, then why not take a look at our London Video Guide and online planner to plan your trip or dip into our London area guides to get some inspiration.
It's not just Christmas that's great for shopping.  We have a selection of fantastic destinations all year round and Prestige Apartments has a wide range of serviced apartments and vacation rentals on offer throughout the UK.  We'll have something to suit all budgets and group sizes, so why not consider a long weekend's shopping trip in a serviced apartment this year.
Just get in touch with our friendly sales team and they'll help you to choose your perfect family friendly apartment. 
Tel: 020 7704 6514 or email: sales@prestigeapartments.co.uk
---
Share this post
---